CMA Announces Activity Highlights for 2019
In celebration of the 70th Anniversary of the Founding of the PRC
And Its 85th Anniversary
The Chinese Manufacturers' Association of Hong Kong (CMA) is launching a series of activities and programmes that will be held throughout the year to mark the celebration of its 85th year-old birthday and the 70th anniversary of the founding of the People's Republic of China.
This was announced by CMA President Dr Dennis Ng, at today's press conference in the presence of other CMA office-bearers including Legislative Council Representative the Hon Ng Wing Ka, Vice Presidents Dr Allen Shi, Mr Marvin Hsu, Mr Simon Wong, Dr Wong Chun, Dr Lo Kam Wing, Mr Dennis Ng Kwok On, Dr Ma Kai Yum, CEO Mr Raymond Young, as well as more than 30 media representatives. At the occasion, CMA also unveiled highlights of the activities for 2019.
President Dr Ng said this milestone is not only about CMA's history, but a celebration of the larger industry and its importance for promoting continuous advancement and prosperity of Hong Kong's economy. "It's also fabulous having our celebrations coincide with the 70th national anniversary." He said our country has achieved great success on all fronts that has attracted worldwide attention. The continuous growth of the Mainland's economy, its huge market potential and its support of our systems have also created valuable opportunities for Hong Kong. "At the advent of a new chapter of our country, I hope that people from different walks of life could join us in the celebration to an even brighter future and greater success of our nation."
CMA has planned a whole year of events and activities for the double celebration. These include:
CMA is launching an online resource centre in mid of the year to provide members of the public with comprehensive source of information on the rich history of CMA, including its evolution and the various phases of its development since its inception in 1934. The system is developed by a research team with members comprising local university students and teaching staff, including Dr Au Chi Kin from the Hong Kong Shue Yan University, Dr Lai Chi Shing from the Education University of Hong Kong, and Dr Simon Wong Chi Wang from the PolyU Hong Kong Community College as the volunteer coordinators, and Dr Joseph Ting Sun Pao as the project advisor.
There should be no doubt of the CMA's commitment to education and talent development. Over the years, CMA has cumulatively donated more than $70 million to various tertiary institutions. In the next two years, CMA will donate another $10 million in support of vocational training programmes offered by various institutions.
To celebrate this grand occasion, an anniversary cocktail reception will be held in our birthday month of September. This will bring together a large number of high profile individuals and representatives from business community in Hong Kong, the Greater China region and overseas.
The explosive growth of eSports has drawn huge amount of global viewers and investments alike. The SAR government's push to promote the city as the eSports hub has proven that there is a huge potential for further growth. With the aims of promoting the eSports in the community and encouraging the industry to capitalise on this billion-dollar industry, CMA will title sponsor a large-scale eSports tournament organised by Hong Kong E-Sports Association.
Since its debut in 2011, the annual CMA Sports Invitational Tournament (the Tournament) has gained popularity among business community over the years with 500 individuals from over 30 business organisations and professional bodies joining last year. This year, CMA attempts to expand the event scale of the most popular game in this Tournament - 7-a-side soccer, and invite business sector coming from the Greater Bay Area to form teams and come to Hong Kong to compete against each other.
The official blueprint for the Greater Bay Area will be unveiled shortly. How to leverage Hong Kong's unique advantages to tap the opportunities has become the major topic of discussion. With roots in Hong Kong, industrial businesses form an important economic infrastructure that underpins all of our economic sectors while contributing to the overall economic resilience of the Pearl River Delta. They are also the forerunners of regional collaboration. As part of our work to better understand and serve industrial businesses, CMA is planning to commission a consultancy study, conducted by Lingnan University of Hong Kong, to gain insight into the situation, economic contribution and business strategies of Hong Kong manufacturers operating in the Greater Bay Area. CMA hopes that the analysis and advice contained in the report would help the industry and policy makers to harness the full potential of Hong Kong manufacturing to meet the needs and embrace the opportunities within the new phase of nation' s development.
Over the years, CMA has worked closely with Hong Kong Correctional Services Department (CSD) to prevent crime and to help rehabilitated persons reintegrate into the society. This year, CMA will allocate $850,000 to sponsor CSD's Rehabilitation Pioneer Project (RPP). Through a series of drama activities and face to face sharing sessions with rehabilitated persons, the campaign aims to disseminate to young people the messages of leading a law-abiding and drug-free life as well as supporting offender rehabilitation. It is expected to attract 10,000 students to participate in it.
Having decades of experience of organising large-scale products expositions, including the long-running Hong Kong Brands and Products Expo, it is time for CMA to make bold moves by running expositions of a different nature. Echoing the association's commitment to education, CMA has acquired the Hong Kong International Education Expo, one of the most popular events of its kind in Hong Kong. It will take place in this May and July at the Hong Kong Convention and Exhibition Centre. Apart from helping students to opt for suitable courses, CMA also hopes to leverage on its strong industry network to offer the opportunities for jobseekers to connect with employers.
CMA is planning to organise a high-level business delegation to Beijing in end of the year. The delegation hopes to take this opportunity to meet with the central government officials to discuss the issues concerning the business sector.
Apart from CMA, its subsidiary CMA Testing and Certification Laboratories is also celebrating its 40th anniversary this year. It will organise a number of celebratory events and launch a new brand image to support its evolution to a leading provider of testing, inspection and certification services.
Further details of each project will be announced in due course.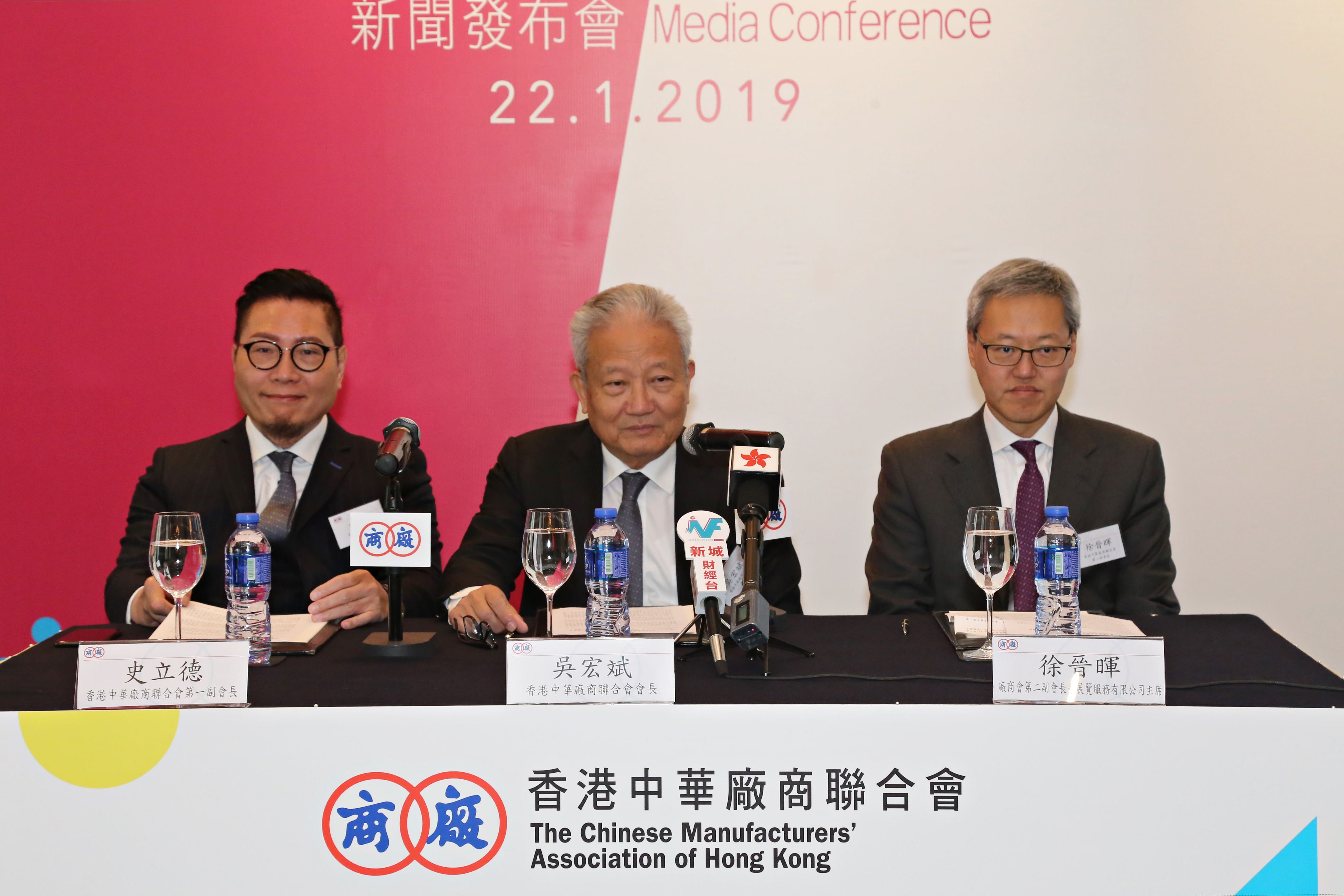 CMA President Dr Dennis Ng (center) introduced the details of the activities in the celebration of its 85th year-old birthday and the 70th anniversary of the founding of the People's Republic of China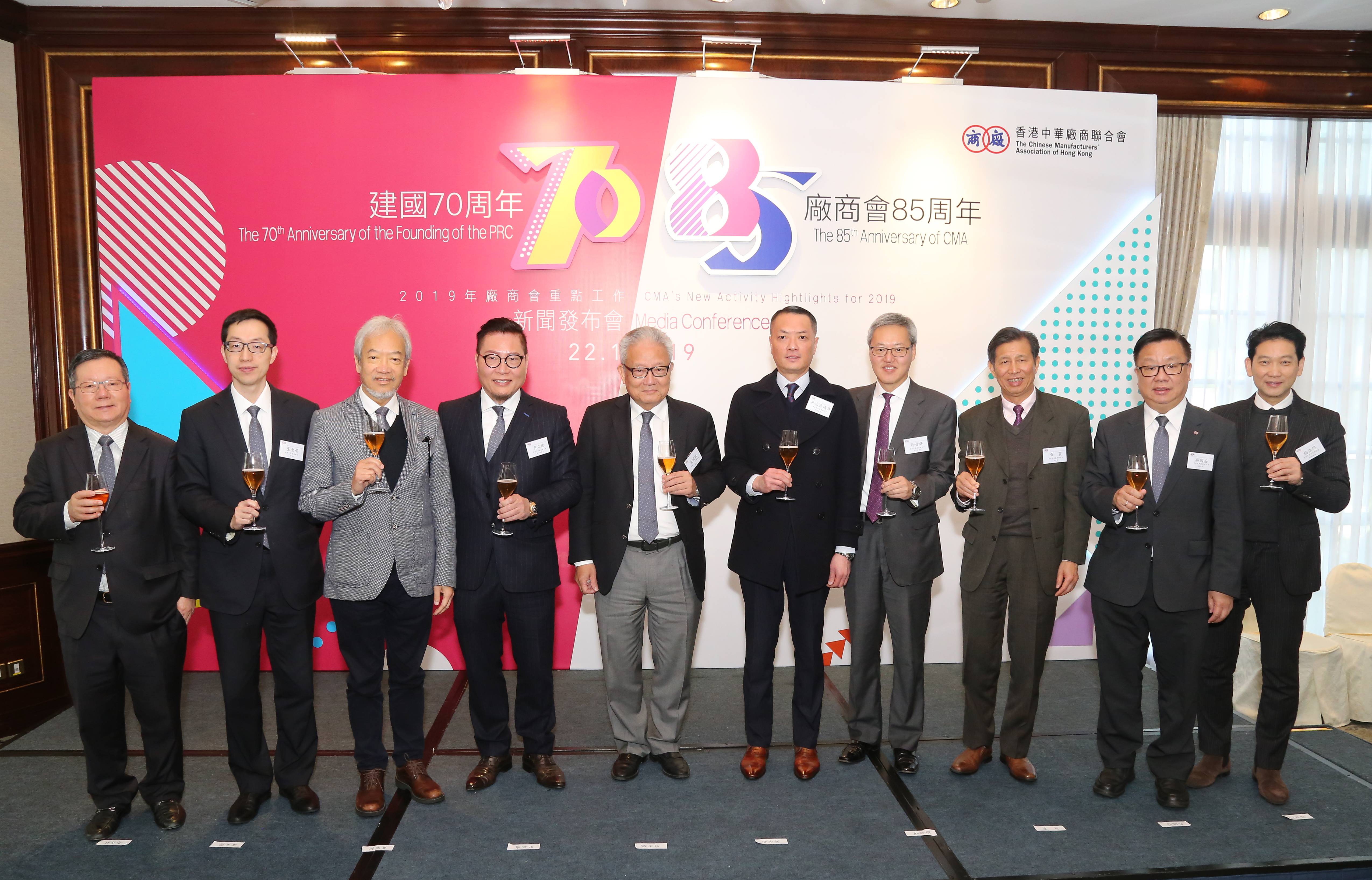 CMA President Dr Dennis Ng (5th from left), Legislative Council Representative the Hon Ng Wing Ka (5th from right), Vice Chairmen Dr Allen Shi (4th from left),
Mr Marvin Hsu (4th from right) and other CMA office-bearers unveiled the highlights of the activities for 2019