"The 25th Hong Kong International Education Expo" and"The 26th Hong Kong International Education and Careers Expo"
CMA helps students prepare for the future
Organised by The Chinese Manufacturers' Association of Hong Kong (CMA), "The 25th Hong Kong International Education Expo" and "The 26th Hong Kong International Education and Careers Expo" will be staged at the Hong Kong Convention and Exhibition Centre (HKCEC) from 18th to 19th May and 6th to 7th July respectively. It is the first time in its 85-year history that CMA runs a non-industry exposition. A press conference was held today (8th) to announce the details of this new initiative. Guests from the education sector were invited to the press conference to provide helpful tips and information.
"Being recognised as one of the top chambers of commerce that has operated for 85 years in Hong Kong, our pride does not merely focus on the contributions to Hong Kong's industrial and commercial development, but also on our social engagement efforts on education and talent cultivation. This is why the acquisition of this signature education expo happens." said the CMA President Dr Dennis Ng. "The expos are a great platform for students and their parents to explore the latest educational resources, course and career options, and discuss face-to-face with programme providers and employers, assisting them in developing a wiser academic and career plan which is important for a successful future." He believes that the expos would be greatly helpful especially for the recent graduates of the Hong Kong Diploma of Secondary Education (HKDSE) who are highly-motivated to get information on their future pathways.
At the press conference, CMA invited representatives from exhibiting organisations included Dr Margaret Lo, General Manager of International and Professional Examinations of the Hong Kong Examinations and Assessment Authority; Dr Lee Tien Rein, Principal of Huafan University; Mr Cheung Chi Wai, Unit-in-charge of Youth Employment Network of the Hong Kong Federation of Youth Groups, and Mr Matthew Sin, Director of Hong Kong Life Planning Association, to give advices on topics such as the latest trend of non-local universities admission exams, tips for studying in Taiwan, career and life planning and workplace experience.
Gathering over 200 educational institutions from 17 countries and regions, "The 25th Hong Kong International Education Expo" to be held in this May will be divided into three major zones, namely the Overseas Education Zone, Local Education Zone and Taiwan Education Zone. The expo will offer a wide range of seminars and talks by education and industry experts, including 8A Achiever in HKCEE cum travel blogger Mr Chris Leung, as well as IELTS tutor Mr Joseph Lam. Moreover, representatives from Hok Yau Club will be there to provide students with individual counseling and guidance. The expo also utilises the latest VR technologies to help freshmen practice their interview skills and prepare them for different scenarios.
In addition to educational institutions and talks, "The 26th Hong Kong International Education and Careers Expo" that takes place in July will introduce a new zone called "Career Square", which comprising different recruitment information and onsite job vacancies offered by various government departments, public organisations and private companies. Through attending it, students, graduates and career changers can better understand prospects of different industries and the demand for talents within them.
Both expos are free and open to the public. Visitors are eligible for a free CV portrait photo taking service at the expos. Furthermore, people who register online in advance can receive priority for the talks and seminars, as well as a souvenir. For pre-registration and more details about the expos, please visit the official website: www.hkiee.com.hk.
Event details are as below:
The 25th Hong Kong International Education Expo
Date: 18 - 19 May, 2019 (Saturday to Sunday)
Time: 11:30am-6:30pm
Venue: Hall 1B, Hong Kong Convention and Exhibition Centre
Fee: Free entry
The 26th Hong Kong International Education and Careers Expo
Date: 6 - 7 July, 2019 (Saturday to Sunday)
Time: 11:30am-6:30pm
Venue: Hall 5G, Hong Kong Convention and Exhibition Centre
Fee: Free entry
CMA President Dr Dennis Ng introduced the highlights of "The 25th Hong Kong International Education Expo" and "The 26th Hong Kong International Education and Careers Expo"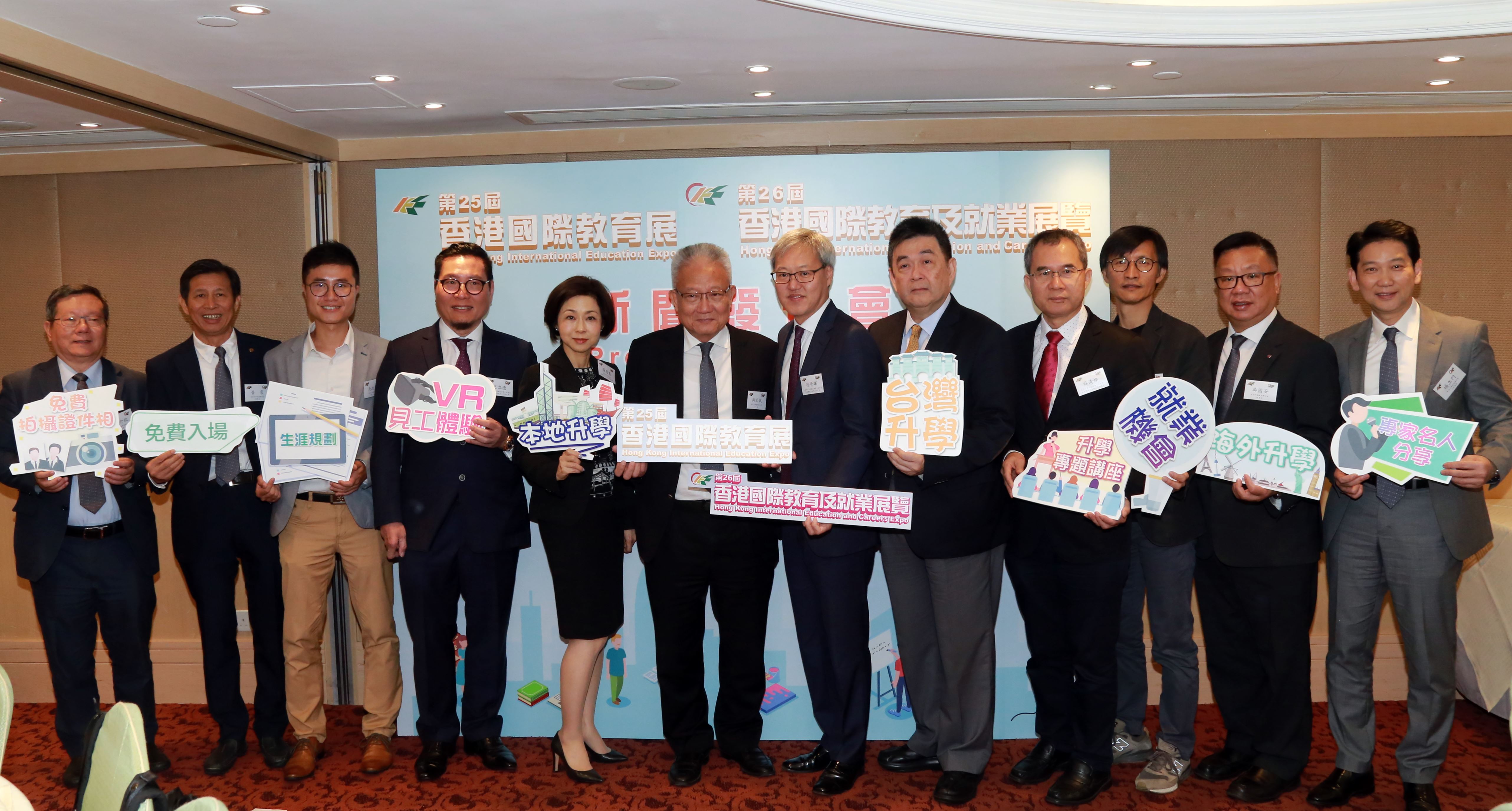 CMA President Dr Dennis Ng (6th from left), CMA Exhibition Services Limited Chairman Mr Marvin Hsu (6th from right), CMA First Vice Chairmen Dr Allen Shi (4th from left), Vice President Mr Ng Ching Wun (4th from right), Dr Wong Chun (2nd from left), Mr Ng Kwok On (2nd from right) and Dr Ma Kai Yum (1st from left), and representatives from exhibiting organisations posed for a photo at today's press conference