"The 26th Hong Kong International Education and Careers Expo" Begins Tomorrow
To Support Students with Career Guidance and Wide Range of Study Programmes
Organised by the Chinese Manufacturers' Association of Hong Kong (CMA), "The 26th Hong Kong International Education and Careers Expo" (HKIECE) will start tomorrow (6 July) through Sunday (7 July) at Hong Kong Convention and Exhibition Centre, offering local students, HKDSE candidates and job seekers a wide range of information on further studies, continuous education and job opportunities.
The HKIECE is divided into four major zones, namely "Overseas Education Zone", "Local Education Zone", "Taiwan Education Zone" and "Careers Square". By gathering more than 700 universities and higher education institutions in 18 countries and regions, including the UK, the USA, Australia, New Zealand, Canada, Ireland, Germany, France, Spain, Switzerland, Holland, China, Macau and Taiwan, the expo will provide students and their parents with a wealth of information about academic courses and training programmes across different streams.
More than 10 local universities and post-secondary institutions, including Tung Wah College, Hong Kong Institute of Construction, Hong Kong International Aviation Academy and Technological and Higher Education Institute of Hong Kong, will be featured in the "Local Education Zone" offering a wide array of degree and sub-degree programmes. In the "Taiwan Education Zone", there will be 7 national and private universities in Taiwan providing holistic information of specialised courses in such areas as business management, engineering, manufacturing and operations, arts, humanities, law and health care.
In the "Careers Square" zone, there will be abundant job information and on-the-spot recruitment opportunities provided by more than 30 organisations, including government departments, disciplined services, the West Kowloon Cultural District Authority, public and private companies of different sectors such as catering, food and beverage, retail, property management, insurance and aviation. A total of 2,000 full-time and part-time vacancies in hot demand will be available for job seekers and recent graduates. Some employer exhibitors such as the Fire Services Department, Immigration Department and Customs and Excise Department will organise seminars at the expo to provide participants with detailed information on recruitment procedures. To highlight, a VR game booth will also be available to help visitors prepare for different interview scenarios and sharpen their interview skills.
More than 30 seminars and sharing sessions will be staged during the expo. A number of celebrity speakers will give talks on education and careers in diverse fields, including such top emerging industries as e-sports and construction. Those who are interested in studying in Taiwan should not miss the talk hosted by the Education Counselor of Taipei Economic and Cultural Office in which the officers will share participants with the latest information about Taiwan's higher education such as progression pathways, qualification recognitions, admission requirements and characteristics of various programmes. Hong Kong graduates from Taiwanese universities will also share their study abroad experience.
Students and fresh graduates may feel confused or frustrated about the future. Artiste Mr Steven Ma and Hong Kong billiards sport athlete Ms Ng On Yee will come to inspire youths with their experiences in achieving success. Visitors can also seek advice from the experienced counsellors and registered social workers to get personalised study and career selection guidance.
Admission to the HKIECE is free and it is open from 11:30am to 6:30pm daily. Visitors who successfully pre-register online will enjoy priority for the talks and seminars, as well as a souvenir. For pre-registration and more details about the expos, please visit the official website: www.hkiee.com.hk.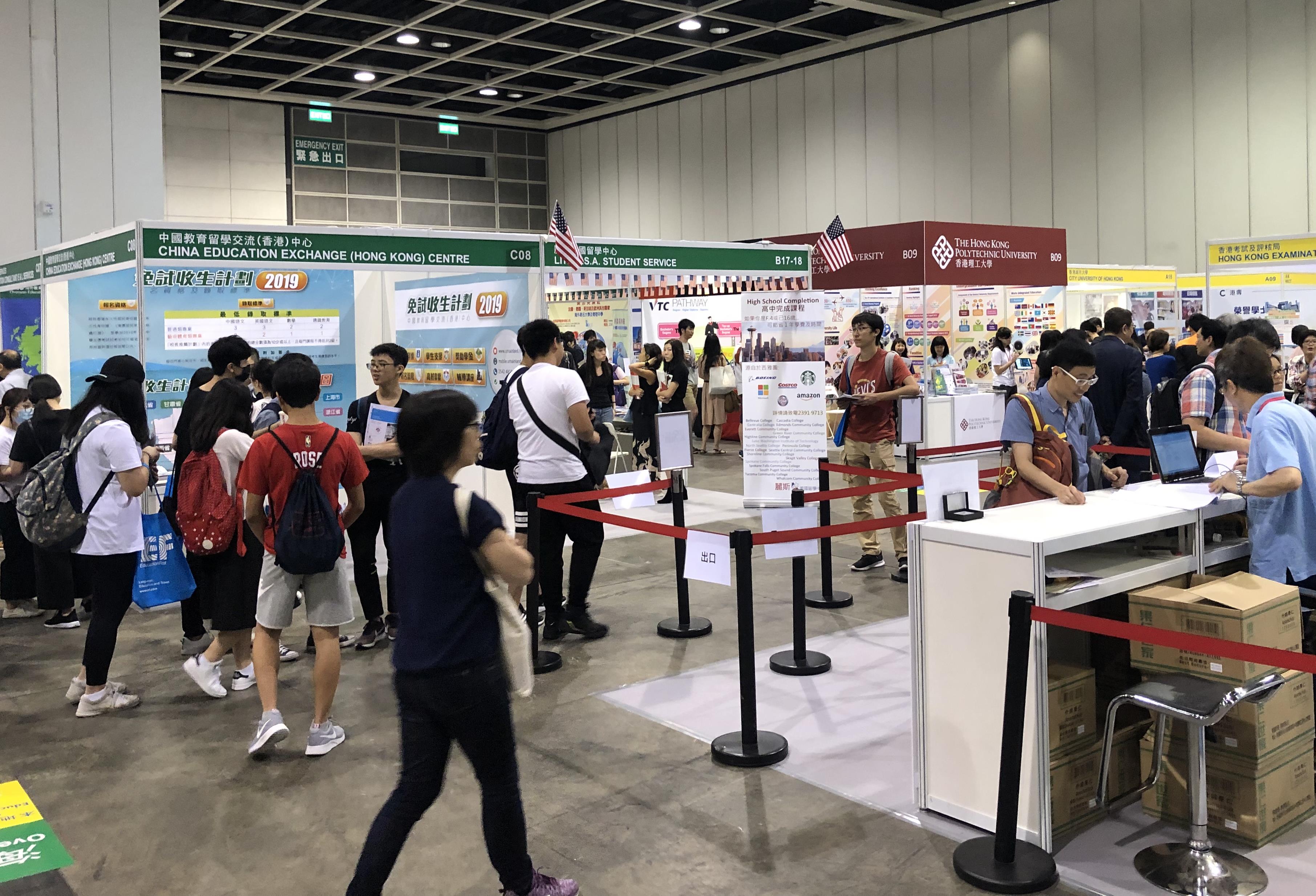 The two-day "The 26th Hong Kong International Education and Careers Expo" will start tomorrow
Highlights of the seminars and sharing sessions
6 July (Sat)
Time
Topic
Speaker
13:15-14:00
(Stage 1)
Star Sharing Session:Success is Not by Chance
Mr Steven Ma
14:15-15:00
(Stage 2)
Examination Services of the HKEAA
Multiple Pathways for Students
Dr Margaret Lo, General Manager -International and Professional Examinations, Hong Kong Examination and Assessment Authority
16:30-17:00
(Stage 2)
Getting Ready for the Release of HKDSE Results

Mr Ng Po Shing, Student Guidance Consultant, Hok Yau Club

7 July (Sun)
Time
Topic
Speaker
12:00-13:00
(Stage 1)
Exploring Taiwan Education
Taiwan University Professors and Hong Kong Alumni in Taiwan

14:15-15:00
(Stage 1)
Career in Esports Industry
Mr Eddy Chen, Vice Chairman and Secretary General, Esports Association of Hong Kong
15:30-16:15 (Stage 1)
Star Sharing Session:Believe in Yourself and Make Your Dreams Come True
Ms Ng On Yee, Hong Kong Billiards Sport Athlete
Encl:
The highlighted event and seminar schedule of "The 26th Hong Kong International Education and Careers Expo"