CMA's Support for Schools in Fighting COVID-19
Free Indoor Environmental Hygiene Quality (IEHQ) Testing and Inspection Service
The novel coronavirus epidemic has been brought under control in Hong Kong, and the reopening of schools will take place in a "phased manner" shortly. When this happens, schools must ensure a healthy and safe environment for pupils. The Chinese Manufacturers' Association of Hong Kong (CMA), which has a long standing commitment to promoting the well-being of Hong Kong as a whole, announced today (20 May) that it will be rolling out a scheme entitled
"With You • Against Virus"
(The Scheme). This is an Indoor Environmental Hygiene Quality (IEHQ) testing and inspection service provided by CMA Industrial Development Foundation Limited (CMA Testing), and will include a COVID-19 infection screening test and various bacteria tests. The service will be provided free of charge for 2,200 or so schools in Hong Kong, including kindergartens, primary and secondary schools.
At today's press conference, CMA President Dr Dennis Ng commended the people of Hong Kong for their remarkable determination and perseverance in fighting the COVID-19 pandemic. Whilst we should be proud of the results of our efforts, we must take precautions to avoid virus rebound or new outbreaks of infectious diseases. The experiences of recent months have shown us once again that such outbreaks can have a profound impact on prosperity. For the well-being of our society, we have to protect the next generation from illness and educate them on good hygiene. Dr Ng noted that since "children spend most of their day in the school, maintaining high levels of cleanliness in schools is essential for fighting infection." He hopes that the Scheme will contribute to preventing the spread of COVID-19 and bacteria by elevating schools' hygiene standards, and also instilling the virtue of environmental cleanliness in children to meet the new public health challenges presented by the current pandemic and other infectious diseases.
CMA Industrial Development Foundation Limited Chairman cum CMA Vice President Dr Wingco Lo said people have already shown a heightened awareness of personal hygiene and the cleanliness of the surroundings, "We are taking a thoughtful approach to set an even higher bar for cleanliness by setting standard requirements for good hygiene practices in schools and other premises. The scheme provides an opportunity for schools to review and evaluate the effectiveness of their current hygiene processes. Our experts will offer constructive advice and feedback on areas for improvement. Furthermore, schools which have passed the assessment will be able to instil confidence among their students, parents, teachers and staff."
The Scheme comprises three steps: sanitization, on-site testing for cleanliness and IEHQ Mark issuance. The schools should first carry out cleaning and sanitization themselves (or contract an external party to do so). Next, the laboratory technicians from CMA Testing will conduct an on-site inspection and testing, including a COVID-19 infection screening test, an airborne bacteria test, a surface swab bacteria test and a carbon dioxide test. Passing the COVID-19 environmental testing will demonstrate a low chance of exposure to relevant virus through touching the objects in the inspected areas. Based on the bacteria test results, an "IEHQ Mark" specifying the school's level of compliance of hygiene standard (Good, Excellent and Supreme) will be issued by CMA Testing. Schools will be able to display their mark to demonstrate their hygiene compliance. The assessment results can be accessed via a QR code on the IEHQ Mark.
Dr Lo said the IEHQ Mark scheme, which was launched in March, has attracted clients from various sectors, including exhibition centre, spa and beauty centre, shopping mall and government department. He explained, "Offering a free service for schools is part of our efforts to fulfill the CMA's social responsibilities. We hope that in the near future, the standard will be widely adopted across different sectors, and eventually becoming a certification model for environmental hygiene in Hong Kong or even in the wider region."
The first-time on-site virus and bacteria testing and issuance of IEHQ Mark will be free of charge for all schools registered with the Education Bureau. Interested schools can enrol online (
https://forms.gle/gQjYCH1RD3RNLpGy8
) on or before 19 June 2020.
About CMA Testing
CMA Testing (formerly known as "Testing and Certification Laboratories") was established by the CMA in 1979. With 40 years of experience, CMA Testing has rapidly grown to become a reputable regional assurance body, specialising in testing, inspection and certification services. As a third-party laboratory accredited by HOKLAS and HKIAS, and supported by a dynamic team of experts, CMA Testing's worldwide network has expanded rapidly. To date, CMA Testing has 12 international affiliations locating in Asia, Middle East, Europe and North America. Its service scope and service sectors are also expanding, spanning every party within a supply chain of every industry. To celebrate its 40th anniversary, CMA Testing will rebrand its image to highlight its core values of professionalism, quality, customer commitment.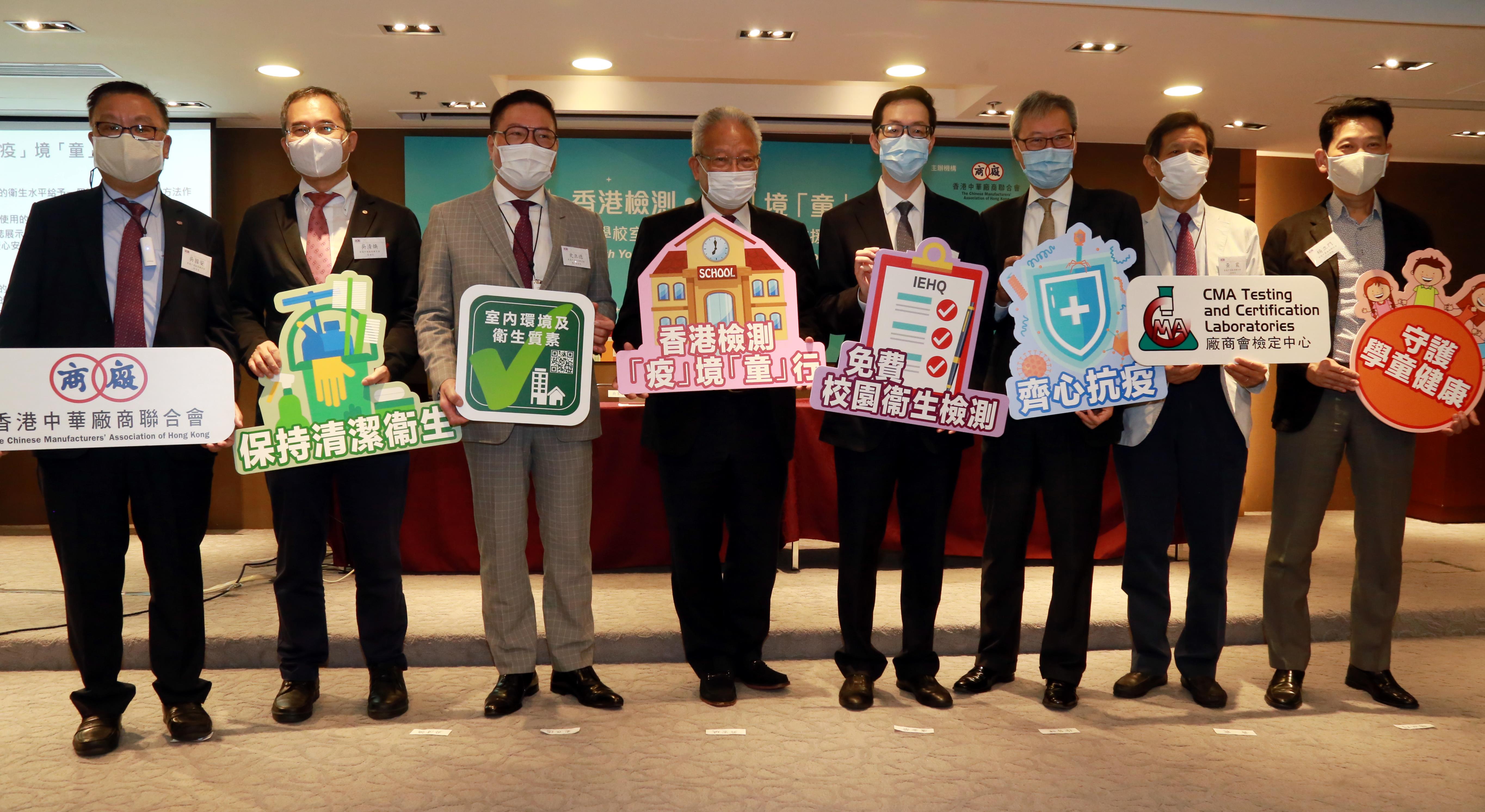 The CMA will be rolling out the "With You • Against Virus" Scheme to offer free Indoor Environment Hygiene Quality (IEHQ) testing and inspection service and COVID-19 infection screening test for all schools in Hong Kong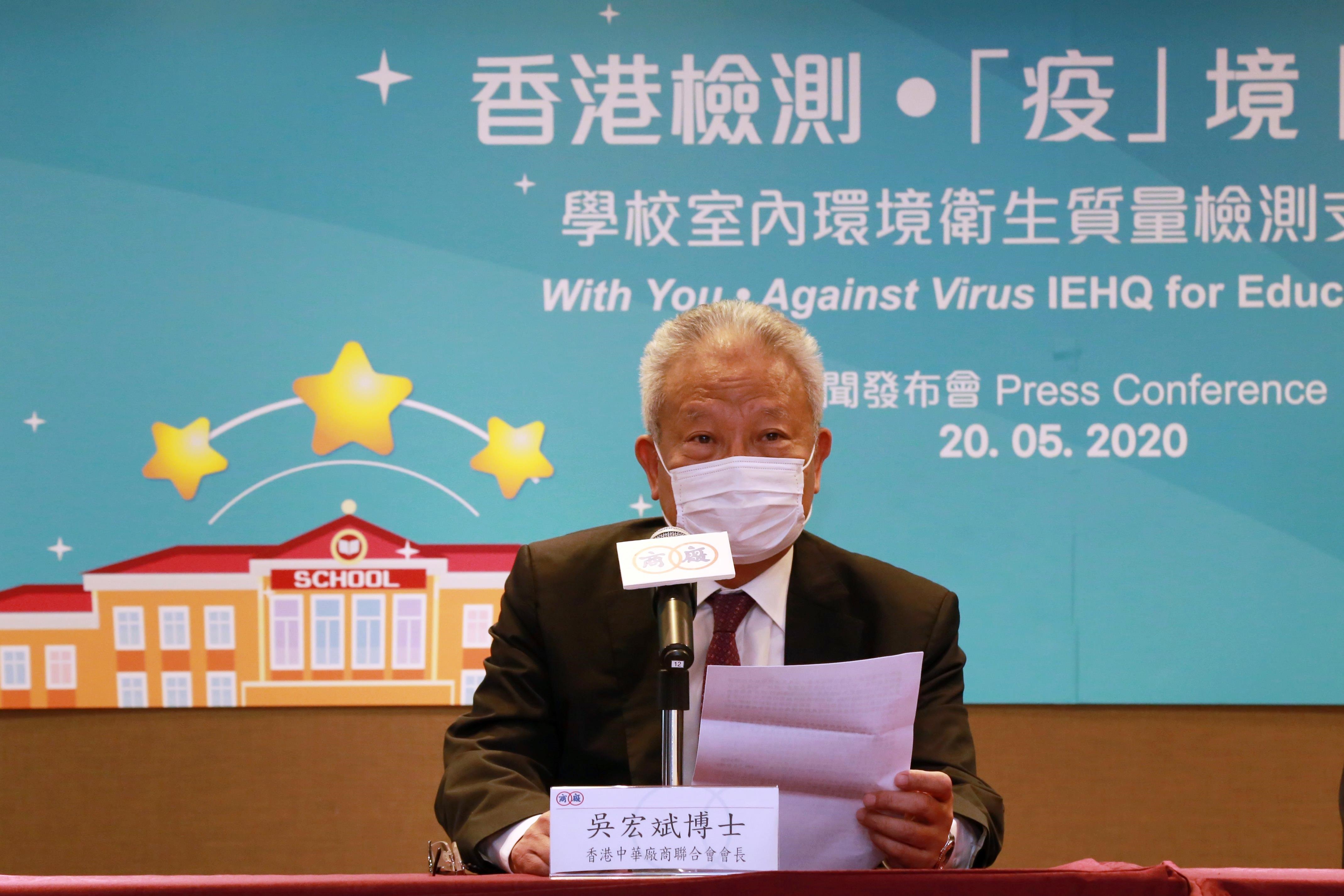 CMA President Dr Dennis Ng expects that the Scheme will contribute to protecting the health of students and enhancing the schools' hygiene practices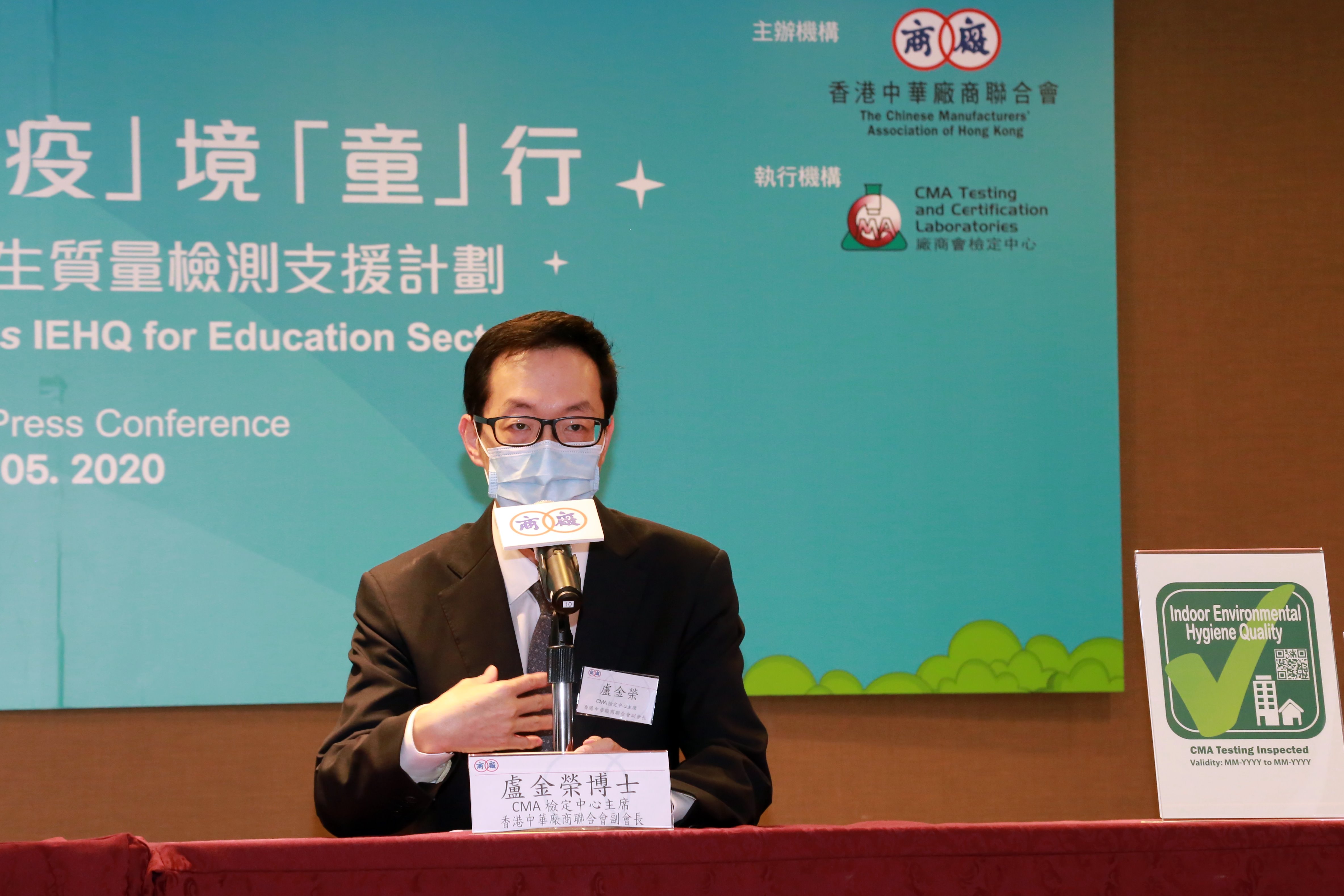 CMA Industrial Development Foundation Limited Chairman cum CMA Vice President Dr Wingco Lo hopes that the IEHQ Mark scheme will be widely adopted across different sectors in the future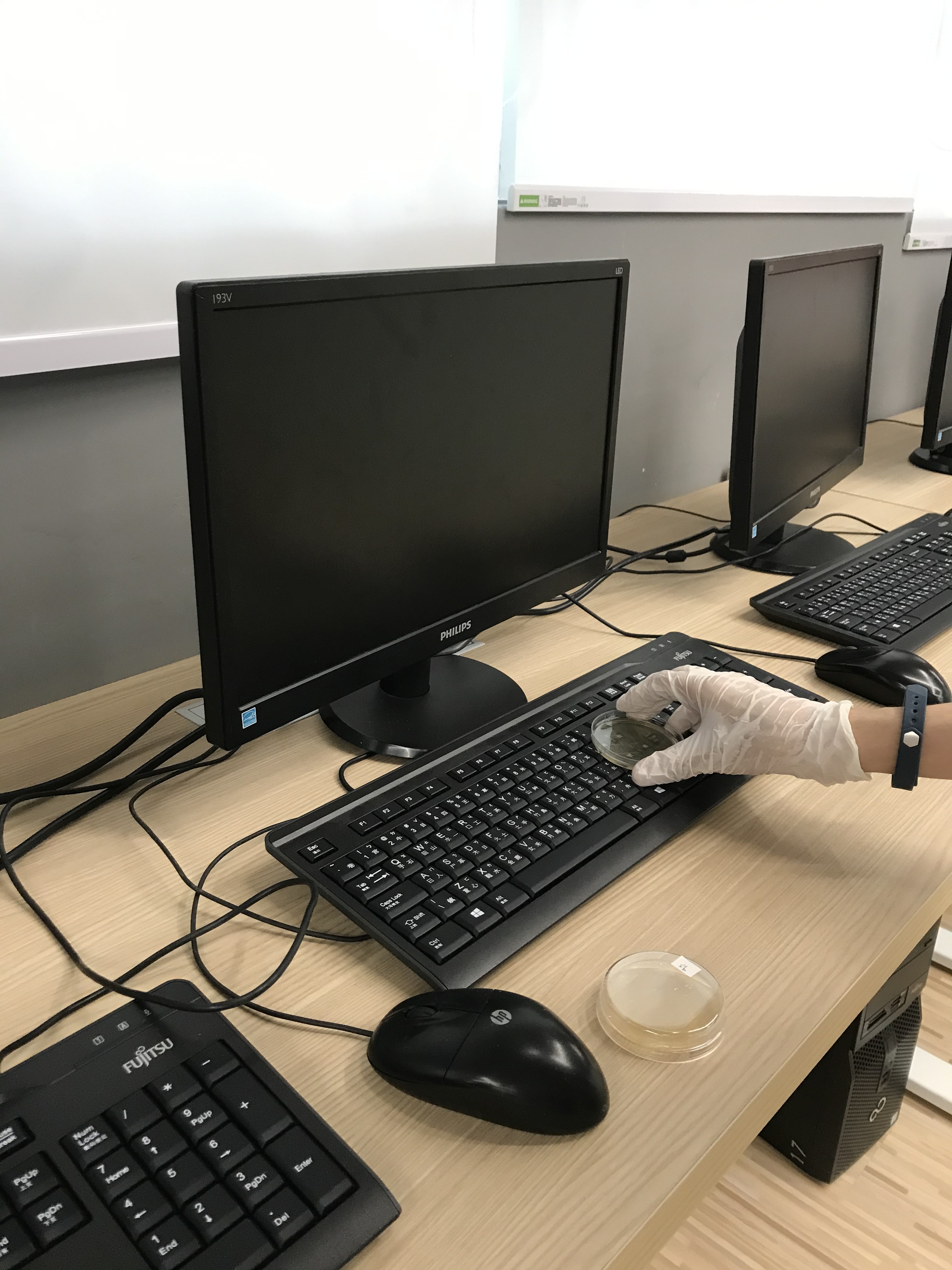 Laboratory technicians from CMA Testing will conduct an on-site inspection in schools to undergo a COVID-19 infection screening test and to examine the hygiene standards of the schools