CMA Testing Reveals New Branding and New Development Strategy
To Meet Global Demand and Support I&T Development
Established by the Chinese Manufacturers' Association of Hong Kong (CMA) 40 years ago, CMA Testing is a leading testing, inspection and certification company. CMA Testing is excited to announce today (7 August) the launch of its new corporate identity, signifying its evolution from a third party testing assurance body into a global solution partner with diverse and advanced services for the betterment of the community.
Over the past 40 years, CMA Testing has successfully developed 12 global footprints and diversified its service offerings to different industries and sectors through continuous investment in state-of-the-art equipment and talent cultivation. To keep up with the fast-changing market and the emerging technology trends as well as to create value for our customers across the globe, CMA Testing is determined to move one step forward to rebrand its identity in its 40th year of operations. Through the new brand identity, we hope to strengthen our corporate image and market position, anticipate the needs of a new generation of customers and deepen our connections with industries and stakeholders over the upcoming challenging years.
To commemorate this special occasion, CMA Testing held a "40th Anniversary cum Rebranding Grand Launching" today and invited Mr Alfred Sit, Secretary for Innovation and Technology, as the guest of honour to give a speech. More than 100 guests, clients and business partners were invited to join the livestream celebration to witness the important milestone of CMA Testing's 40 anniversary and rebranding work.
In his opening remarks, CMA President Dr Dennis Ng commented that "testing and certification" plays an indispensable role in the entire supply chain, which was also the original rationale for the establishment of CMA Testing. Today, CMA Testing has evolved into a "solution partner" for business, industry and the academic sector, providing a bridge between enterprises and the scientific research institutions. Its target customers are no longer limited to Hong Kong's manufacturing industry, but also include organisations that aim to utilise the latest technology for new business development through our "one-stop-shop" solutions. CMA Testing plays an important role in supporting the innovative development of Hong Kong's industries.
The "Outline Development Plan for the Guangdong-Hong Kong-Macao Greater Bay Area" supports Greater Bay Area enterprises using Hong Kong's testing and certification services. Dr Ng said he believes that it would bring opportunity for the development of Hong Kong's testing and certification industry. With its unique network and strong technological capabilities as well as its new brand image and strategy, CMA Testing will surely become a pioneer in the testing industry and contribute to the sustainable industrial development.
CMA Industrial Development Foundation Limited Chairman cum CMA Vice President Dr Wingco Lo stated that CMA Testing has grown by developing diverse business solutions to respond to the needs of the market in alignment with the company's new core values – A Better World, Passionately Curious and Perfectly Scaled. In its continuing evolution, CMA Testing will keep striving for innovation while ensuring the safety of consumer products, enhancing the quality life of consumers and sustaining a green environment for the betterment of the community. Dr Lo sincerely thanked all the government bodies, business partners, clients and media that have supported CMA Testing over the past 40 years as well as almost 400
employees who are working hard for the company. All of their efforts have contributed to the ability of the CMA Testing to stand out in the market.
Three new development focuses
At the launching ceremony, Chief Operation Officer of CMA Testing Mr Dominic Lam shared the three key focuses of CMA Testing's future development: Technology Commercialisation, DNA Testing and Green Bond Service to cope with the global demand and align with government policies relating to the promotion of innovation and technology. CMA Testing has collaborated with start-ups to develop an R&D matching platform that matches manufacturers interested in transforming and upgrading their products and production models with appropriate technology. To support enterprises facing financial difficulties during transformation and upgrading, CMA Testing provides technical support and consulting services with green financing with the goal of commercialising technology applications. To catch up with the new market trend in enhancing the quality of life and personal health, CMA Testing has established a new subsidiary, CaTAGene, to provide advanced genetic testing to the public and to connect health food suppliers and target consumers for offering personalised healthcare plans. Mr Lam emphasised that CMA Testing will continue to provide high-quality services with a new brand identity to contribute to Hong Kong's re-industrialisation and technology commercialisation,and thus encourage the co-ordinated economic development between traditional priority industries and innovation and technology sector.
New logo highlights the brand personality traits
CMA Testing's new brand identity, which includes a simplified brand name and a refreshing logo, marks the start of a new era for the company. The new brand logo evokes the spirit of modernity and innovation with a contemporary palette. It comprises a custom wordmark, crafted with precision and accuracy to reflect the company's high-performance solutions in testing and certification. The new brand logo is designed in teal against a dark teal background. The solid dark teal colour represents the strong support provided by CMA Testing while the bright aqua teal color is suggestive of the way water shows different colors in different environments or under different conditions; this represents the innovative and diversified development of CMA Testing. The simplified brand name "CMA Testing" in English and "CMA 檢定中心" in Chinese communicates the company's professionalism and core strength in testing and certification across regions in a simple and direct manner.
About CMA Testing
CMA Testing (formerly known as "Testing and Certification Laboratories") was established by the CMA in 1979. With 40 years of experience, CMA Testing has rapidly grown to become a reputable regional assurance body, specialising in testing, inspection and certification services. As a third-party laboratory accredited by HOKLAS and HKIAS, and supported by a dynamic team of experts, CMA Testing's worldwide network has expanded rapidly. To date, CMA Testing has 12 international affiliations locating in Asia, Middle East, Europe and North America. Its service scope and service sectors are also expanding, spanning every party within a supply chain of every industry.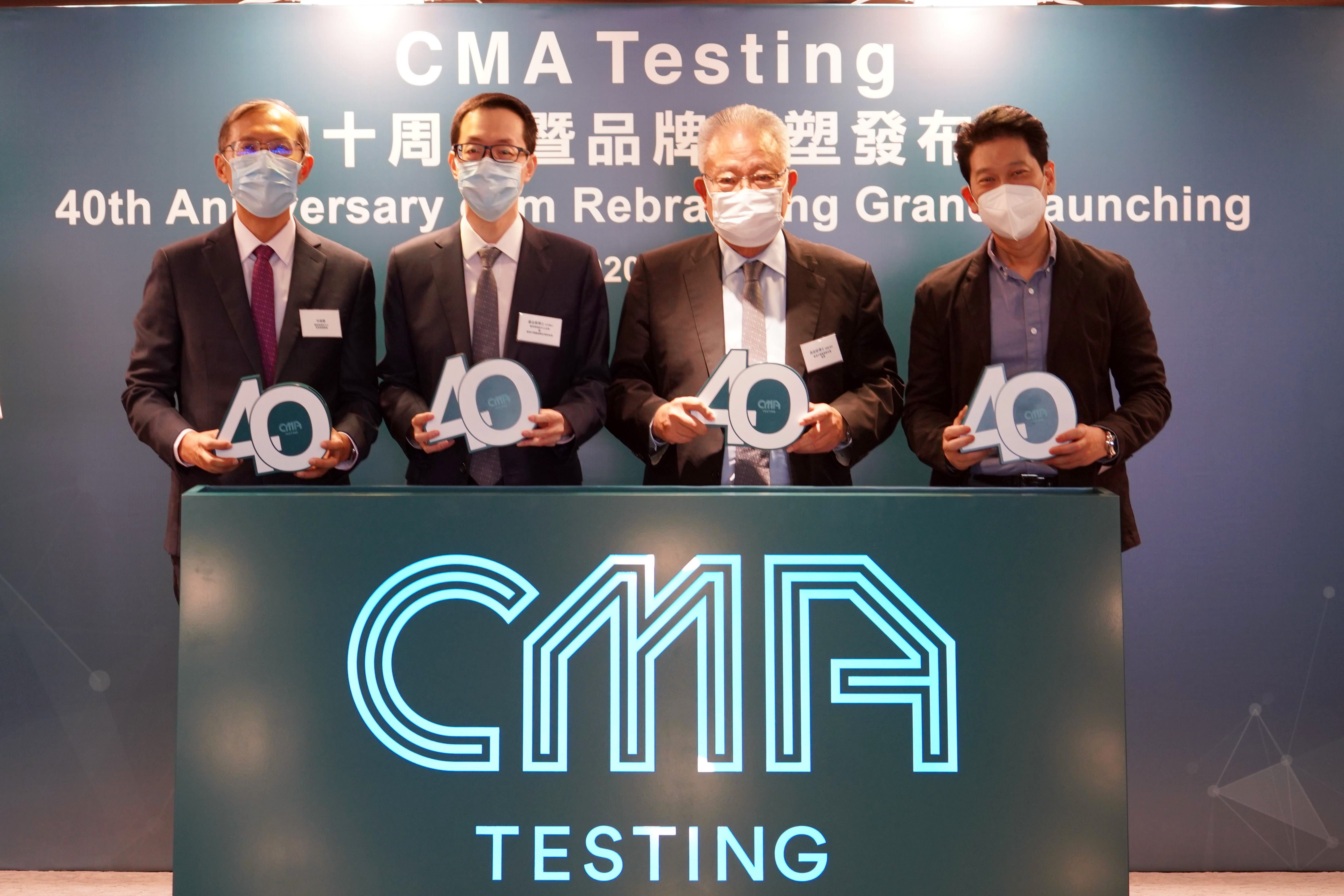 CMA Testing unveiled its new corporate identity and development focuses at today's "CMA Testing 40th Anniversary cum Rebranding Grand Launching"
CMA President Dr Dennis Ng said that he expects the development of Greater Bay Area to bring new development opportunities to Hong Kong testing and certification industry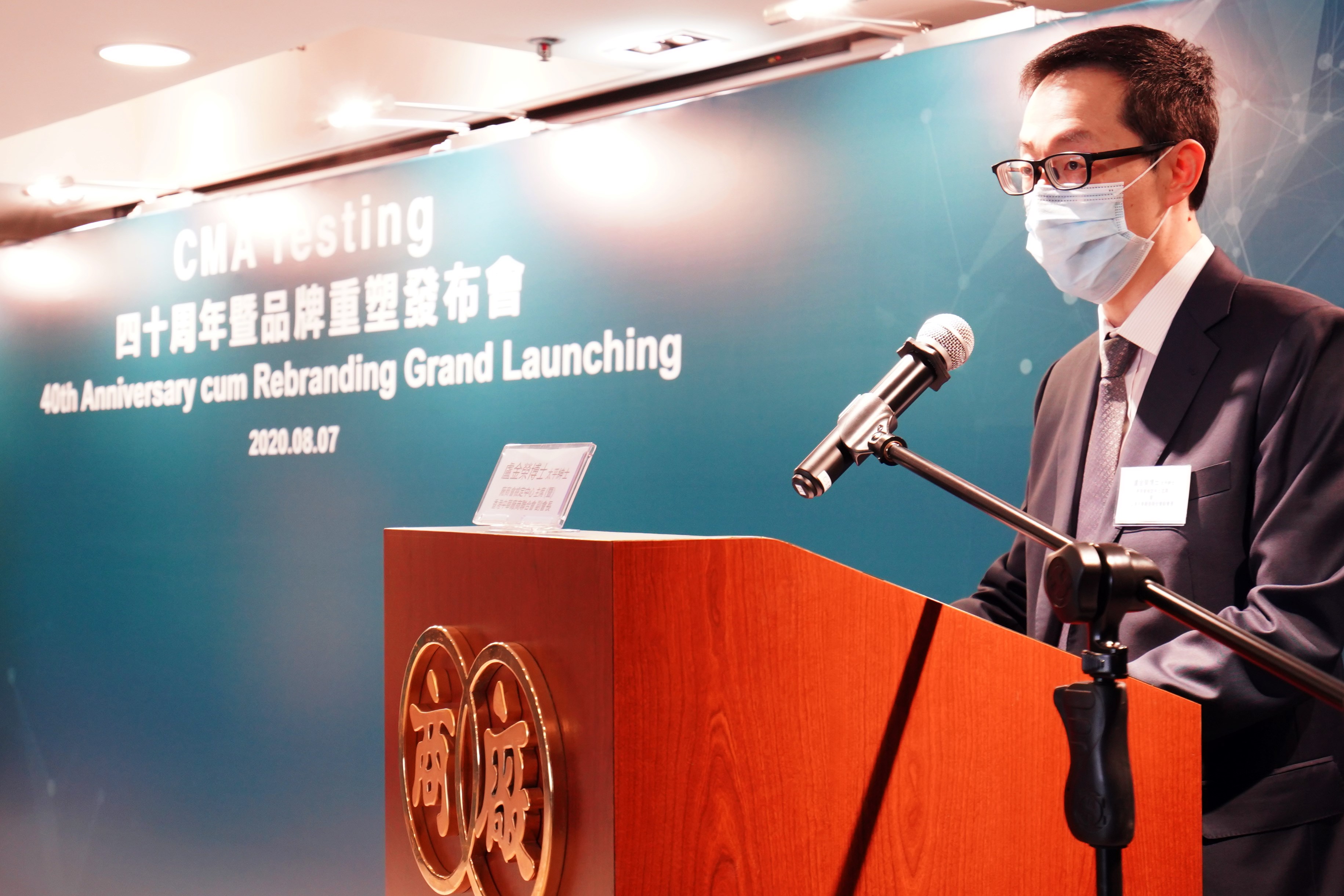 CMA Industrial Development Foundation Limited Chairman cum CMA Vice President Dr Wingco Lo said that CMA Testing has developed diverse business solutions to help its clients to adapt to changing market needs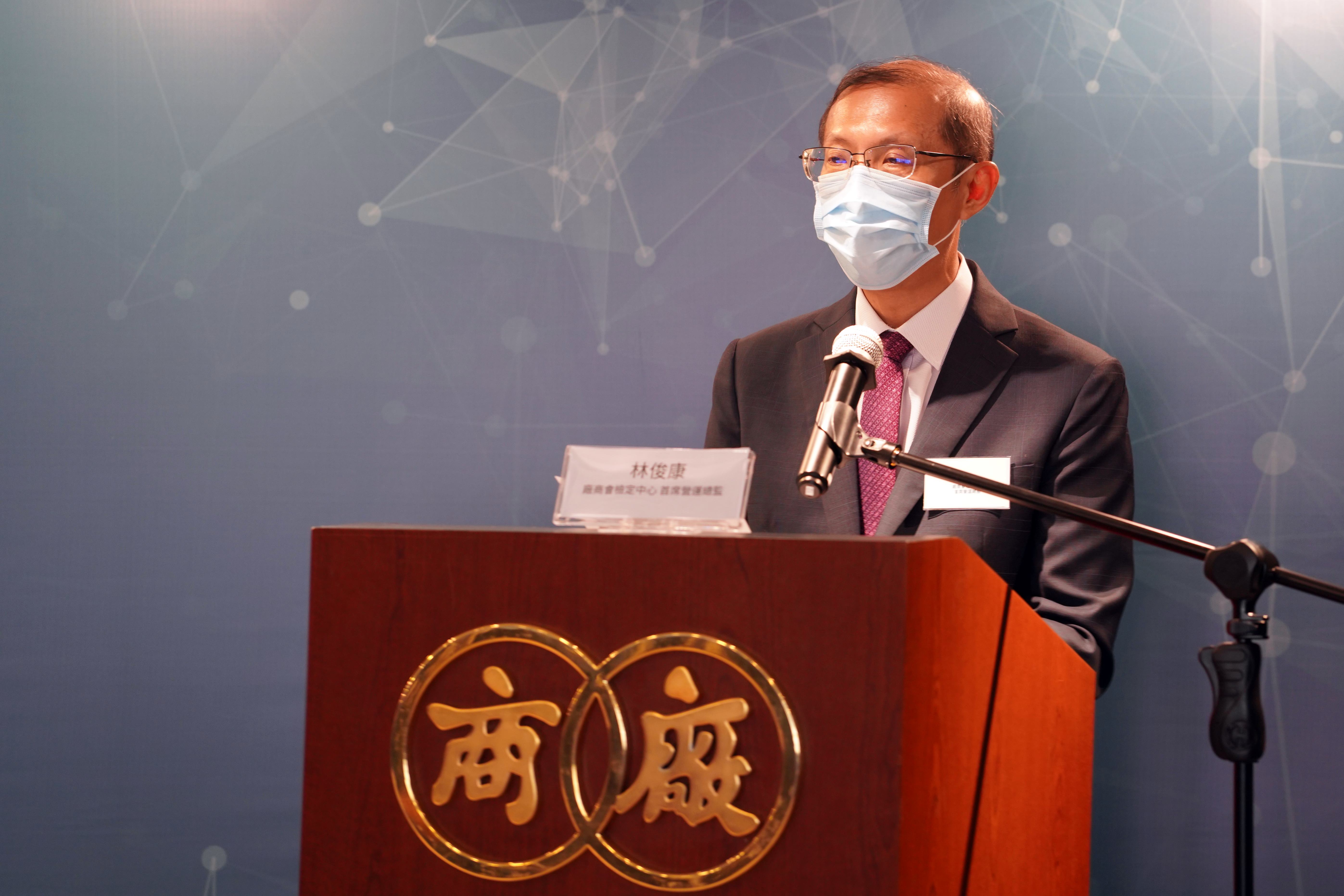 Chief Operation Officer of CMA Testing Mr Dominic Lam shared the three key focuses of CMA Testing's future development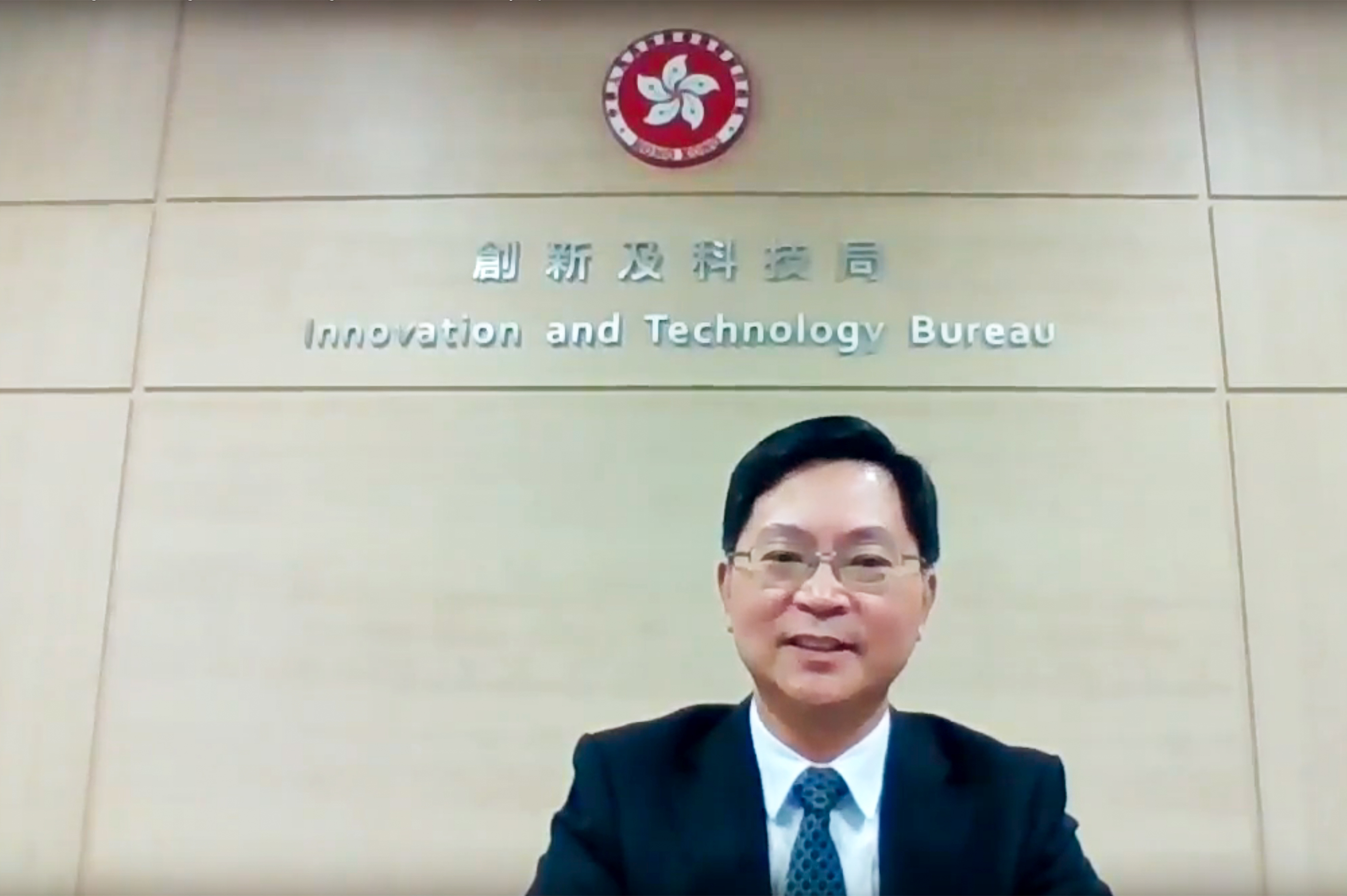 Mr Alfred Sit, Secretary for Innovation and Technology, delivered speech via video