CMA "Take Your Shot" Incentive Campaign Kicks Off
The Chinese Manufacturers' Association of Hong Kong (CMA) is rolling out the "Take Your Shot" Incentive Campaign (the Campaign) to encourage the public to get vaccinated. The campaign consists of two types of incentives: special offers on a wide variety of products and services and lucky draws for prizes valued up to $1 million, which will be offered to those who have received their shots. A kick-off ceremony was held today and was hosted by CMA President Dr Allen Shi and HKSAR Chief Executive Mrs Carrie Lam.
CMA President Dr Allen Shi said, "Hong Kong is one of the few places in the world to have secured enough doses to cover all 7.5 million people. However, even though the government has been making concerted efforts to boost the vaccination rate, progress is still low. We have to do something to help citizens overcome vaccine hesitancy and accelerate the uptake." He said that not only will the Campaign fulfil a social responsibility, but it will also benefit the business sector. "Pandemic border restrictions, especially between the Mainland and Hong Kong, are crushing our economy. Only a high vaccination rate can lead to the resumption of the flow of people and facilitate economic recovery." He expressed his thanks and appreciation to the participating merchants and the prize sponsors.
Take Your Shot Incentive Campaign
Special offers
As of 16 June, nearly 30 enterprises from a wide spectrum of product and service categories, with a total of more than 100 stores and restaurants, have joined the programme to provide special offers. More will be added soon, so stay tuned! From 18 June, if you have received at least one dose of a vaccine, you can present your record, either paper or electronic, to participating merchants to enjoy these offers. The list of merchants can be viewed on the CMA website.
Lucky draws
The lucky draw runs from 18 July to 30 September 2021. Two lucky draws will be held during the period.
| | | | |
| --- | --- | --- | --- |
| | Registration Period | The Draw Date | Result Announcement Date |
| First Draw | From 18 July 2021 to 18 August 2021 | 30 August 2021 | 31 August 2021 |
| Grand Draw | From 19 August 2021 to 18 September 2021 | 29 September 2021 | 30 September 2021 |
Eligibility
To be eligible to enter the draws, you must be a holder of Hong Kong Identity Card (Permanent Residents and Non-Permanent Residents) who is at least 18 years old and have received the full two-dose course of a vaccine on the day of your registration.
The Prizes
Eligible participants will have the chance to win the following prizes:
First draw
Grand prize: HK$1 million spending credit (one winner)
Grand draw
Grand prize: HK$1 million spending credit (one winner)
Second prize: HK$700,000 spending credit (one winner)
Third prize: HK$300,000 spending credit (one winner)
Other prizes: Prizes worth over HK$2 million in total, part of the prizes include the followings:
Sponsors
Prizes
Sik Sik Yuen
20 Gold Pendants with a total value of $200,000
New World Development Company Limited
$100,000 K dollars
Sa Sa International Holdings Limited
Prizes with a total value of $100,000
Eternal East Group (International) Company Limited
1,000 single journey tickets from Hong Kong to any destinations within the Greater Bay Area (total value: $100,000)
Chow Tai Fook Jewellery Group Limited
24 cash vouchers worth $5,000 (total value: $120,000)
OTO Bodycare (H.K.) Ltd.
1,000 cash vouchers worth $ 500 (total value: $500,000)
OTO Prestige Massage Chair (PE-09) (value: $53,500; one winner)
OTO Rockie Premium Massage Chair (RK-13) (value: $29,800; one winner)
Spending credit prizes are sponsored by CMA President Dr Allen Shi ($ 1 million), Chan Wing Kee / ($ 1 million) and CMA General Committee Members ($1 million).
Registration Method
CMA has appointed a third party agency, Certizen Technology, to design and develop a mobile app for the lucky draw. To participate, individuals can register through the app with their mobile number, email address and QR code of their vaccination records within the respective registration periods. Participants need to register only once for the lucky draw. Those who register for the first draw will automatically be entered for the grand draw.
Each individual will have only one chance to win a spending credit over the period of the campaign. However, you will have up to five additional chances of winning non-spending credit prizes by spending at least $100 (single purchase) at designated shops or restaurants (a different merchant for each purchase) during the registration period (18 July to 18 September). To gain the extra lucky draw chances, you will be required to upload the payment receipts to the mobile app.
Announcements of Results
Winners will be drawn randomly. The draws will be witnessed by auditors. The results of the two draws will be announced on 31 August 2021 and 30 September 2021 respectively in newspapers and on the CMA website (www.cma.org.hk).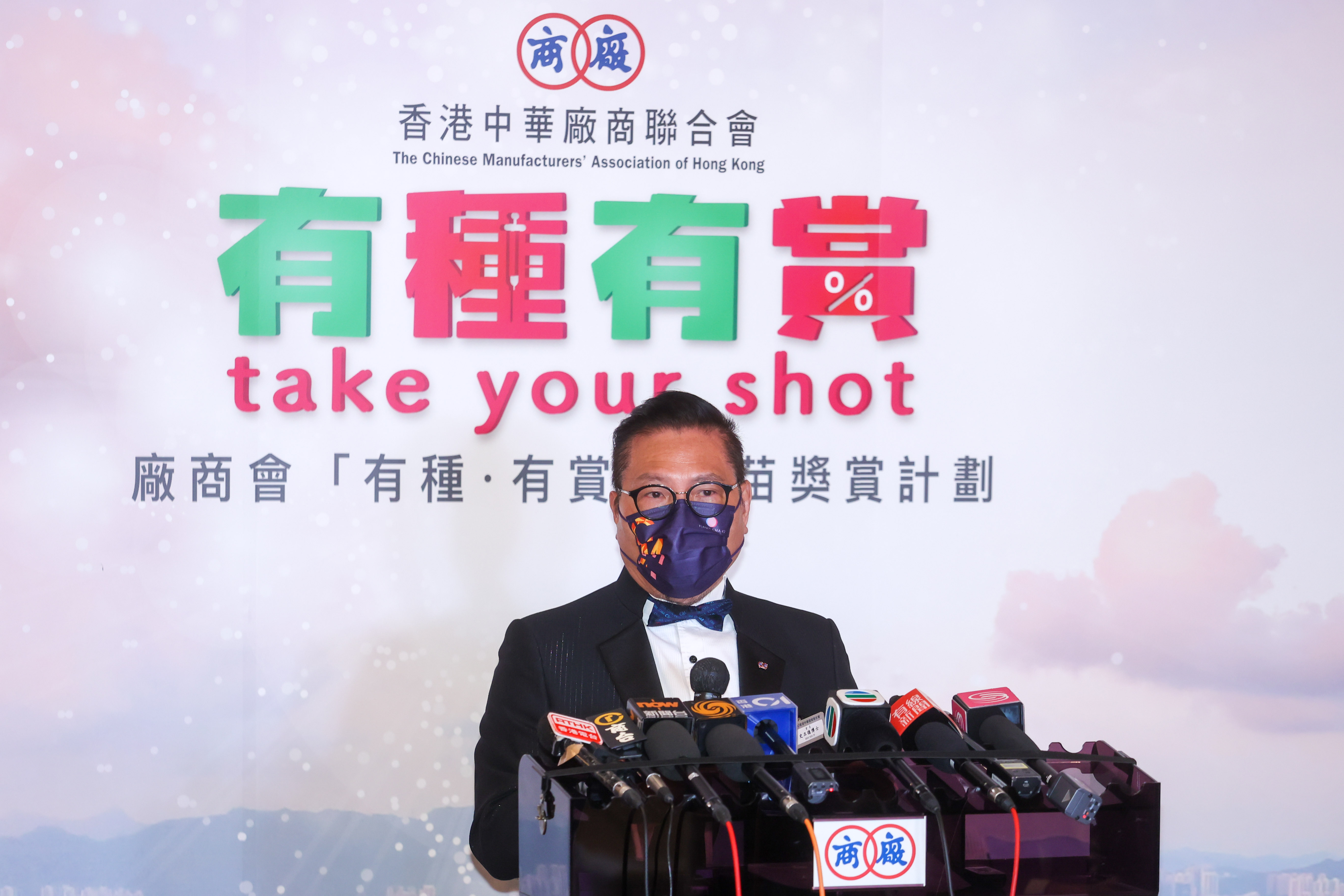 CMA Dr Allen Shi introduced the mechanism of "Take Your Shot" Incentive Campaign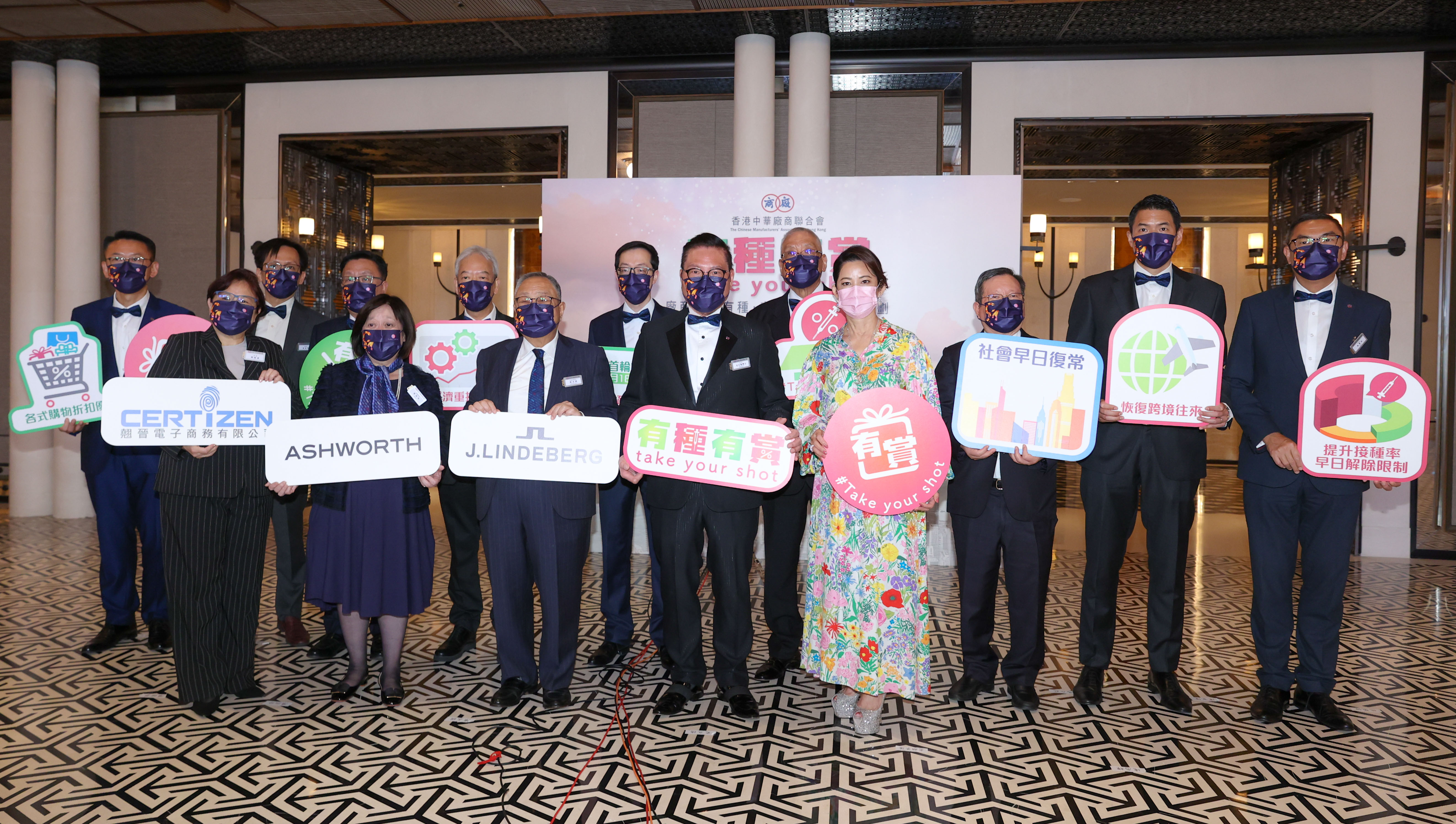 CMA "Take Your Shot" Incentive Campaign launches tomorrow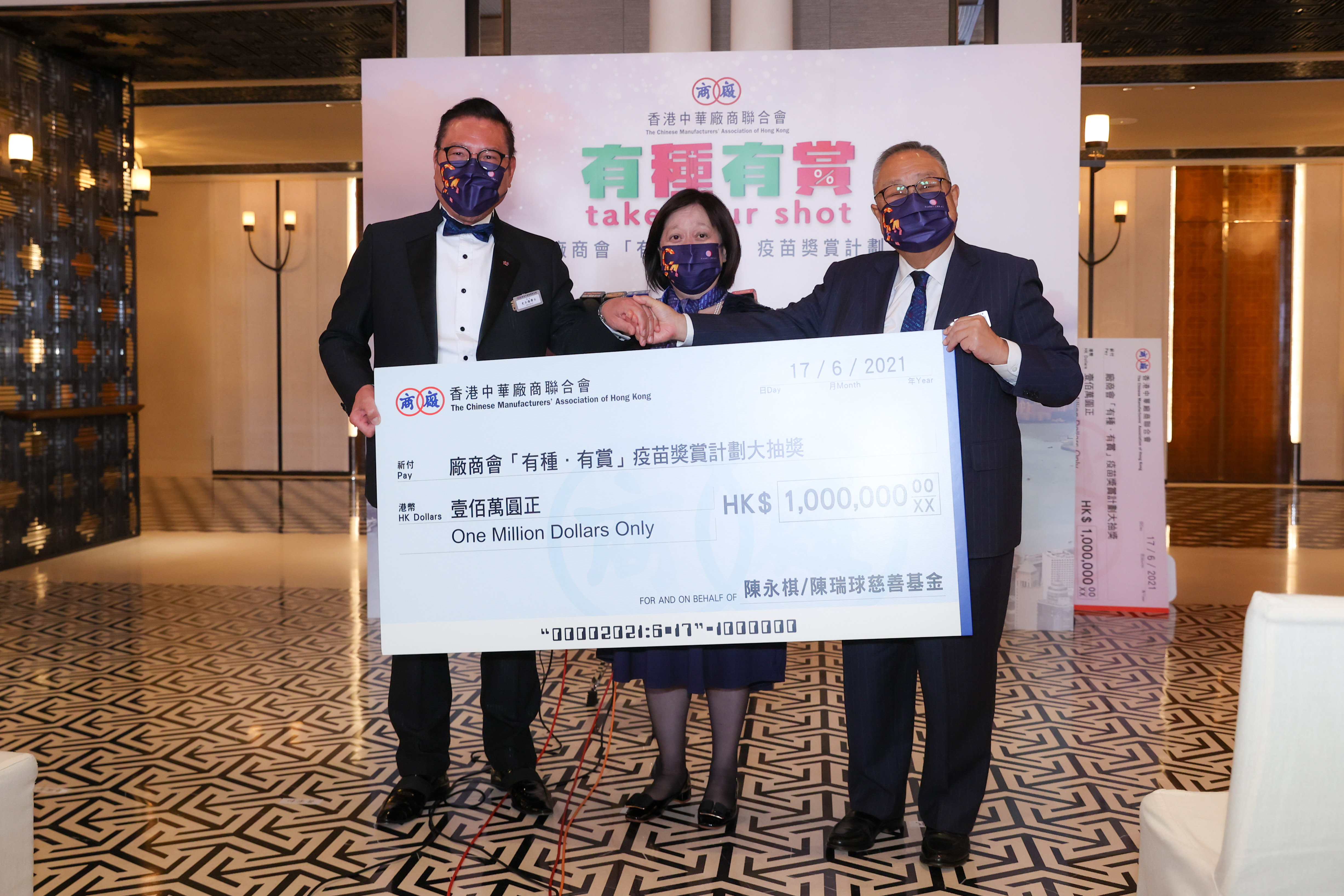 Chan Wing Kee, Executive Director of Yangtzekiang Garment Limited (right) and Shirley Chan, Vice Chairman of YGM cum representative of Chan Sui Kau Charitable Fund (middle) presented a cheque worth HK$ 1 million to Dr Allen Shi, President of CMA (left), to sponsor the "Take Your Shot" Incentive Campaign