Loads of Summer Surprises at
CMA's 2021 Hong Kong Brands and Products Shopping Festival
The 2021 Hong Kong Brands and Products Shopping Festival (Festival), organised by The Chinese Manufacturers' Association of Hong Kong (CMA), will be held during 6 and 8 August 2021 at AsiaWorld-Expo (AWE). It aims to capture the traditional peak holiday shopping season and people's revenge spending as still being stuck in the city.
There will be more than 250 stalls, located at five thematic zones namely Leisure Food Zone, Health Preserving Food Zone, Living & Household Products Zone, Fashion & Beauty Products Zone, as well as a brand new zone of Pets Healthcare. Similar to past expos ogranised by the CMA, the Festival will feature a range of products, exclusive shopping deals up to 90% off, daily surprises, thrilling booth games and promotions. Limited time-deals and prizes will also be available for people to grab via live video streaming.
At today's press conference, CMA President Dr Allen Shi said he is confident that the Festival will receive an enthusiastic response from members of the public. "The continued spread of the coronavirus worldwide has led to travel plans being put on pause. As a result of the pandemic being seemingly under control in Hong Kong, and the ease in local social distancing restrictions, there will be nothing stopping Hong Kong people from getting out there," he said. "With the first chunk of electronic consumption vouchers dishing out on 1 August, the Festival is expected to boost summer sales and, ultimately helping businesses to sail out of the adversity and to drive Hong Kong's economic recovery."
The CMA Exhibition Services Limited Chairman cum CMA Vice President Mr Ivan Sze shared that the commissioning of Tuen Mun-Chek Lap Kok Link Northern Connection since last year has made Lantau, Ngong Ping and Tung Chung even more popular among local people for leisure and sightseeing. "The HKPBE was held on Hong Kong Island for decades. Hosting the event at AWE will be a great opportunity for us to promote the expo brand to citizens in the Northwest New Territories." He also thanked the MTR Corp for their support to the event by offering a massive discount on Airport Express tickets.
Special promotions
Gifts and prizes worth over $1 million will be given away through various means as below:
Upon filling in a lucky draw ticket printed in shopping guide and collecting 4 stamps, visitors can join the On-site Lucky Draw, Daily Draw and Grand Draw, and have a chance to win round-trip air tickets, home appliances and hotel buffet vouchers
By following and sharing the news of the Festival on social media, visitors can get a souvenir at the redemption counter at the event
By correctly answering a question about the Festival in a contest to be held during 2 and 6 August on official website (www.hkbpe.com.hk) and Facebook page, people can get a free admission ticket
Cashless shopping experience
The pandemic has accelerated the step towards us becoming a cashless society. To enable visitors enjoy a safe and convenient payment experience, and fully benefit from the Government's consumption voucher scheme, exhibitors have already installed e-payment devices.
Special transport arrangement
There will be a wide variety of public transport services available for getting to the AWE conveniently during the expo period:
In partnership with MTR Corporation, the Airport Express will enhance its service to every 15 minutes from 8:00am to 10:00pm daily during the event, and offer a HK$40 Same Day Return Ticket between Hong Kong/Kowloon/Tsing Yi Stations and AsiaWorld-Expo Station.
Seven free shuttle bus routes running between Tung Chung, Tuen Mun, Yuen Long, Tin Shui Wai and AWE will be available every 30 minutes
A special route X1 running between Tung Chung bus terminus and AWE
Departures of certain Long Win Bus routes (between the New Territories to Airport) will be diverted via AWE during the expo period
(Details and departures of bus routes will be announced on HKBPE and LWB websites soon)
Hygiene measures
To ensure the safety and health of exhibitors and visitors, the organiser will implement a series of measures during the expo, including that all staff, exhibitors and contractors are required to fully vaccinated or get tested for COVID-19. According to the government's latest social distancing measures, the number of visitors at any one time must not exceed 50% of venue capacity. Visitors could check the latest queuing situation on HKBPE website
www.hkbpe.com.hk
and official Facebook page.
Expo details
Date
:
6 - 8 August 2021
Venue
:
AsiaWorld-Expo, Hong Kong International Airport, Lantau
Opening hours
:
6 and 7 August: 10:30am - 7:30pm/ 8 August: 10:30am - 6:30pm
Schedule of live streaming videos
:
6 and 7 August: 6:00pm

Admission ticket fare
:
HK$10. Visitors can buy e-tickets on Klook or make payment at venue entrance by Octopus
(Note: Free admission for children under 1m in height, senior citizens aged 65 or above, and people who have received at least one dose of COVID- 19 vaccines)
More details
:
Visit www.hkbpe.com.hk or official page on Facebook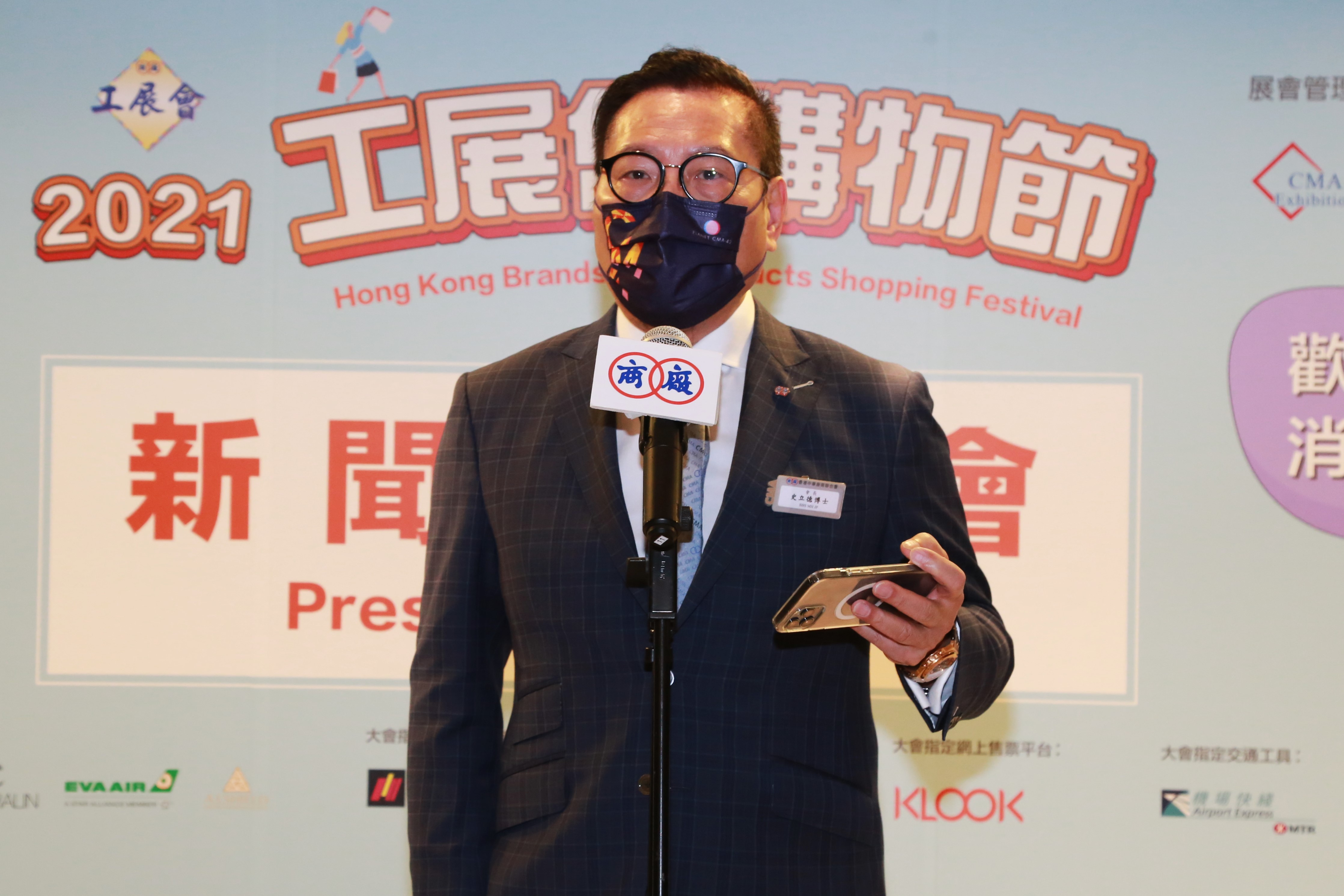 CMA President Dr Allen Shi expects that the 2021 Hong Kong Brands and Products Shopping Festival will boost summer sales and drive Hong Kong's economic recovery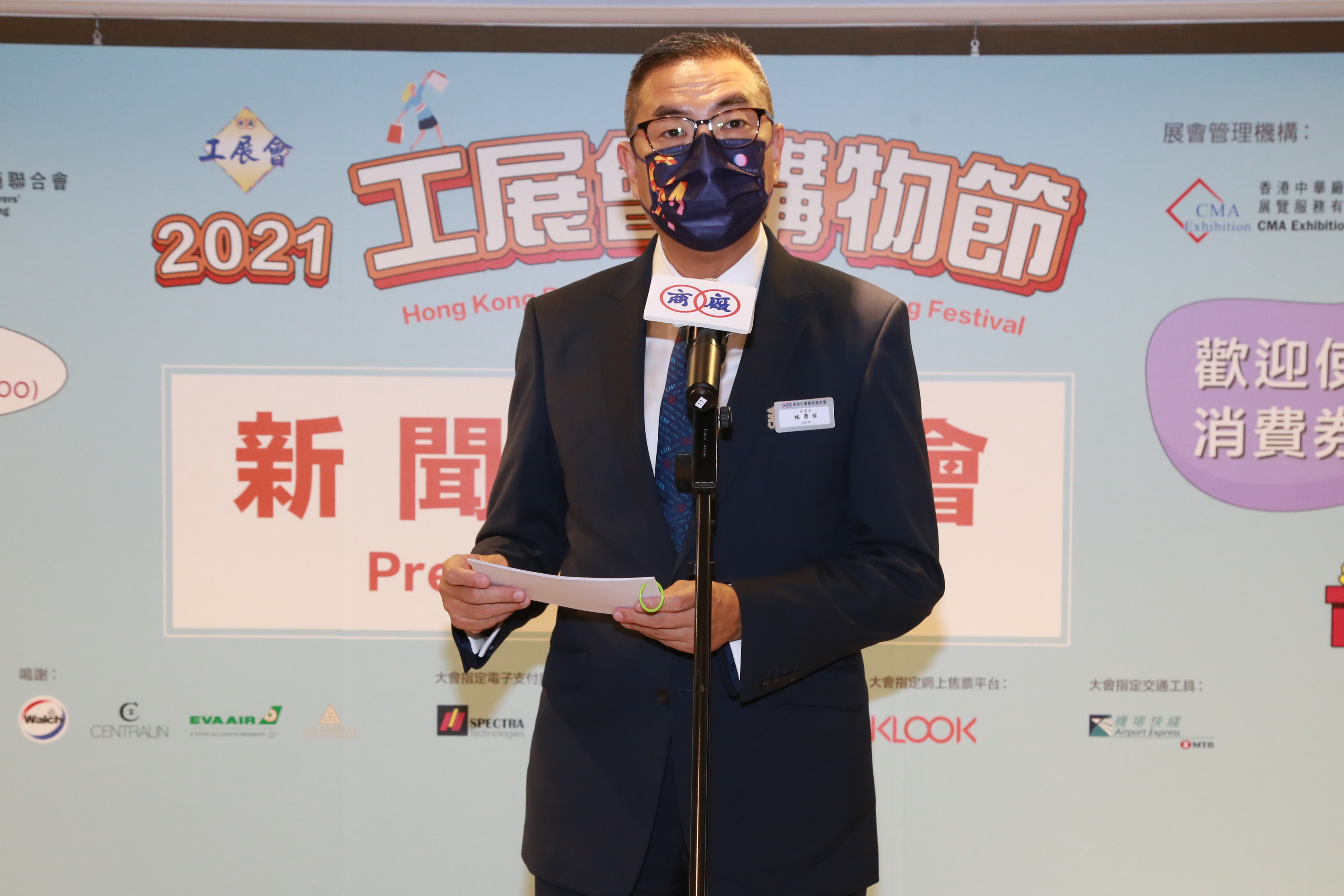 CMA Vice President cum Chairman of the CMA Exhibition Services Limited Mr Ivan Sze introduced the details of the 2021 Hong Kong Brands and Products Shopping Festival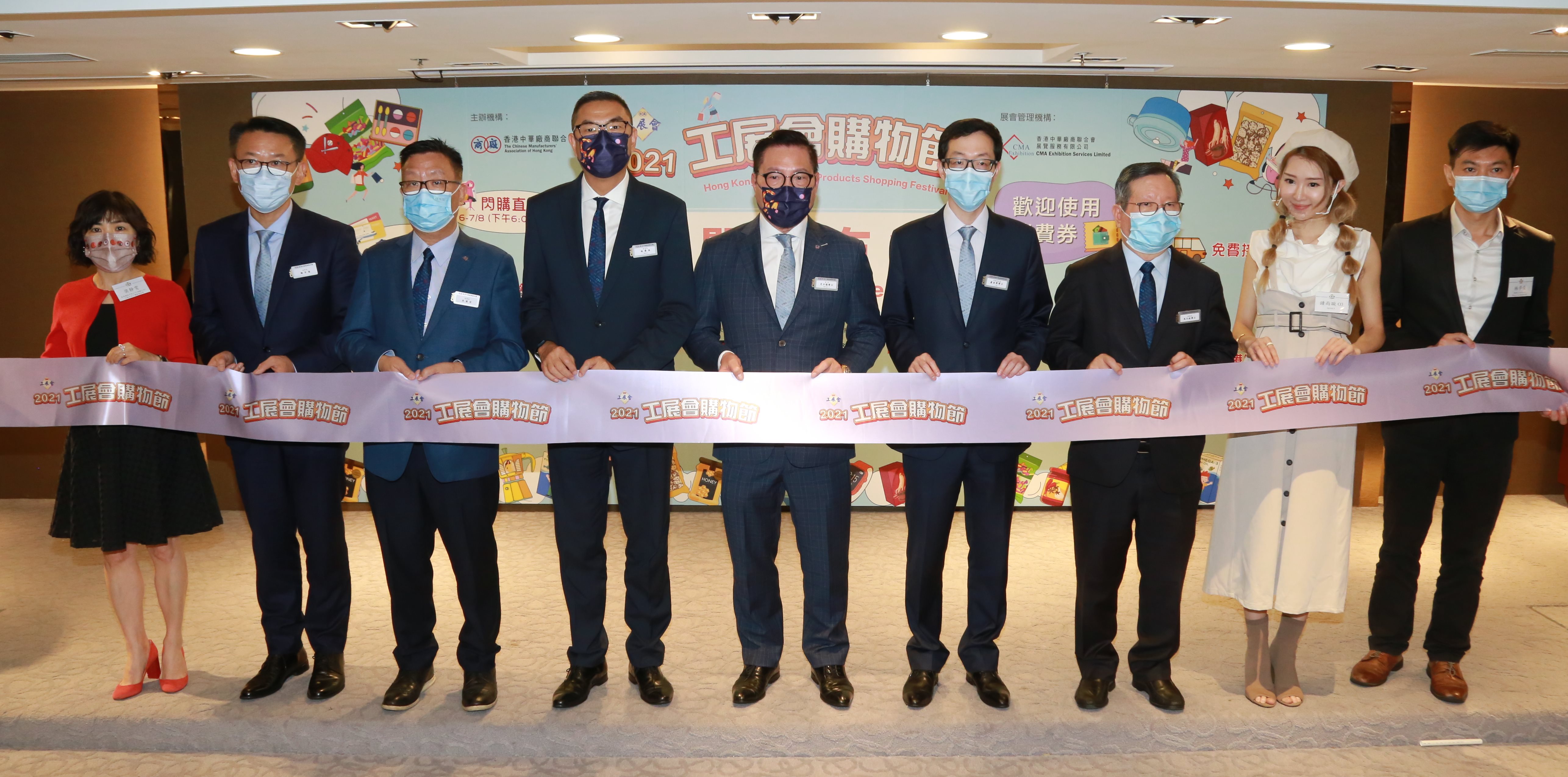 CMA office-bearers and guests officiated the kick-off ceremony of 2021 Hong Kong Brands and Products Shopping Festival (from the left, MTR Corporation General Manager - Marketing & Customer Experience Ms Annie Leung, CMA Vice Presidents Mr Robert Lok Pak Keung, Mr Dennis Ng Kwok On, CMA Vice President cum Chairman of the CMA Exhibition Services Limited Mr Ivan Sze, CMA President Dr Allen Shi, CMA Executive Vice President Dr Lo Kam Wing, CMA Vice President Dr Ma Kai Yum, Singer Ms Ophelia So, and Long Win Bus Company Head of Corporate Communications and Public Affairs Department Mr Addie Lam)
Encls.
For more product photos, please visit:
https://drive.google.com/drive/folders/14X4V4IhwHCWxgUA_QbhHGXqV8FtHco2h?usp=sharing