CMA Hosts High-level Conference to Discuss Ways to Boost Re-industrialisation
Organised by the Chinese Manufacturers' Association of Hong Kong (CMA) and sponsored by HSBC, a high-level conference titled "Manufacturing a New Future for Hong Kong" took place today (22 July) at Island Shangri-la. This is one of celebration events held by CMA for the 25th anniversary of the Hong Kong Special Administrative Region (HKSAR).
Mr Eric Chan, Chief Secretary for Administration of the HKSAR Government and Dr Allen Shi, President of CMA officiated at the event, at which over 200 delegates, including government officials, business leaders and academics, attended. CMA was also honoured to have Mr John Lee, Chief Executive of the HKSAR, deliver a video message at the conference.
The conference brought together prominent figures and industry leaders to discuss the prospects of and strategies for revitalising local manufacturing through innovation and technology (I&T) so that it becomes a pillar of the city's future economic development.
Dr Allen Shi said, "Businesses are an essential part of an innovation and technology ecosystem; however, the small scale of manufacturing in Hong Kong is hindering the city's technology commercialisation. Given the importance of manufacturing in driving I&T development and the next economic transformation of the city, we need to expedite re-industrialisation. Apart from developing advanced manufacturing, there is a strong consensus that the government needs to offer more attractive incentives to traditional industries, including those in the Pearl River Delta, to encourage them to move up the value chain."
The goals of the national 14th Five-Year Plan are to develop I&T and accelerate the transformation of manufacturing. President Shi added, "Hong Kong has competitive edges on many fronts, such as a deep talent pool, cutting-edge research, an inherent industrial foundation, Hong Kong brands that enjoy a good reputation, and rich international experience. These attributes enable the city to not only achieve its development goals but also contribute to the country's technological and industrial innovations."
Frank Fang, General Manager and Head of Commercial Banking, Hong Kong and Macau, HSBC, said, "Underpinned by its comprehensive production and supply chains, logistics infrastructure as well as large consumer market, the Greater Bay Area will add new impetus to Hong Kong's manufacturing sector and will enable businesses to commercialise their innovation. Hong Kong's financial sector has long been playing a key role in connecting the trade and investment flow between mainland China and international markets. The city will continue to leverage its capital raising, offshore RMB and cross-border financial service capabilities to fuel its reindustrialisation."
Hong Kong's integration with the huge market and value chain of the Greater Bay Area will complement its competitive strengths. Keynote speaker Professor Yue Chim Richard Wong, Provost and Deputy Vice-Chancellor and Chair of Economics of the University of Hong Kong, shared his views on how Hong Kong's R&D work and products create new competitive advantages through regional synergies.
Speakers for the panel discussion session, which was moderated by Mr the Hon Jimmy Ng, Legislative Council Member Industrial (Second), were from various sectors of the industry ecosystem, including Professor Sun Dong, Secretary for Innovation, Technology and Industry, Dr Hon Wendy Hong Wen, Legislative Council Member (Election Committee), Mr Frank Fang, General Manager and Head of Commercial Banking, Hong Kong and Macau of HSBC, Professor Cheng Ka Wai Eric, Professor of Faculty of Electrical Engineering at the Hong Kong Polytechnic University, and Mr Robert Lok, Chairman of CMA Testing. They offered their views and insights on how to strengthen the close collaboration among government, industry, academia and research and ride on the opportunities presented by the Northern Metropolis to boost re-industrialisation.
Other guests and CMA office-bearers attending today's conference included Mr Zhu Wen, Director-General of Coordination Department of Liaison Office of the Central People's Government in the HKSAR; Dr the Hon Jose Yu and Dr Dennis Ng, Permanent Honorary Presidents of CMA; Dr Wingco Lo, Executive Vice President of CMA; Mr Simon Wong, Mr Dennis Ng Kwok On, Dr Ma Kai Yum, Mr Jackson Leung and Mr Calvin Chan, Vice Presidents of CMA; Mr Ralph Chow, CEO of CMA, and Mr Dick Wong, Head of Corporate (Industrials), Commercial Banking, Hong Kong, HSBC.
"Manufacturing a New Future for Hong Kong" high-level conference, organised by CMA and sponsored by HSBC, was concluded successfully today
(Front row, from left to right: Dr Wingco Lo, Executive Vice President of CMA, Dr Hon Wendy Hong Wen, Legislative Council Member (Election Committee), Mr Frank Fang, General Manager and Head of Commercial Banking, Hong Kong and Macau, HSBC, Dr Dennis Ng, CMA Permanent Honorary President, Mr Zhu Wen, Director-General of Coordination Department of Liaison Office of the Central People's Government in the HKSAR, Dr Allen Shi, President of CMA, Mr Eric Chan, Chief Secretary for Administration of the HKSAR Government, Dr the Hon Jose Yu, Permanent Honorary President of CMA, Professor Sun Dong, Secretary for Innovation, Technology and Industry, Mr the Hon Jimmy Ng, Legislative Council Representative of CMA, Professor Yue Chim Richard Wong, Provost and Deputy Vice-Chancellor and Chair of Economics of the University of Hong Kong, Professor Cheng Ka Wai Eric, Professor of Faculty of Electrical Engineering at the Hong Kong Polytechnic University and Mr Simon Wong, Vice President of CMA)
(Second row, from left to right: Mr Robert Lok, Mr Jackson Leung and Mr Dennis Ng Kwok On, Vice Presidents of CMA; Mr Dick Wong, Head of Corporate (Industrials), Commercial Banking, Hong Kong, HSBC, Dr Ma Kai Yum and Mr Calvin Chan, Vice Presidents of CMA and Mr Ralph Chow, CEO of CMA)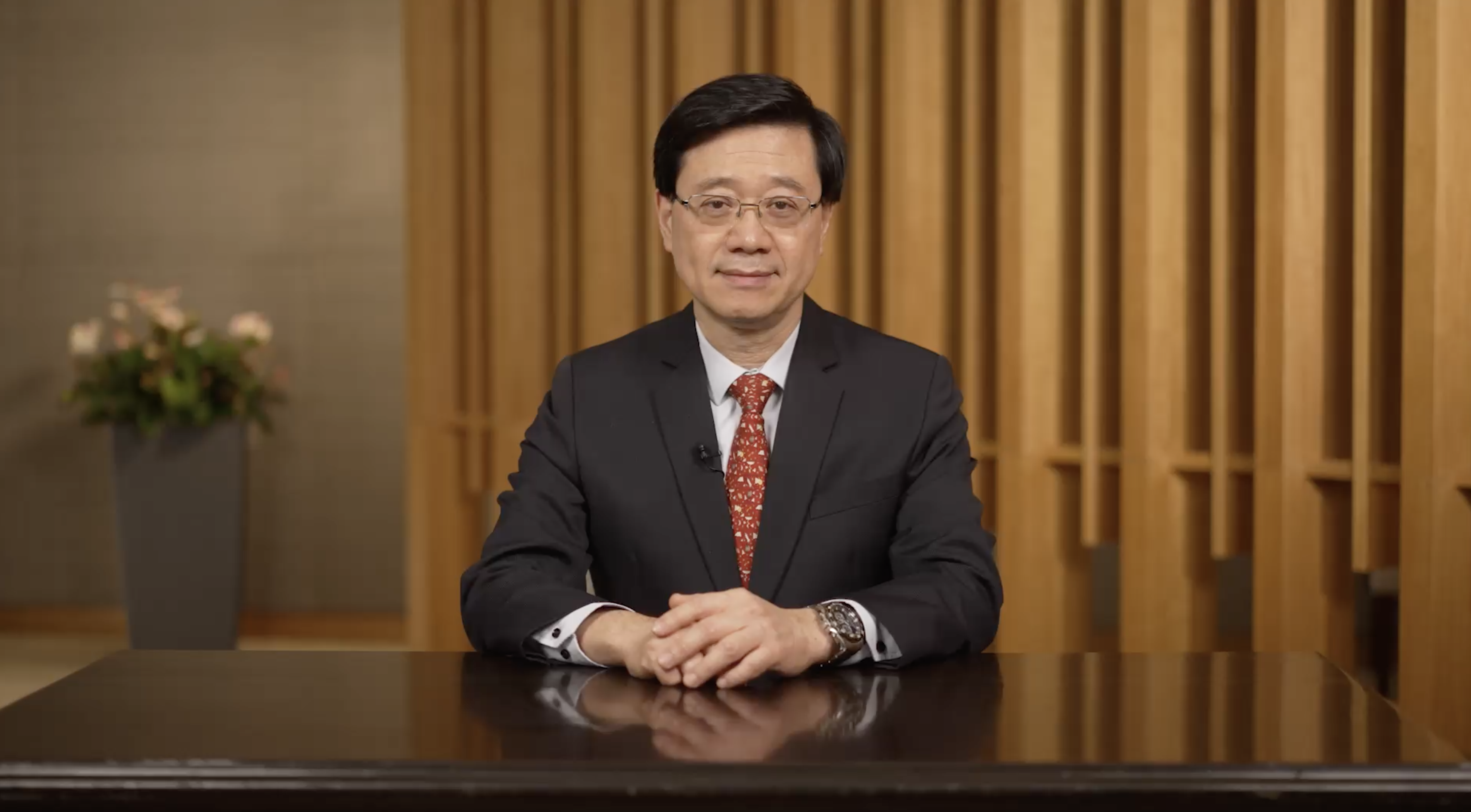 Mr John Lee, Chief Executive of the HKSAR, delivered a video message at the conference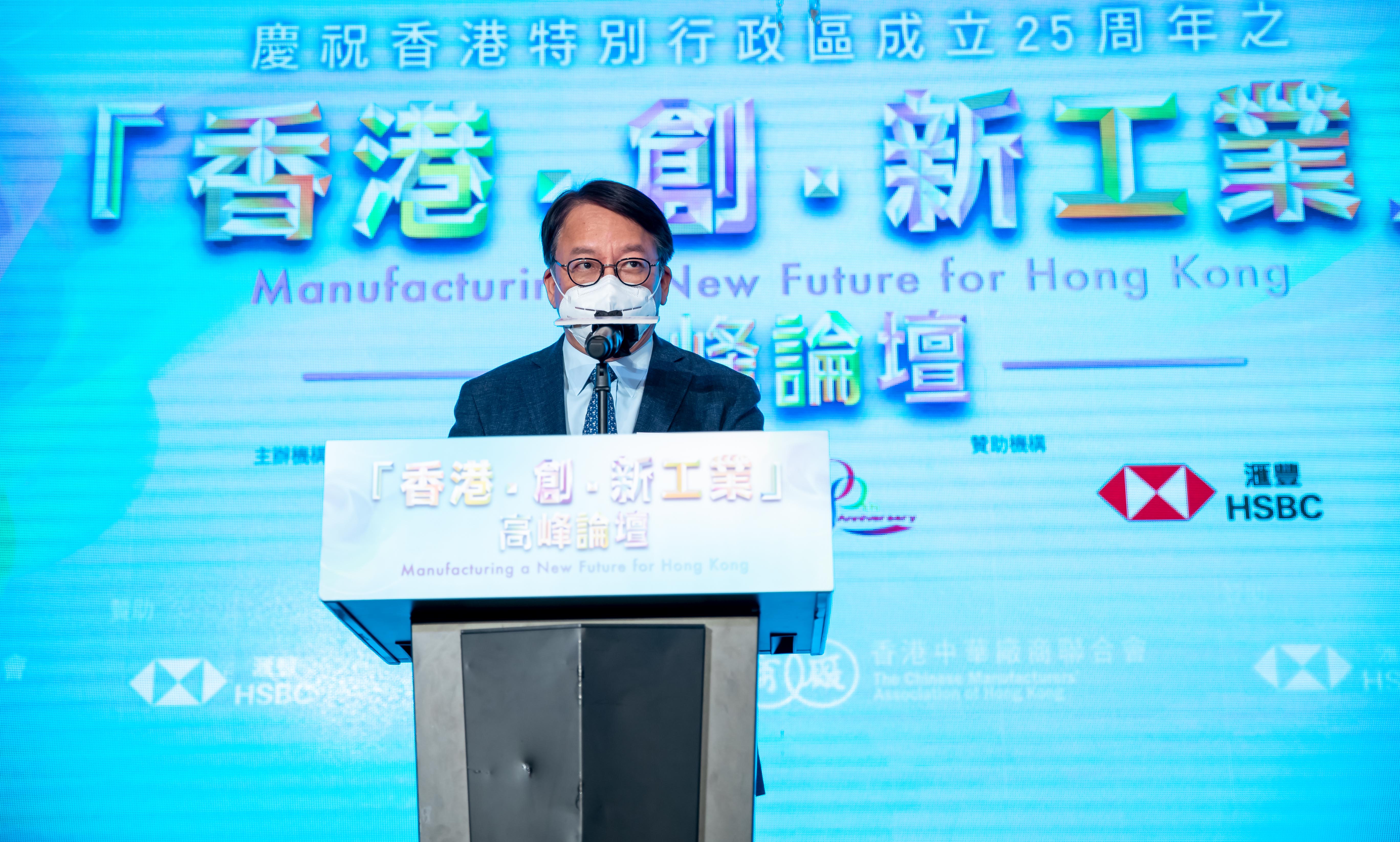 Mr Eric Chan, Chief Secretary for Administration of the HKSAR Government, delivered a speech at the conference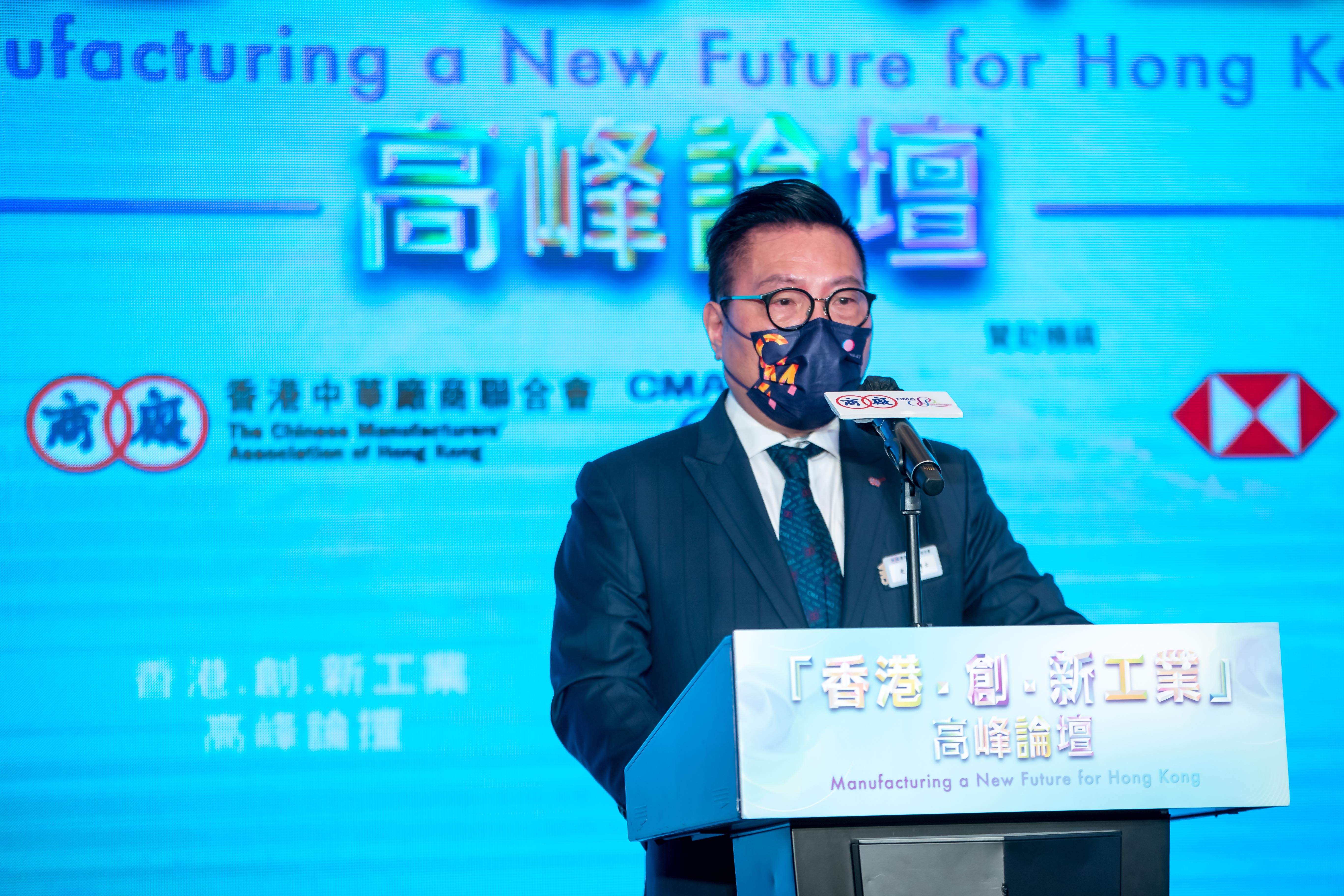 Dr Allen Shi, President of CMA, stressed the importance of re-industrialisation in Hong Kong's economy and I&T development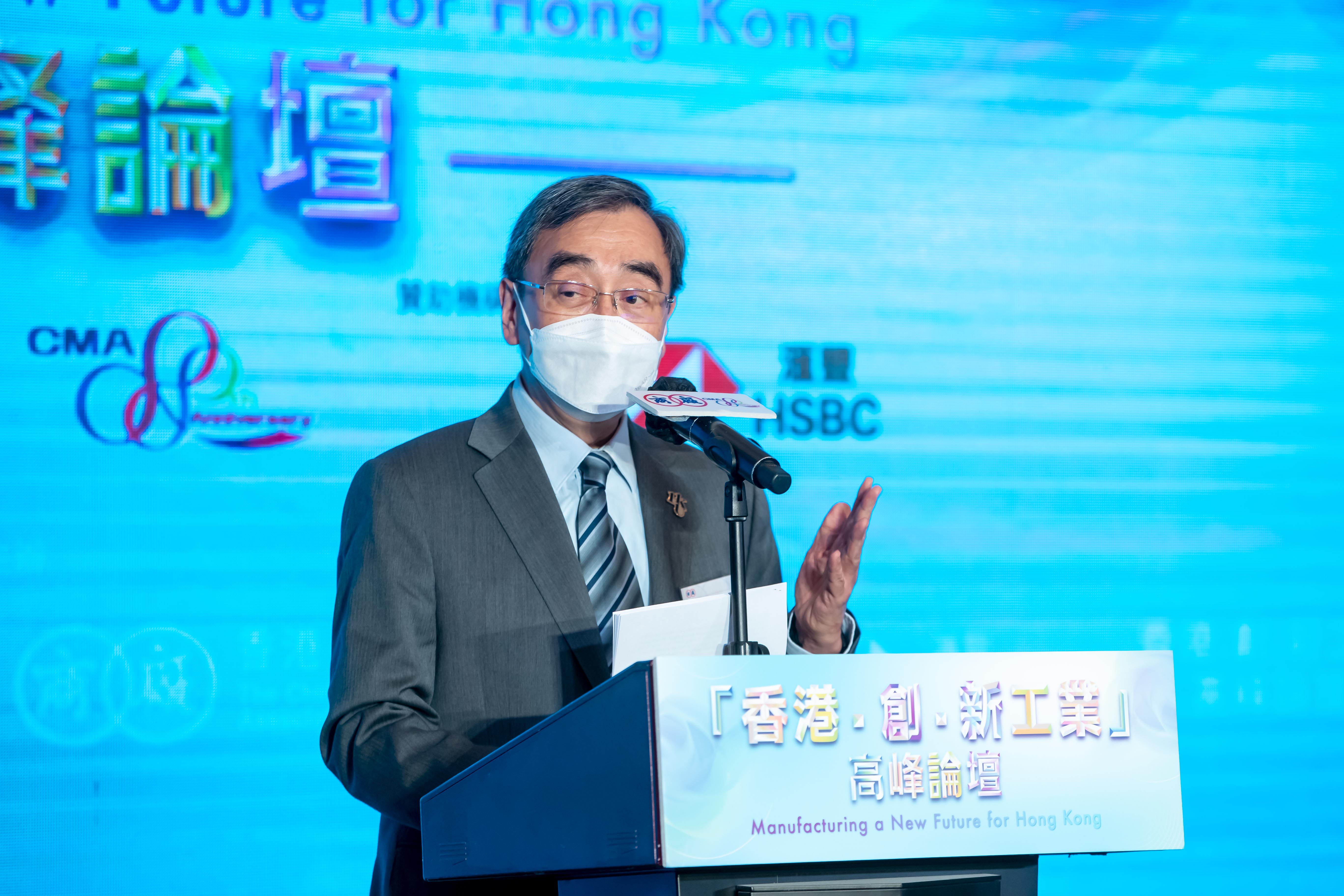 Professor Yue Chim Richard Wong, Provost and Deputy Vice-Chancellor and Chair of Economics of the University of Hong Kong, delivered a keynote speech on the prospects of Hong Kong's industry in the GBA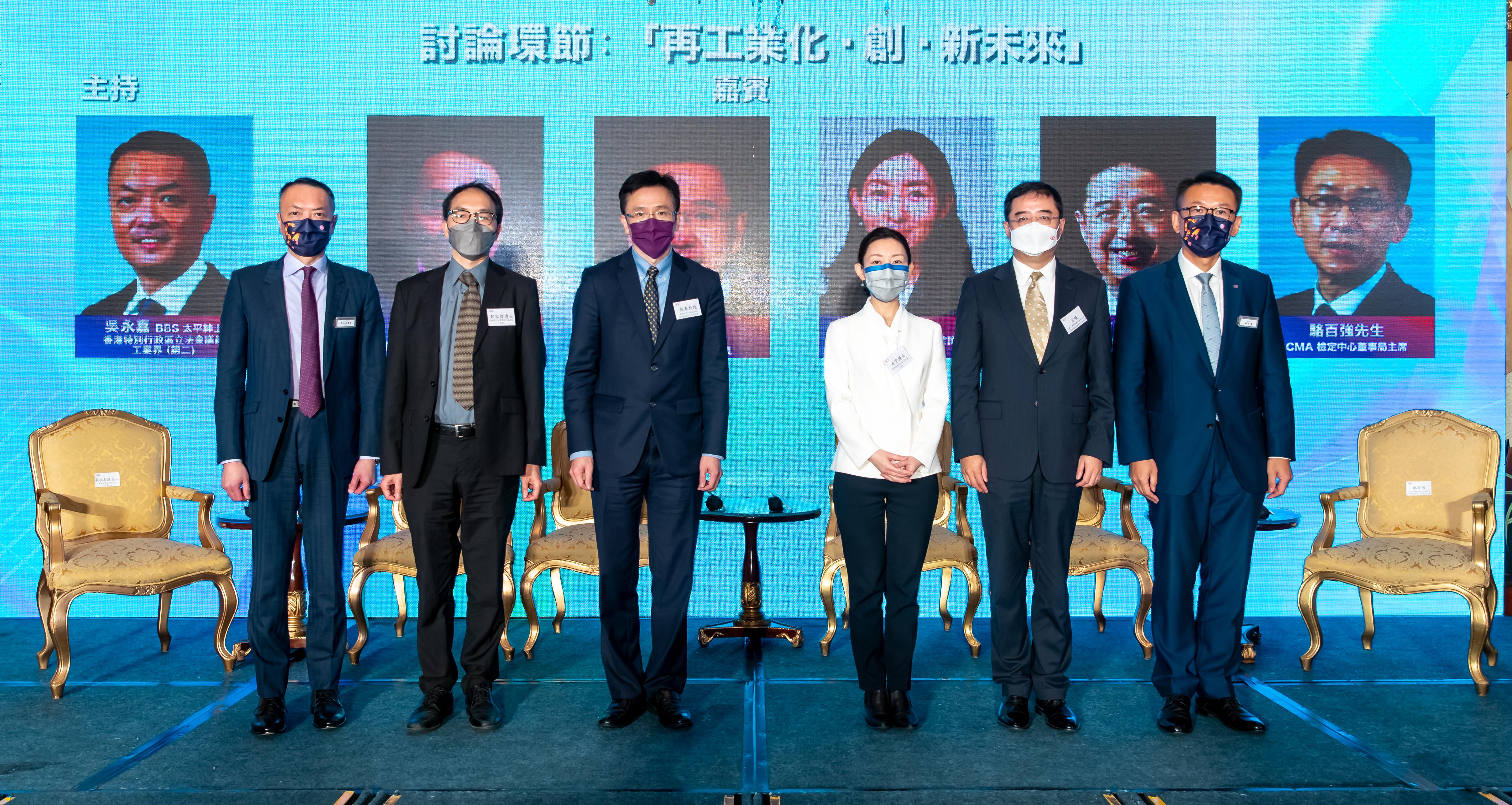 At the panel discussion moderated by Mr the Hon Jimmy Ng, Legislative Council Representative of CMA (first from the left), guest speakers Professor Sun Dong, Secretary for Innovation, Technology and Industry (third from the left), Dr Hon Wendy Hong Wen, Legislative Council Member (third from the right), Mr Frank Fang, General Manager and Head of Commercial Banking, Hong Kong and Macau of HSBC (second from the right), Professor Cheng Ka Wai Eric, Professor of Faculty of Electrical Engineering at the Hong Kong Polytechnic University (second from the left), and Mr Robert Lok, Chairman of CMA Testing (first from the right), shared their insight on how to boost re-industrialisation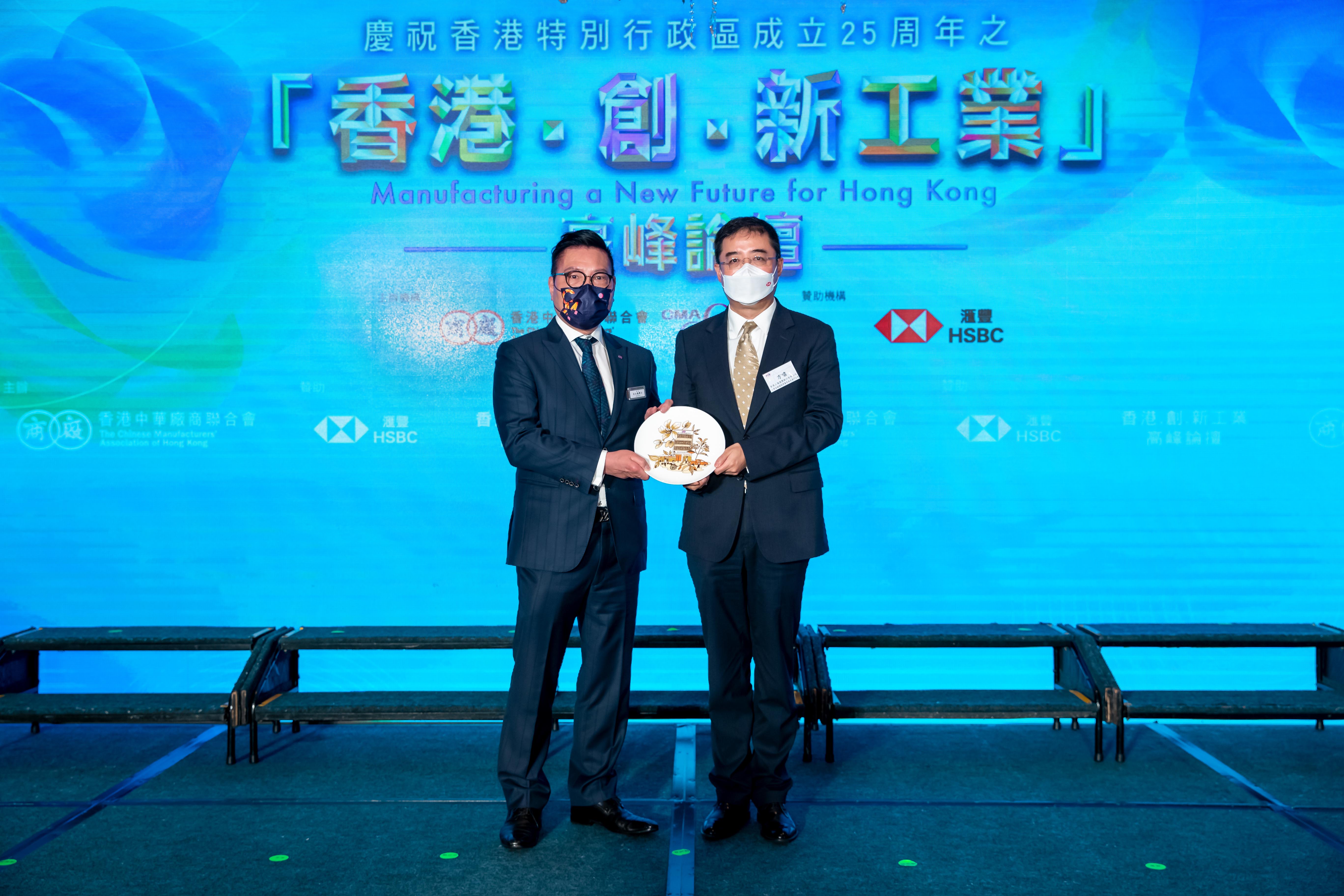 Dr Allen Shi, President of CMA (left), presented a souvenir to Mr Frank Fang, General Manager and Head of Commercial Banking, Hong Kong and Macau of HSBC (right) to thank HSBC for their support for the conference