"The 26th Hong Kong International Education and Careers Expo" Opens
Organised by the Chinese Manufacturers' Association of Hong Kong (CMA), the two-day "The 26th Hong Kong International Education and Careers Expo" (HKIECE) starts today (6 July) at Hong Kong Convention and Exhibition Centre.
A grand opening ceremony was held this morning to mark the beginning of this special occasion. The officiating guests included: Secretary for Labour and Welfare Dr Law Chi Kwong, Director of the Immigration Mr Erick Tsang Kwok Wai, Commissioner of Customs and Excise Mr Hermes Tang, Commissioner of Correctional Services Mr Woo Ying Ming, and Secretary General of Hong Kong Examinations and Assessment Authority Ir Dr So Kwok Sang. They joined together with CMA President Dr Dennis Ng and other CMA office-bearers to unveil the expo.
Addressing the ceremony, Dr Dennis Ng said, "The HKIECE is carried out in larger scale and with richer content. It will offer a wider range of high-quality course options and job opportunities to help students, graduates and job seekers make informed decisions about their prospects, and better equip themselves for future."
The HKIECE features four major zones, namely "Overseas Education Zone", "Local Education Zone", "Taiwan Education Zone" and "Careers Square". By gathering more than 700 universities and higher education institutions in 18 countries and regions, the expo provides students and their parents with a wealth of information about academic courses and training programmes across different streams. In addition, there will be abundant job information and on-the-spot recruitment opportunities provided by various government departments, disciplined services, public organisations and private companies. 2,000 full-time and part-time vacancies, covering a wide variety of positions and industries, are offered for job seekers and recent graduates. A VR game booth is also available to help visitors get ready for any interview scenario.
The HKDSE Examination results will be released soon and some students may feel frustrated. We have an amazing line-up of speakers who will be sharing with students their advice on study pathways and career choices. For instance, Mr Steven Ma came today to give encouragement to young people by sharing his story of achievement and hard work. Hong Kong billiards sport athlete Ms Ng On Yee will also give a motivational talk tomorrow. Visitors can also seek personalised advice from the experienced counsellors and registered social workers.
Other guests attending the opening ceremony included Associate Vice President (Academic Support) and Academic Secretary of The Hong Kong Polytechnic University Professor Ho Siu Lau, Vice Chairman of Federation for Self-financing Tertiary Education Dr Chan Cheuk Hay, Chairman of Education Committee, Caritas - Hong Kong Dr Paul Lau Wai Keen, Chairman of Wong Tai Sin District Secondary School Heads Association Mr Jonathan Lai Ping Wah, Vice Chairman of Executive Committee of The Association of Hong Kong Chinese Middle Schools Ms Veronica Yau Kit Ying, Vice President of CUHK School Heads Alumni Association Dr Anne Chan Yee Man, Principal of the Kowloon Bay Campus of Hong Kong Institute of Construction Ir Davis Liu, Executive Director of Hok Yau Club Ms Elsa Chan, Deputy Executive Director of Vocational Training Council Dr Michael Wang Jianguo, Senior Labour Officer (Employment Information and Promotion Division) of Labour Department Mr Yeung Chi Kit, Director of University Admissions Office of Hong Kong Shue Yan University Miss Jay Leung, Senior System Manager of Hong Kong Education City Mr Derek Lui, Supervisor of The Hong Kong Federation of Youth Groups Ms Vicky Kwong Wing Ki; Permanent Honorary President of the CMA Mr Herbert Liang, the 1st Vice President of the CMA Dr Allen Shi; Vice Presidents of the CMA Mr Ng Ching Wun, Dr Wong Chun, Dr Lo Kam Wing, Mr Dennis Ng Kwok On, Dr Ma Kai Yum and Chief Executive Officer of the CMA Mr Raymond Young.
Admission to the HKIECE is free and it is open from 11:30am to 6:30pm daily. For details, please visit the official website: www.hkiee.com.hk.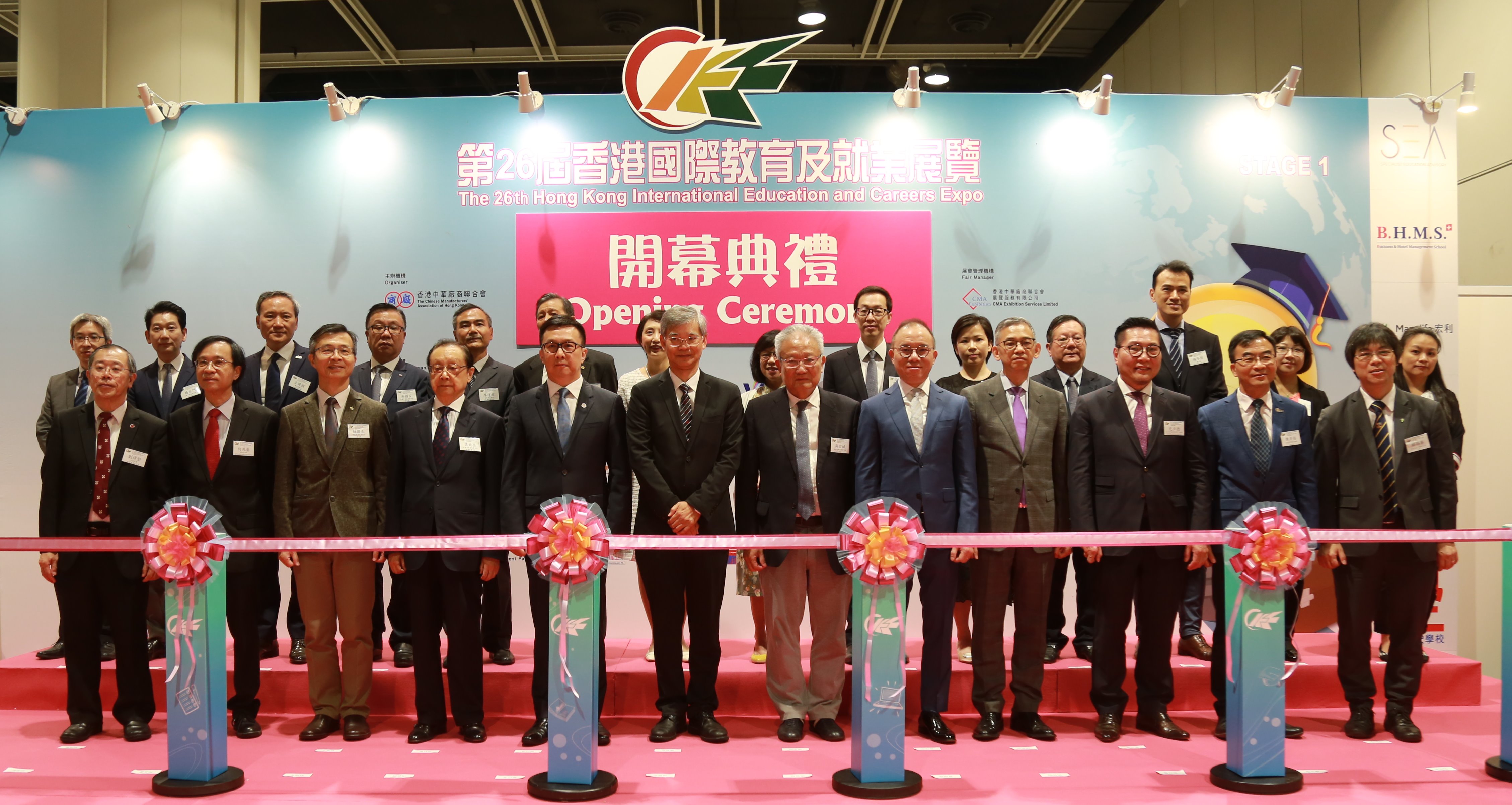 Secretary for Labour and Welfare of the HKSAR Dr Law Chi Kwong (front row, 6th from the left), Director of the Immigration Mr Erick Tsang Kwok Wai (front row, 5th from the right), Commissioner of Customs and Excise Mr Hermes Tang (front row, 5th from the left), Commissioner of Correctional Services Mr Woo Ying Ming (front row, 4th from the right), Secretary General of Hong Kong Examinations and Assessment Authority Ir Dr So Kwok Sang (front row, 3rd from the left), CMA President Dr Dennis Ng (front row, 6th from the right) and many other distinguished guests from business and education sectors officiated at the opening ceremony of " The 26th Hong Kong International Education and Careers Expo"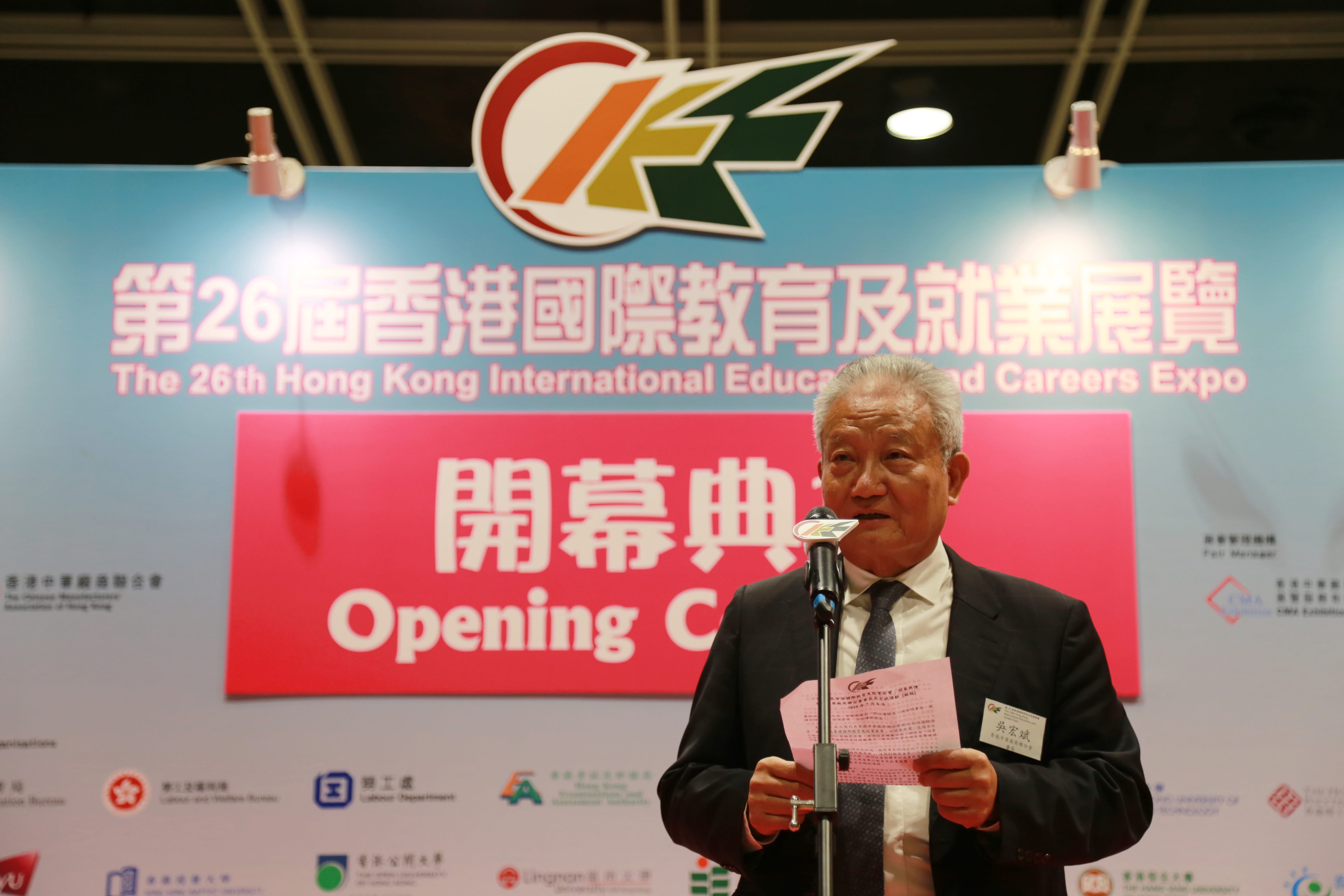 CMA President Dr Dennis Ng made opening remarks at the opening ceremony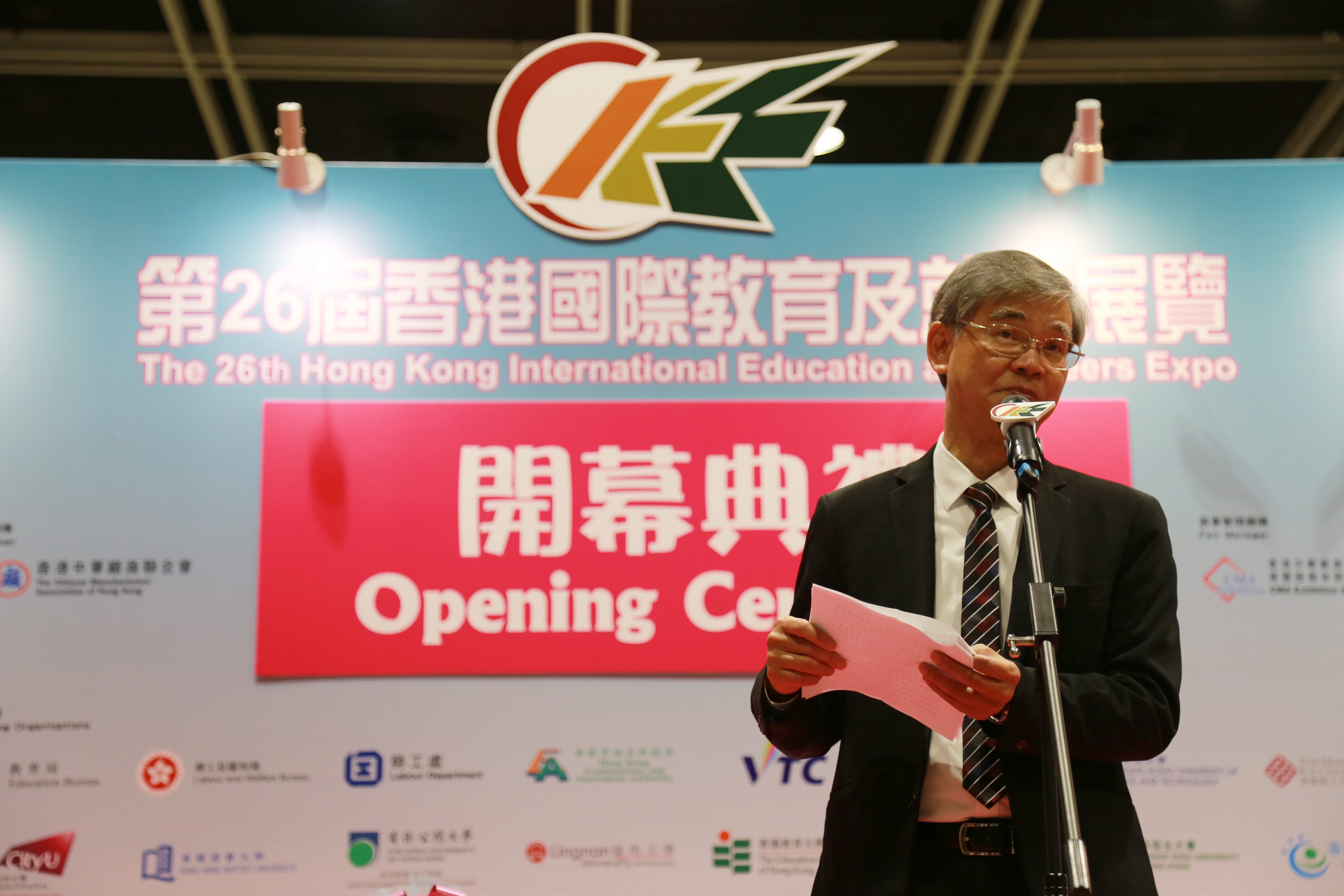 Secretary for Labour and Welfare Dr Law Chi Kwong delivered a speech at the opening ceremony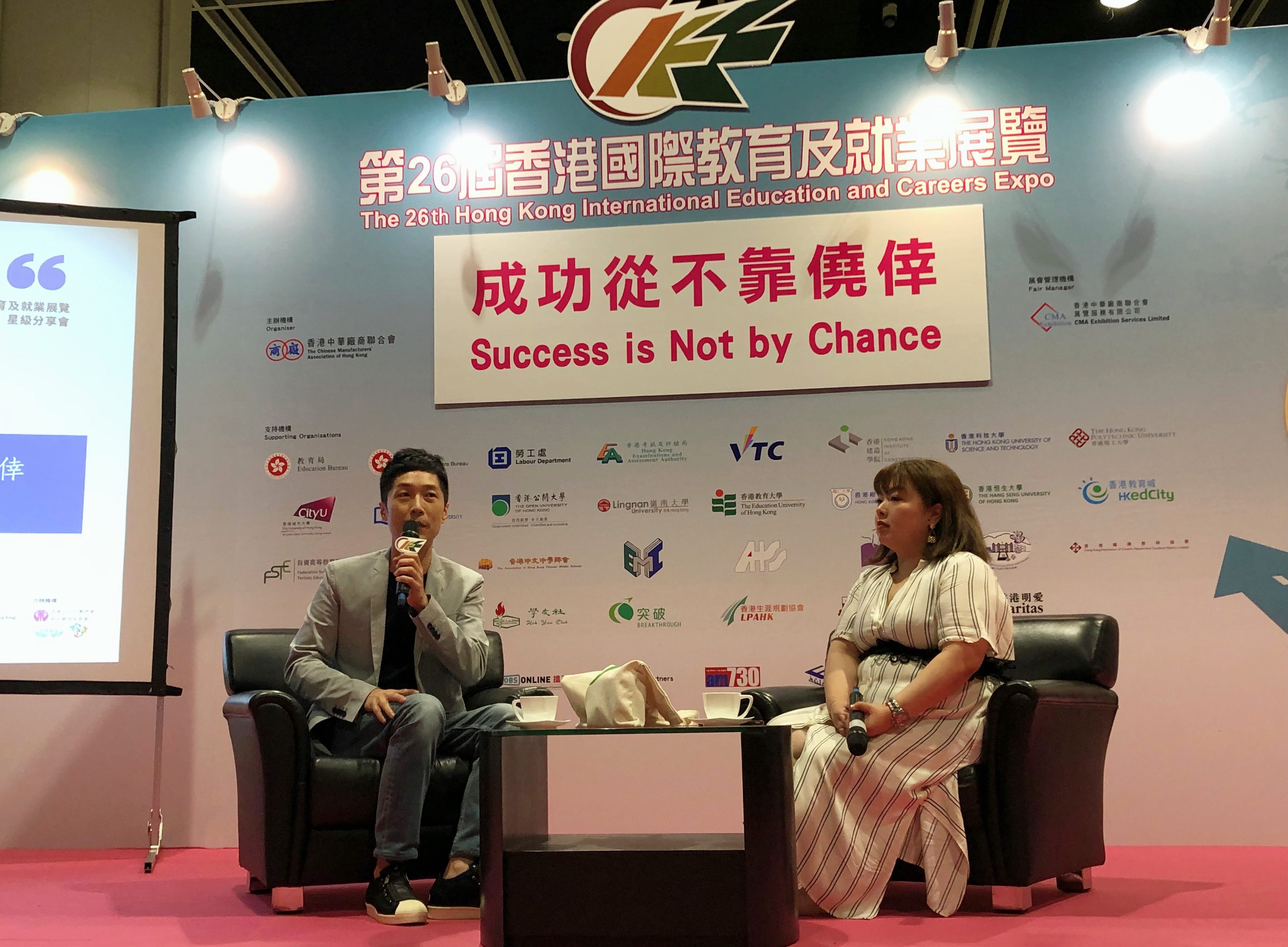 Mr Steven Ma shared with young people his story of achievement and hard work
"The 26th Hong Kong International Education and Careers Expo" gathers more than 700 universities and higher education institutions and 2,000 employment opportunities
6.7.2019 (星期六Saturday)
時間Time
演講台Stage 1
時間Time
演講台Stage 2
11:30-12:00
開幕禮
Opening Ceremony

14:15-15:00

考評局的考試服務 協助考生開拓多元出路
Examination Services of the HKEAA
Multiple Pathways for Students

香港考試及評核局
國際及專業考試部總經理羅慧基博士
Dr Margaret Lo, General Manager-
International and Professional Examinations,
Hong Kong Examinations and Assessment
Authority

12:15-13:00
2019年廠商會獎學金頒獎典禮
2019 CMA & Donors Scholarship Presentation Ceremony

16:00-16:30

職場有格
Career Personality

香港青年協會
青年就業網絡單位主任張志偉先生
Mr Cheung Chi Wai, Unit-in-charge,
Youth Employment Network,
The Hong Kong Federation of Youth Groups

13:15-14:00
星級分享會:成功從不靠僥倖
Star Sharing Session:Success is Not by Chance

馬浚偉先生
Mr Steven Ma

16:30-17:00
DSE放榜規劃全攻略
Getting Ready for the Release of HKDSE Results

學友社學生輔導顧問吳寶城先生
Mr Ng Po Shing, Student Guidance Consultant, Hok Yau Club

15:00-15:30

升學新出路-香港恒生大學簡介
Wise Pathway for the Youth : Introduction to
The Hang Seng University of Hong Kong

香港恒生大學教務處助理經理吳天恩女士
Ms Maggie Ng, Assistant Manager of
Registry, The Hang Seng University of Hong
Kong

16:30-17:00

豐盛大學生活在樹仁
To Live a Fruitful and Successful U-Life at
Shue Yan

香港樹仁大學招生事務處總監梁小琪小姐
Ms Jay Leung, Director of University
Admissions Office, Hong Kong Shue Yan
University

17:00-17:30
世界十大名校申請攻略
Strategy to apply for the world's top ten schools

新城廣播有限公司
《新城教育+》總策劃凌羽一博士
Dr Jeffrey Hui, Chief Strategist of Metro Education Plus, Metro Broadcast Corporation Limited

7.7.2019 (星期日Sunday)
時間Time
演講台Stage 1
時間Time
演講台Stage 2
12:00-13:00
台灣升學指南針:
報讀要件、選校策略及畢業出路
Exploring Taiwan Education

台灣現任教授及留台校友
Taiwan University Professors and Hong Kong Alumni in Taiwan

12:00-12:30
消防處職位介紹
Posts Introduction of Fire Services Department

香港消防處高級消防隊長吳偉諾先生
Mr Ng Wai Nok, Rocky, Senior Station Officer, Hong Kong Fire Services Department

14:15-15:00

電競業的生涯規劃
Career in Esports Industry

香港電競總會副主席及秘書長陳龍盛先生
Mr Eddy Chen, Vice Chairman and Secretary General, Esports Association Hong Kong

12:30-13:00

投身入境處
A Career with Immigration Department

香港入境事務處
高級入境事務主任胡寶兒小姐
Ms Wu Po Yee, Senior Immigration Officer, Immigration Department

15:00-15:30

休整生活的節奏,與心靈重新接軌
Finding the own pace of rest in a busy world and how does it truly connect to our minds and spirits

突破機構高級心理輔導員廖暉清女士
Ms Liau Fai Ching, Carmen, Senior Psychological Counsellor, Breakthrough Limited

13:00-13:30
香港海關招聘講座
Customs and Excise Department
Recruitment Talk

香港海關督察朱樂豪先生
Mr Chu Lok Ho, Inspector, Customs and Excise Department

15:30-16:15
星級分享會:堅持信念 成就夢想
Star Sharing Session:Believe in Yourself and Make Your Dreams Come True

香港桌球運動員吳安儀小姐
Ms Ng On Yee, Hong Kong Billiards Sport Athlete

14:00-14:30
建造業-是咁的
Let's Talk About Construction

香港建造學院學生招募主任黃良旭先生
Mr Wong Leung Yuk, Officer - Student Recruitment, Hong Kong Institute of Construction

16:15-16:45

職業專才教育最新發展
Latest Development on Vocational and Professional Education and Training

職業訓練局高級助理執行幹事任影嬋女士
Ms Yam Ying Sim, Gladys, Senior Assistant Executive Director, Vocational Training Council

14:30-15:00
發現真我
Discover the New Me

香港公開大學課程主任黃可欣博士
Dr Karen Wong, Programme Leader,
The Open University of Hong Kong
Encl:
The highlighted event and seminar schedule of "The 26th Hong Kong International Education and Careers Expo"