Hong Kong Food Carnival to Open on 30 October
The Hong Kong Food Carnival will return to Kwai Chung Sports Ground next week from 30 October through 7 November 2021. After two years away, the return of the Carnival reconnects food lovers, shopping enthusiasts and enterprises, which have taken a huge hit during the pandemic. The Chinese Manufacturers' Association of Hong Kong (The CMA) organised a press conference today to announce the details.
The CMA President Dr Allen Shi said, "The Carnival will build on the success of '2021 Hong Kong Brands and Products Shopping Festival', which was held in August at AsiaWorld-Expo and attracted tens of thousands of visitors with huge consumption enthusiasm. As usual, the Hong Kong Food Carnival will remain a popular spot for shopping and entertainment, even in the pandemic, providing a fantastic variety of gourmet food and products at great prices, and a unique opportunity to explore new flavours and fun surprises."
The 8th edition of the Carnival will feature the "Health Preserving Zone", "Leisure Food Zone", "Catering Equipment Zone", along with the newly added "HK Homegrown Market". Nearly 270 food stalls will offer massive discounts of up to 90% off on a range of specialty foods, drinks and houseware from local and around the world, including assorted seafood, grocery items, healthy food, fresh fruit, local agricultural and fisheries products, and also tableware and kitchen appliances. Visitors are welcome to use mobile payment and electronic consumption vouchers.
The CMA keeps everyone health and safety in mind. A number of sanitisation and safety protocols will be in place throughout the event, including no-tasting-or-drinking rule. "Though eating and drinking will be forbidden inside the venue, I believe that visitors can still enjoy a fun day out at the Carnival, where they can take home the latest gourmet food and be engaged by an array of joyful activities," noted by President Dr Shi.
Cooking demonstrations by artiste Gigi Wong, the Ambassador for the event, are the highlights. She will cook her signature recipes, and share her tips with food lovers after the opening ceremony and at the Star Chef Cooking Show during the Carnival. "There is an amazing programme of free entertainment and activities to enjoy, including musical and dancing performances, game booths and lucky draws with prizes worth over HK$1 million. The Carnival will also bring Halloween spirit and frightful fun to visitors. Halloween-themed activities, including a parade, games, a workshop and performances, will be held on 31 October. Visitors are encouraged to wear their own costumes and take part in the fun," said CMA Executive Vice President cum Vice Chairman of CMA Exhibition Services Limited Dr Wingco Lo.
The admission fee is HK$4. Senior citizens aged 65 or above, children under 1 metre in height and people of disabilities can enjoy free admission. Citizens who have received at least one dose of the COVID-19 vaccines can also enter the venue for free after 4:30pm every day. Visitors would be required to pay for admission by Octopus at the entrance. E-tickets are also available on Cityline. To encourage people to reduce consumption of disposables, 5,000 cutlery sets will be given to visitors every day on a first-come-first-served basis.
With the government's support, the Carnival obtains a venue rental concession. The CMA has therefore reduced the Carnival fees by offering a booth rental discount of 25% to all exhibitors and reducing the admission ticket price to HK$4 in the hope of riding out the difficult times with businesses and citizens.
The organiser is very grateful for the continued support of the HKSAR government, and special thanks go to Commerce and Economic Development Bureau, Trade and Industry Department, Kwai Tsing District Council, Kwai Tsing District Office, and all of the exhibitors, sponsors, supporting organisations, media friends and Hong Kong citizens.
Details of the 8th Hong Kong Food Carnival
| | |
| --- | --- |
| Date | 30 October – 7 November 2021 |
| Venue | Kwai Chung Sports Ground (MTR Kwai Fong Station Exit D) |
| Opening hours | 10:30am - 7:30pm (no entry 30 minutes before closing time everyday and at 6:30pm on the last day) |
| Admission ticket price | HK$4 (Free admission for children under 1 metre in height, senior citizens aged 65 or above, and persons with disabilities. People who have received at least one dose of COVID-19 vaccines can enter the venue for free after 4:30pm) |
| More details | Visit www.foodhk.com.hk |
Encls.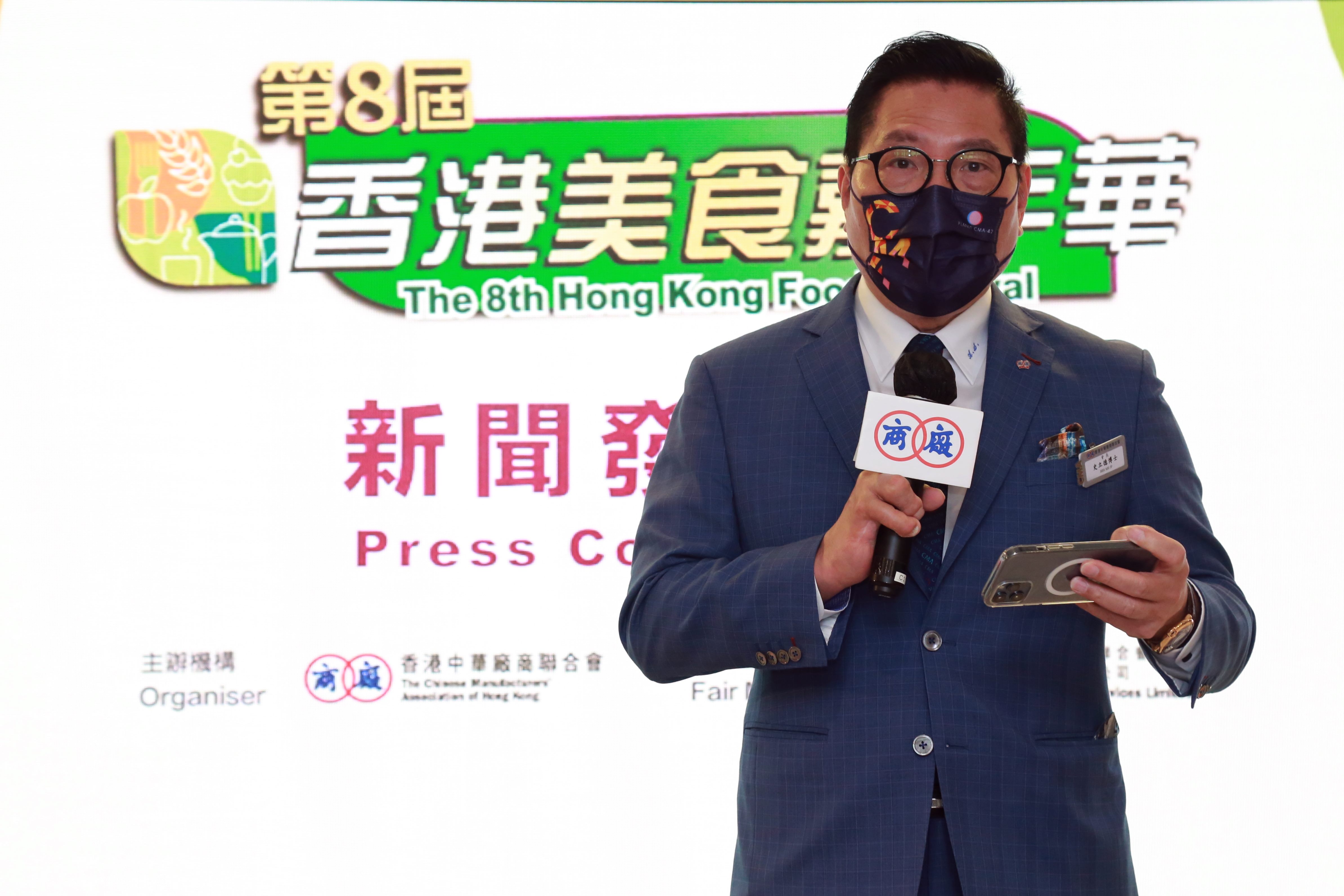 CMA President Dr Allen Shi believes that the 8th Hong Kong Food Carnival can serve as a platform to reconnect food lovers, shoppers and enterprises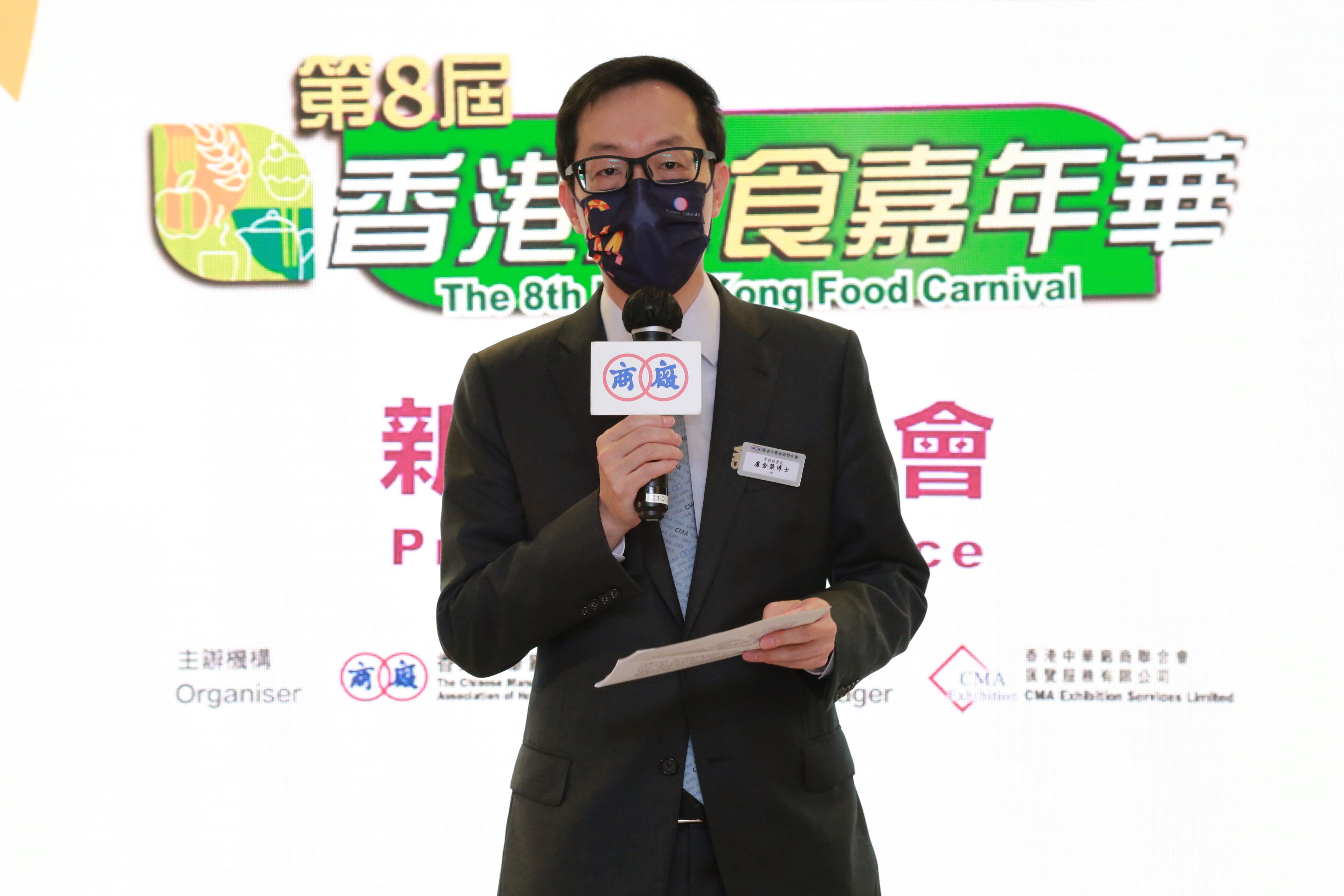 CMA Executive Vice President cum Vice Chairman of CMA Exhibition Services Limited Dr Wingco Lo introduced the details of the 8th Hong Kong Food Carnival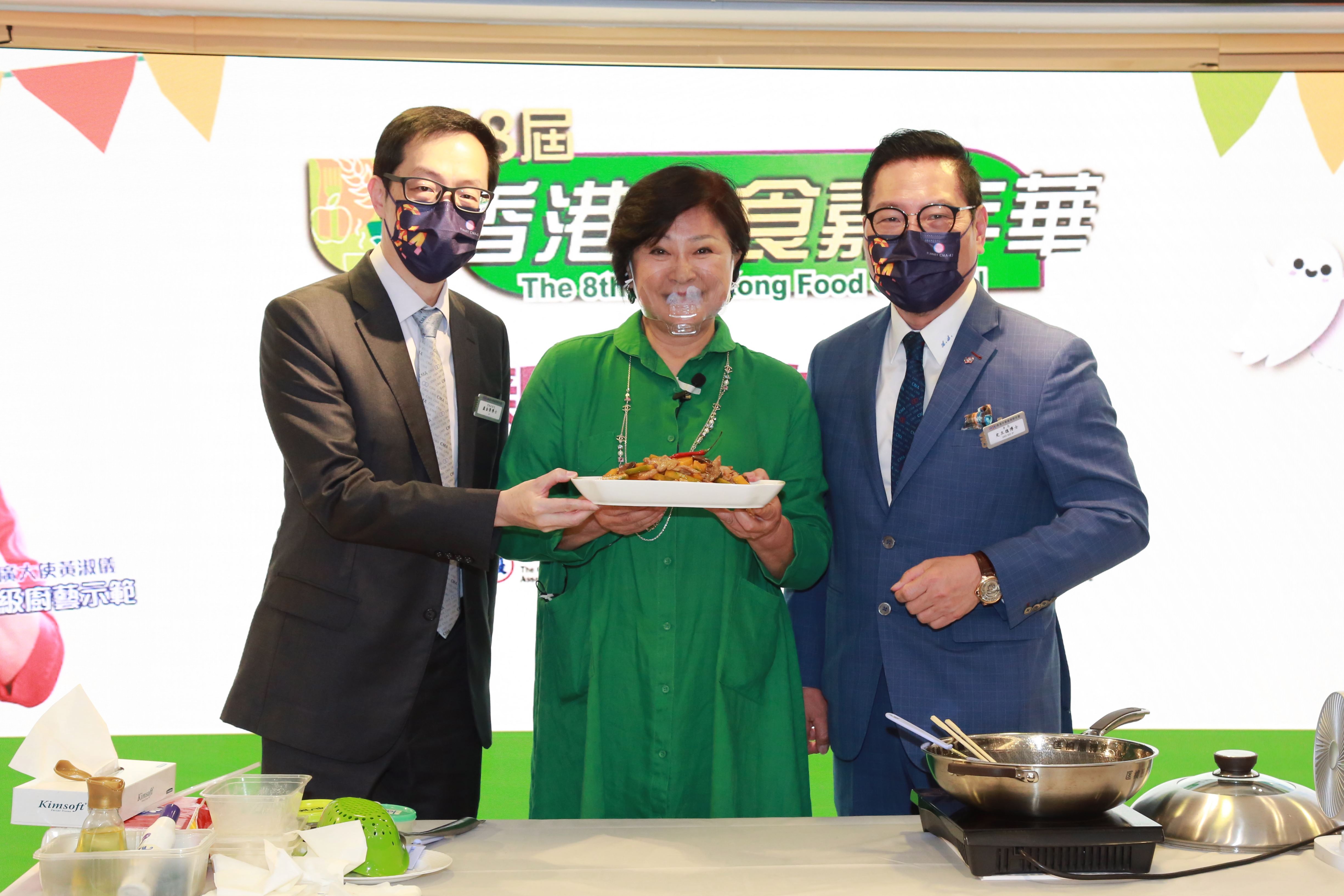 The Promotion Ambassador Gigi Wong (middle) demonstrated her cooking skills during the press conference. Next to her are CMA President Dr Allen Shi (right) and CMA Executive Vice President cum Vice Chairman of CMA Exhibition Services Limited Dr Wingco Lo (left)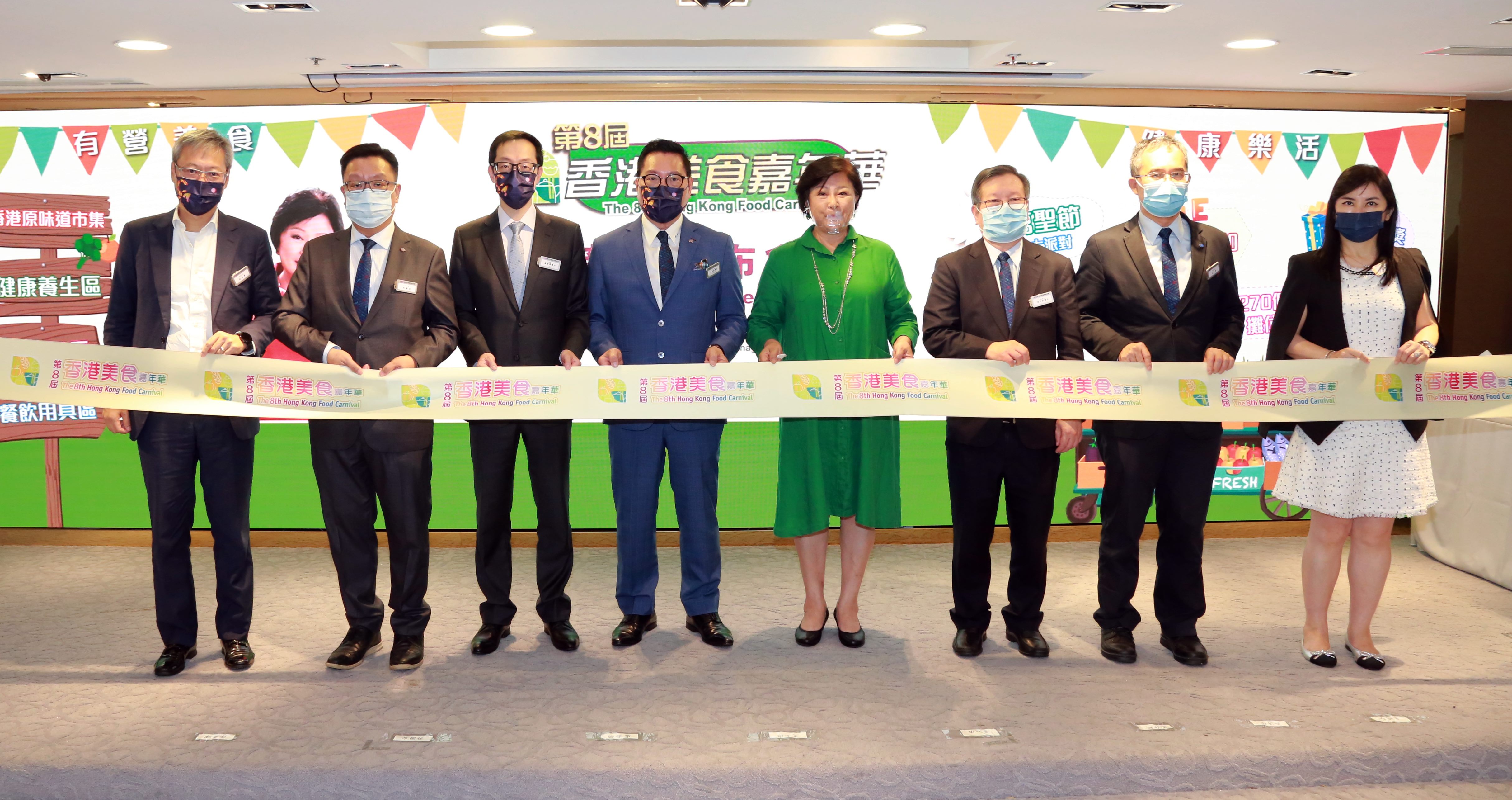 CMA office-bearers and guests officiated the kick-off ceremony of the 8th Hong Kong Food Carnival (from the left, CMA Executive Committee Member Marvin Hsu Tsun Fai, CMA Vice President Dennis Ng Kwok On, CMA Executive Vice President cum Vice Chairman of CMA Exhibition Services Limited Dr Wingco Lo, CMA President Dr Allen Shi, The Promotion Ambassador Gigi Wong, CMA Vice President Dr Ma Kai Yum, CMA Executive Committee Members Ng Ching Wun and Stella Lee)