2022 Hong Kong Brands and Products Shopping Festival Opens Today
The 2022 Hong Kong Brands and Products Shopping Festival, which opens today (9 September), runs through to Monday (12 September) at the AsiaWorld-Expo. Organised by the Chinese Manufacturers' Association of Hong Kong (CMA), tens of thousands of product options will be on display. As delightful as its name suggests, the Festival is more than just shopping. This activity-packed event is even bigger and better than last year and, promises to be an exciting one-stop platform for choice, value and fun.
Officiating guests at the grand opening ceremony included Secretary for Commerce and Economic Development Mr Algernon Yau, Director-General of Trade and Industry Ms Maggie Wong, President of CMA Dr Allen Shi, Chairman of the Chinese General Chamber of Commerce Mr Yuen Mo, Chairman of AsiaWorld-Expo Management Limited Mr Ng Chi Kee, Legislative Council Member - Industrial (Second) Mr Jimmy Ng, Executive Vice President of CMA Dr Wingco Lo, Vice Presidents of CMA Mr Simon Wong, Dr Edward Chan, Mr Dennis Ng, Dr Ma Kai Yum, Mr Jackson Leung, Mr Calvin Chan, Mr Robert Lok and CEO of CMA Dr Ralph Chow.
President of CMA Dr Allen Shi said, "After an incredible response to the first edition, this year's Festival has 30% more booths, reflecting the confidence of our exhibitors. To avoid disappointing them and attendees, even more resources and efforts have been devoted to boosting the event. Apart from offering a full suite of shopping experiences for all manner of tastes, lifestyles, healthcare and gifting needs, it also offers a stunning line-up of amusing activities and stage performances. The Festival's centrepiece is undoubtedly the special themed zones in celebration of the 25th anniversary of Hong Kong's return to the motherland and the 88th anniversary of CMA, aiming to bring people both young and old to "step into" the historical settings of Hong Kong and explore the old days. I'm sure that the whole family will enjoy soaking up the exciting atmosphere on this holiday."
Alongside the 350 product booths distributed in 6 themed zones, a full-fledged programme is being arranged for visitors to get into the spirit of the Mid-Autumn festival. These include stage performances, parent and child workshops and lucky draws, with prizes totalling over HK$1.3 million.
To provide visitors with greater convenience, CMA has arranged free shuttle buses or express buses to run between the venue and various points in Tuen Mun, Yuen Long, Tin Shui Wai, Tsuen Wan and Tung Chung. Airport Express Special Same Day Return Tickets at $47 are also available for visitors.
Highlights of the Festival line-up include the following:
Over 350 booths in six product zones: Leisure Food Zone; Health Preserving Food Zone; Living & Household Products Zone; Fashion & Beauty Products Zone; Go Mall Zone; Smart E Zone
A huge selection of products for sale, discounted up to 90 percent
Two dedicated areas to celebrate the 25th anniversary of Hong Kong's return to the motherland and the 88th anniversary of CMA. These areas feature exhibitions showcasing precious historical pictures of the city and CMA, displays of classic industrial products, booth games, traditional handicraft booths and photo-taking zone
Daily lucky draws: Visitors with accumulated same-day spending (using electronic payment) of $200 or more will be eligible to enter daily lucky draws. The more you spend, the more chances you have to win!
CMA Happy 88! Lucky Draw: Visitors have the chance to win fabulous prizes, including two round-trip economy class tickets to Taipei sponsored by Eva Air (worth $11,400), dining vouchers sponsored by Carrianna (Chiu Chow) Restaurant Ltd (worth $8,000), Saveur Selects & Toolbar cookware (worth $8,348), On Kee dried seafood gift box (worth $6,000), Yu Kong precious jewellery gift set (worth $4,000) and Zhang Xiao Quan cookware set (worth $4,100)
2,500 welcome gifts will be given away every day on a first-come, first-served basis, while stocks last
Fun-filled game booths, parent-child workshops and stage performances
Details of the Festival:
Date
9–12 September 2022
Opening hours

10am – 7pm during 9 – 11 September 2022
10am – 5:30pm on 12 September 2022
(No admission to the Festival 30 minutes before closing time everyday and 4:30pm on last day)

Venue
Hall 2, AsiaWorld-Expo (East Entrance)
Admission fee

$10 (Visitors can pay via Octopus at the venue)
(Free admission is granted to children below the height of 1 metre, senior citizens aged 65 or above and people with disabilities)

Website
www.hkbpe.com.hk
Special transport arrangements
Complimentary shuttle buses run to and from AsiaWorld-Expo and various points in the New Territories, including Tuen Mun, Yuen Long, Tin Shui Wai and Tsuen Wan
HK$ 47 Airport Express Special Same Day Return Tickets
Free special express buses of Route X1 regularly ply between Tung Chung Bus Terminal (MTR Exit B) and the AsiaWorld-Expo (Bus tickets sponsored by the Festival will be passed to the bus company)
Nearly 20 bus routes are diverted via AsiaWorld-Expo during the Festival
Encls.
Guest List
Fair Facts
Lucky Draws (Chinese only)
Stage programmes and Game Booths (Chinese only)
HKBPE Shopping Festival Special Offers (Chinese only)
Floor Plan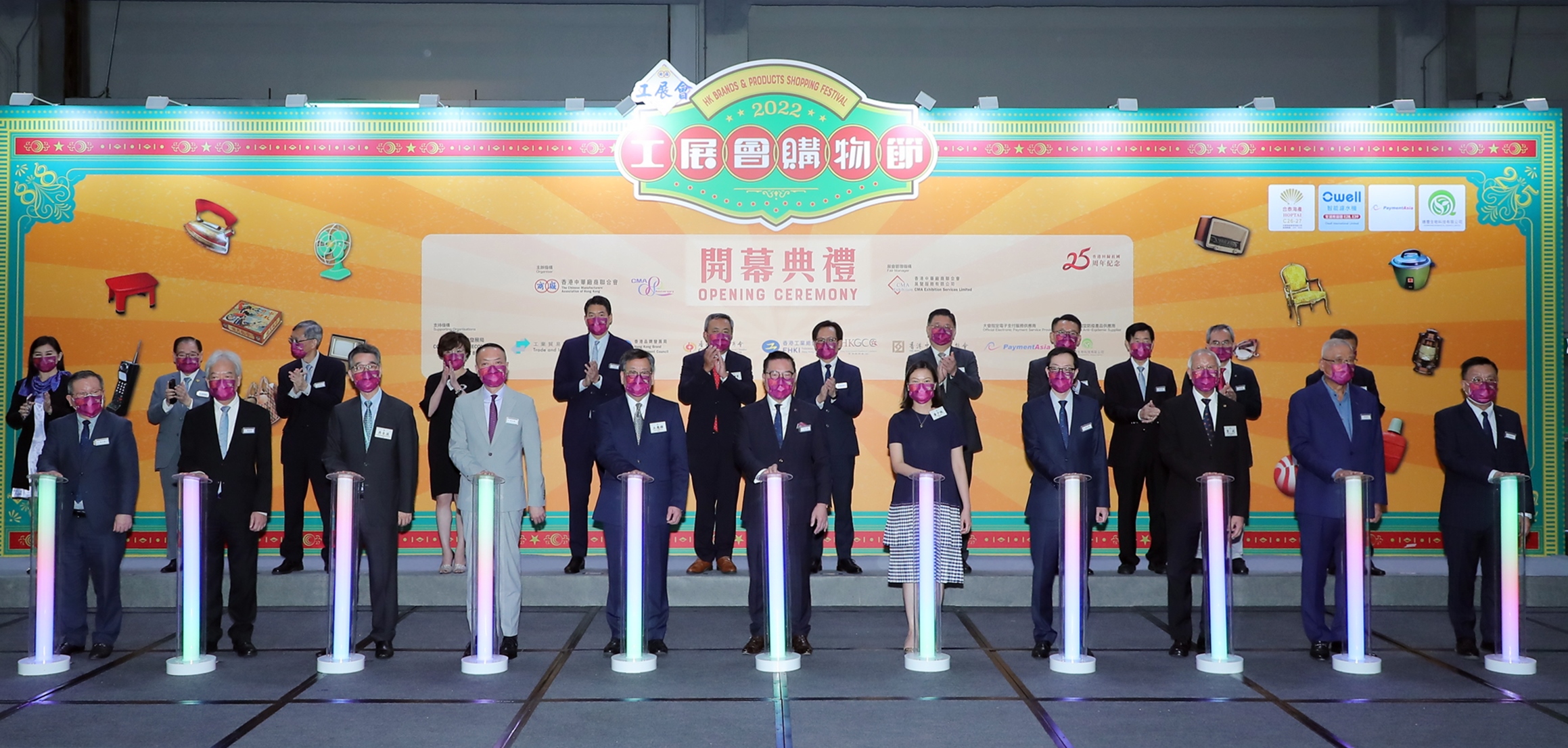 Secretary for Commerce and Economic Development Mr Algernon Yau (front row, 5th from the left), Director-General of Trade and Industry Ms Maggie Wong (front row, 5th from the right), Chairman of the Chinese General Chamber of Commerce Mr Yuen Mo (front row, 3rd from the right), Chairman of AsiaWorld-Expo Management Limited Mr Ng Chi Kee (front row, 3rd from the left), President of CMA Dr Allen Shi (front row, middle), Executive Vice President of CMA Dr Wingco Lo (front row, 4th from the right), and other office-bearers of the CMA officiated at the opening ceremony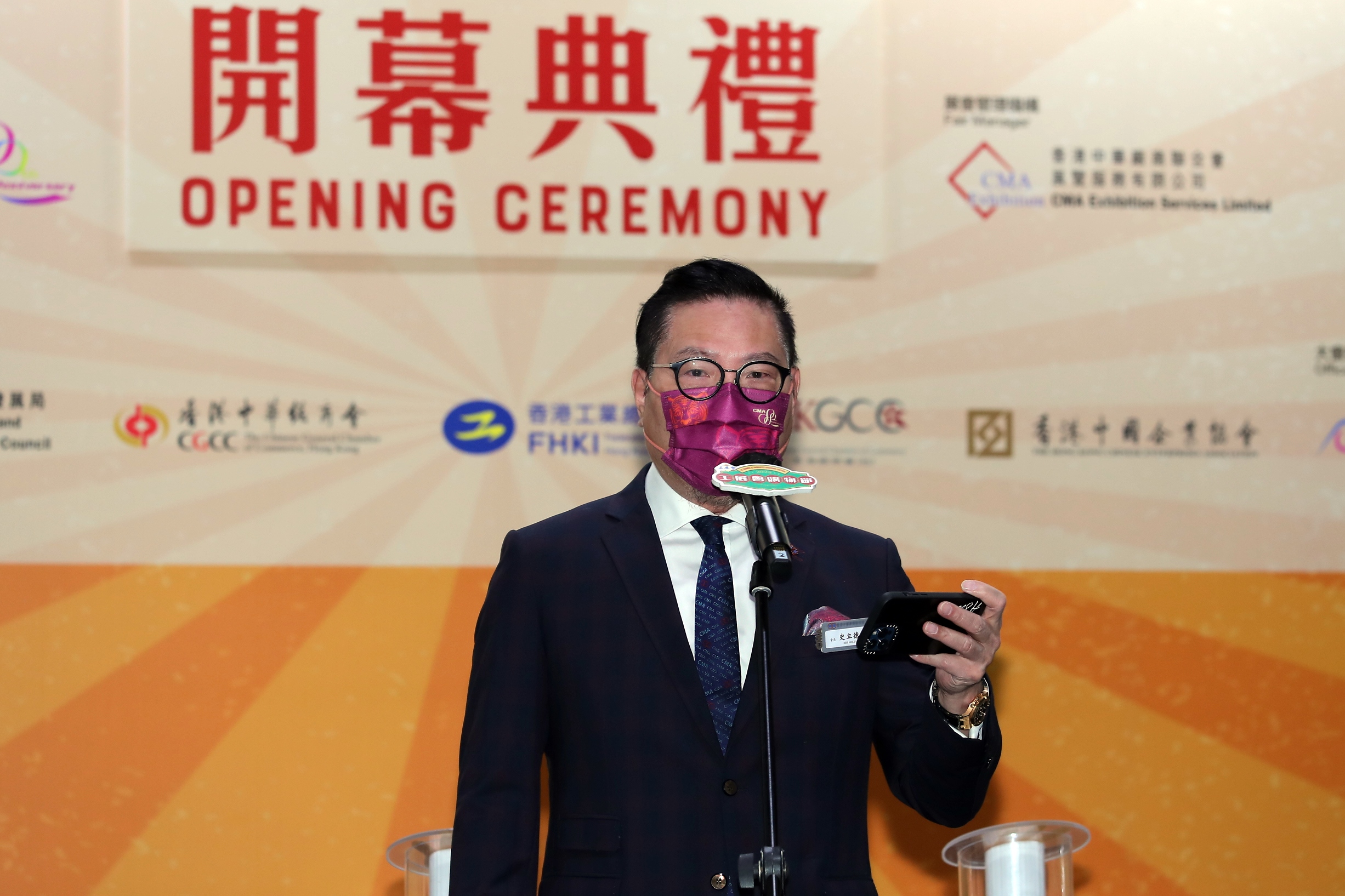 President of CMA Dr Allen Shi, expects that the festive mood of the Mid-Autumn Festival can help boost sales for exhibitors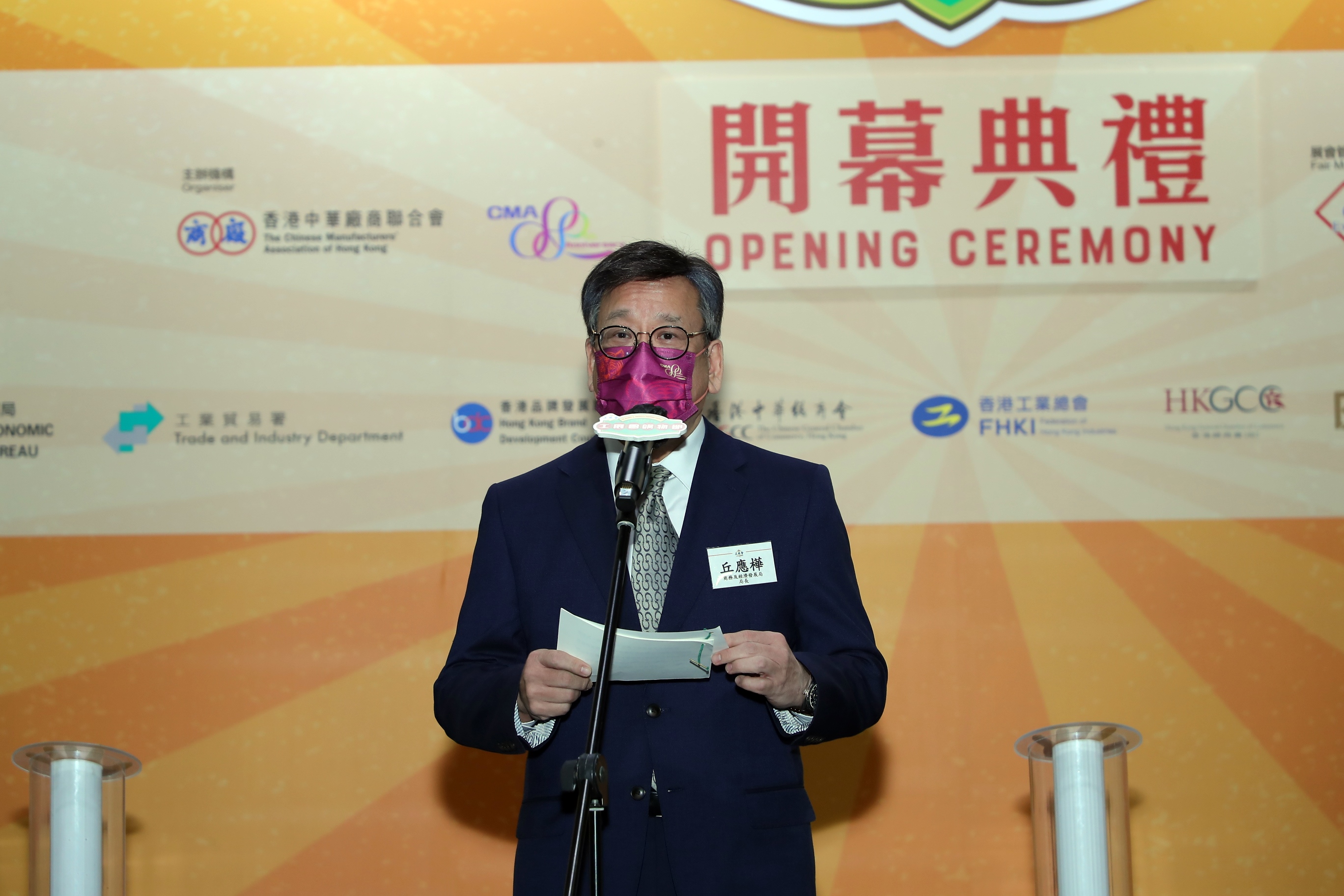 Secretary for Commerce and Economic Development Mr Algernon Yau delivered a speech at the opening ceremony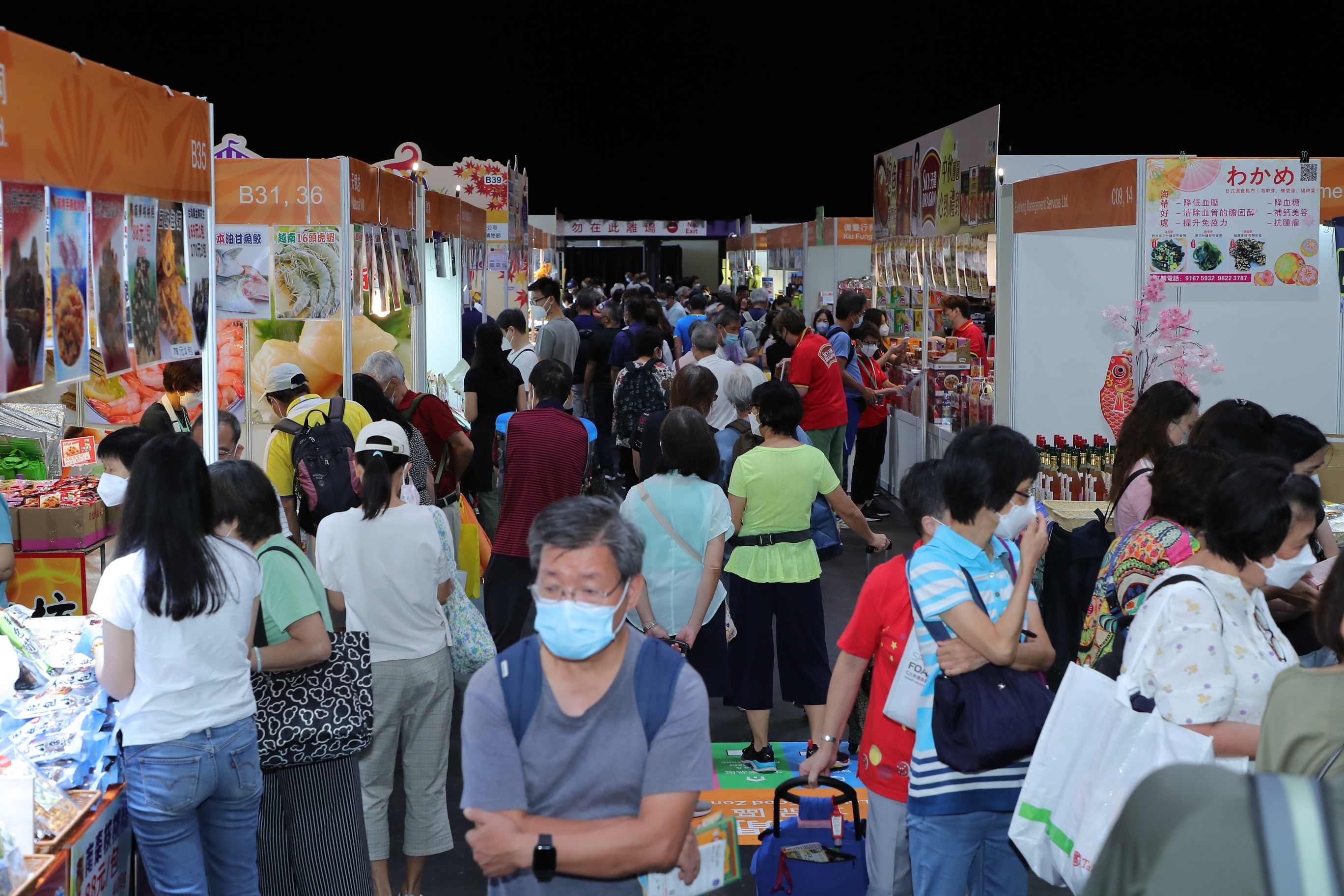 The 2022 Hong Kong Brands and Products Shopping Festival opened today at AsiaWorld-Expo