CMA Launches ESG+ Programme Promoting Sustainable Development among Business Community
Environmental, social and governance (ESG) development is a hot topic around the world, the public and investors are paying more attention to the performance of enterprises in the ESG aspects. To raise awareness of sustainable development among the Hong Kong business community and especially among SMEs, the Chinese Manufacturers' Association of Hong Kong (CMA) has launched the ESG
+
Programme to encourage the industry to act on its words by signing a pledge, formulating action plans and participating in award scheme to improve its ESG performance.
To commemorate this special occasion, the CMA held the ESG
+
Programme Kick-off cum ESG
+
Pledge Certificate Presentation Ceremony 2022 today (30 December) at the Renaissance Hong Kong Harbour View Hotel. Mr Algernon Yau, Secretary for Commerce and Economic Development officiated at the ceremony as the Guest of Honour. Mr CY Leung, Vice Chairman of the National Committee of the Chinese People's Political Consultative Conference, also expressed his support for the programme through a recorded message.
Taking ESG action is imperative
In his welcome remarks, Dr Allen Shi, President of CMA, pointed out that although unlisted companies are not required to disclose their ESG information under Hong Kong's regulatory regime, consumers' and investors' growing awareness of sustainability means that the adoption of ESG practices is no longer the icing on the cake, but a necessity for companies to remain competitive. "As an important member of the global supply chain, SMEs, especially manufacturing companies, must take appropriate ESG actions as soon as possible to meet the expectations of regulators, customers and consumers."
The ESG
+
Programme, organised by CMA, is supported by several leading organisations: HSBC and CMA Industrial Development Foundation Limited as its principal sponsors, the Hong Kong Brand Development Council as its partnering organisation and CMA Testing and the Hong Kong Productivity Council as strategic partners. The Programme has also garnered full support from UNESCO Hong Kong Association and the Hong Kong Green Finance Association.
The programme is highly inclusive and flexible. All enterprises, regardless of size, sector or current ESG performance, are welcome to participate.
Comprehensive support to help businesses improve their ESG performance
To partake in the ESG
+
Pledge Scheme, launched in the first phase of the programme, participants only need to select one specific practice related to environmental protection, social responsibility and corporate governance as their ESG focus for the coming year. Every year participants need to renew their pledge to carry on their ESG commitment. The ESG
+
Pledge Scheme was piloted in September among CMA's general committee members and member companies and received positive feedback. Representatives of 88 companies from various sectors, including catering, retail, printing, and trading industries, attended today's ceremony to receive a certificate.
Throughout the programme, CMA, together with strategic partners and professional certification bodies, will provide necessary support in terms of marketing, training, technical advisory services, auditing and certification, and branding to help participants fulfil their ESG commitments. Recognition certificates will be awarded to organisations that have achieved specified goals. They can use the ESG
+
logo in their promotional materials to enhance their corporate value and image. CMA plans to launch as award scheme next year to recognise outstanding companies and organisations that have demonstrated excellence in sustainability.
Other guests attending today's ceremony included Dr Wingco Lo, Executive Vice President of CMA; Dr Edward Chan, Vice President of CMA cum Chairman of the Hong Kong Brand Development Council; Mr Robert Lok, Vice President of CMA cum Chairman of CMA Testing; Mr Neo Wang, Head of Corporate (Industrials), Commercial Banking, Hong Kong, HSBC; Dr Lawrence Cheung, Chief Innovation Officer, Hong Kong Productivity Council; Professor Karen Cheung, Executive President & Secretary-General of UNESCO Hong Kong Association and Dr Ma Jun, Chairman of the Hong Kong Green Finance Association.
Encls
List of participants of ESG+ Pledge Scheme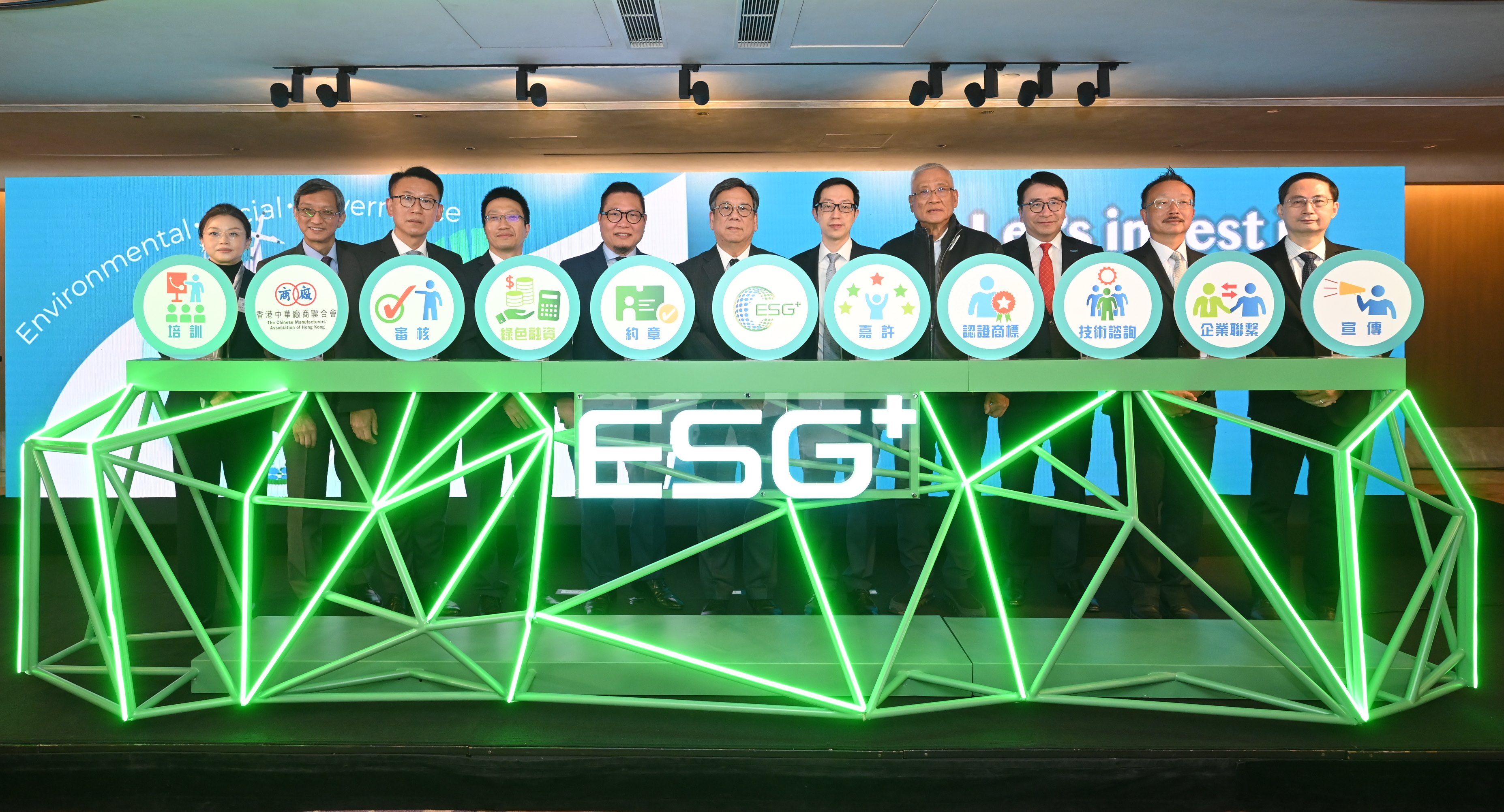 (From left) Professor Karen Cheung, Executive President & Secretary-General of UNESCO Hong Kong Association; Mr Ralph Chow, CEO of CMA; Mr Robert Lok, Vice President of CMA cum Chairman of CMA Testing; Mr Neo Wang, Head of Corporate (Industrials), Commercial Banking, Hong Kong, HSBC; Dr Allen Shi, President of CMA; Mr Algernon Yau, Secretary for Commerce and Economic Development; Dr Wingco Lo, Executive Vice President of CMA; Dr Edward Chan, Vice President of CMA cum Chairman of the Hong Kong Brand Development Council; Dr Lawrence Cheung, Chief Innovation Officer, Hong Kong Productivity Council; Mr Thomas Wong, Chairman of Sustainable Development Committee, CMA, and Dr Ma Jun, Chairman of the Hong Kong Green Finance Association, officiated at the ESG+ Programme Kick-off cum ESG+ Pledge Certificate Presentation Ceremony 2022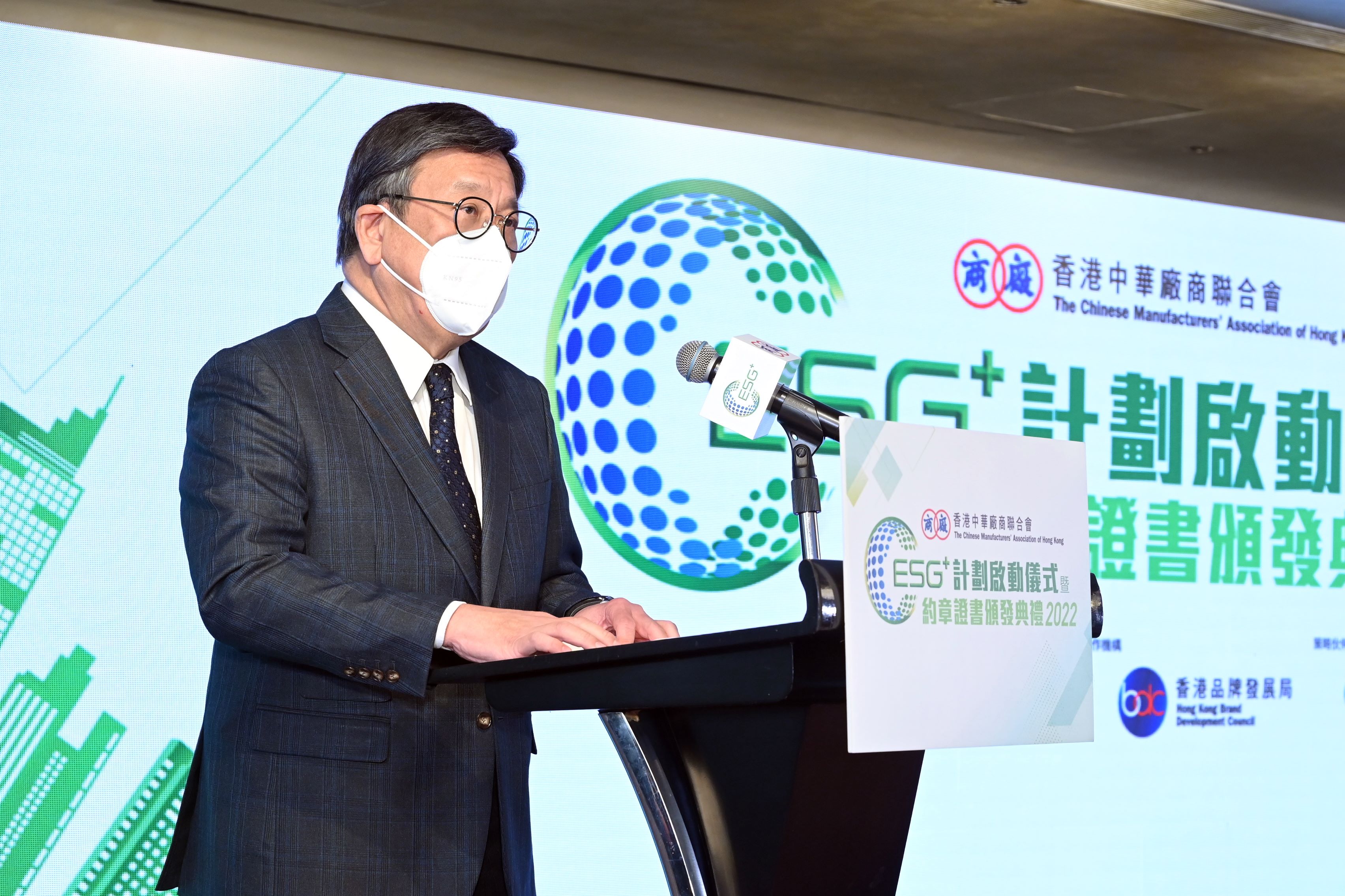 Mr Algernon Yau, Secretary for Commerce and Economic Development, delivered a speech at the ceremony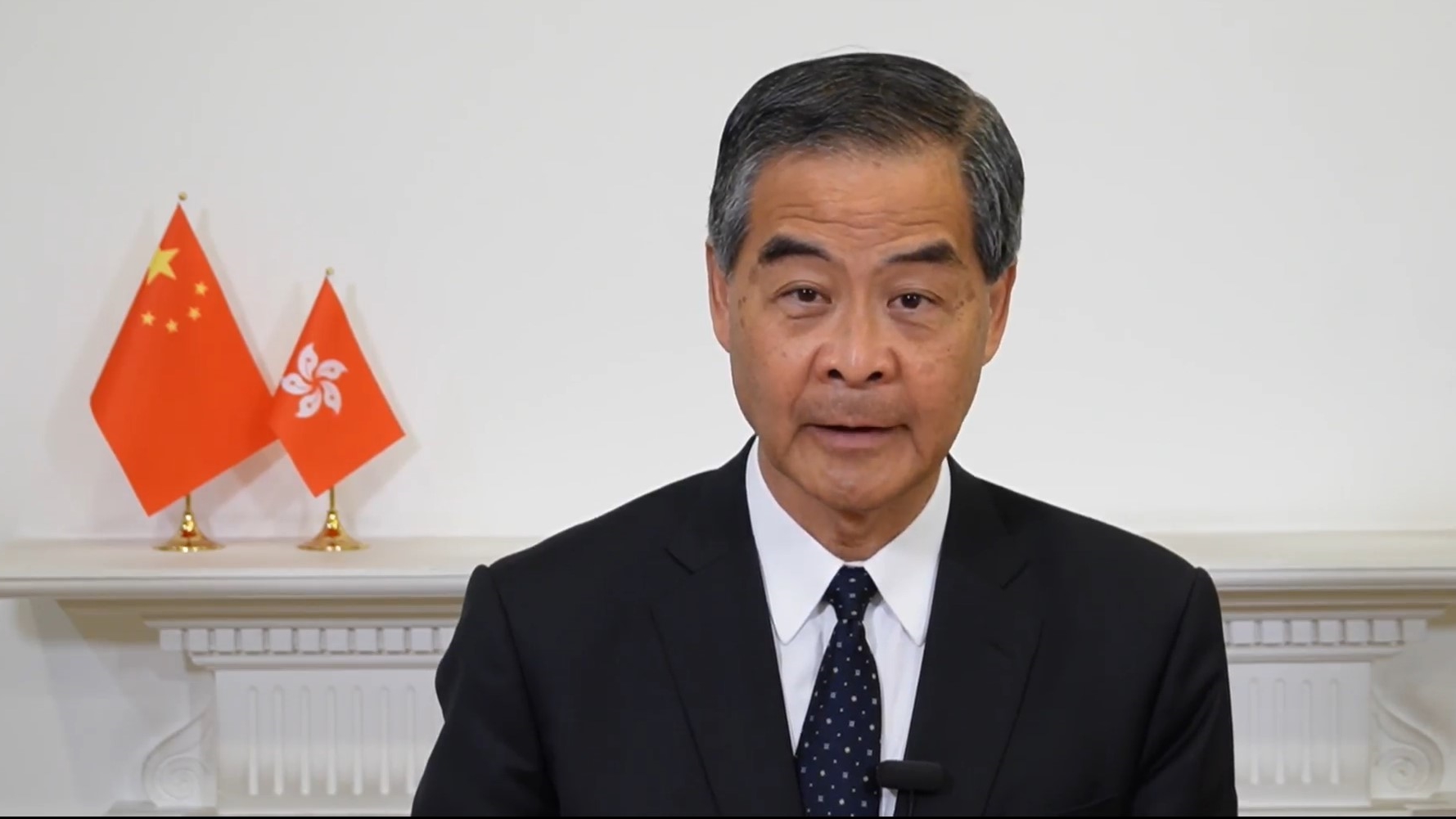 Mr CY Leung, Vice Chairman of the National Committee of the Chinese People's Political Consultative Conference, delivered a recorded message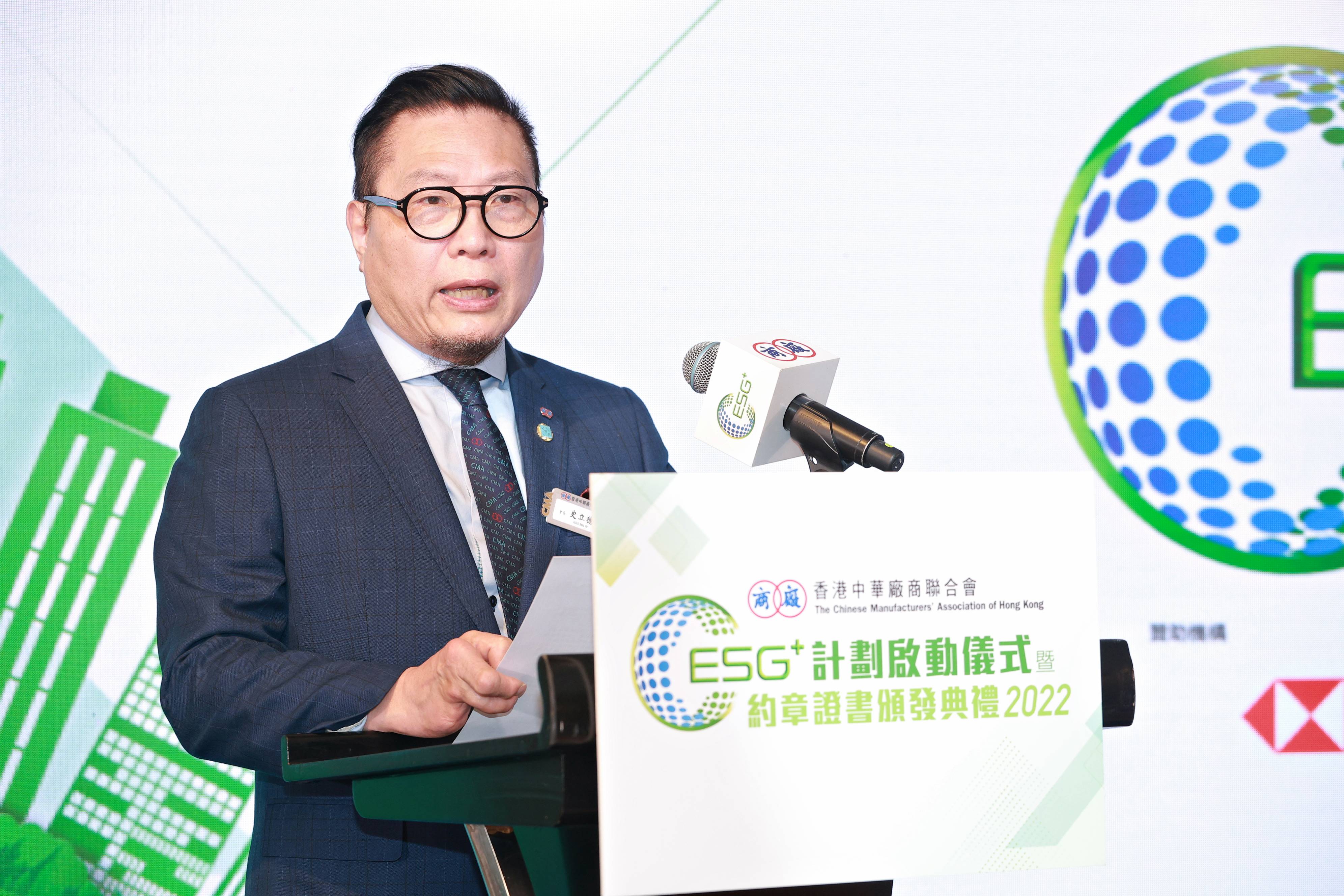 In his welcome remarks, Dr Allen Shi encouraged SMEs to adopt sustainable business practices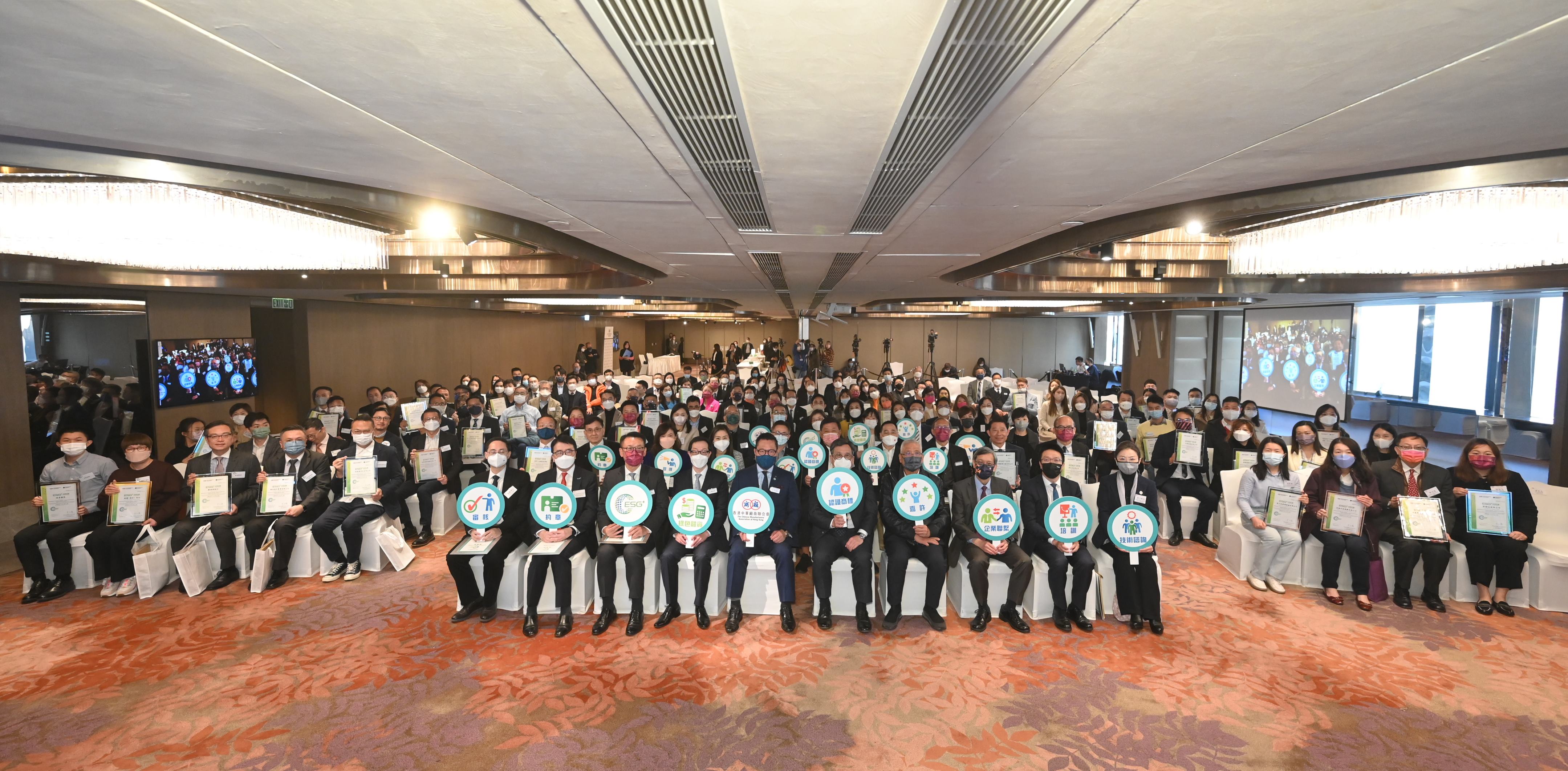 The ceremony officiating guests took a group photo together with the representatives of 88 participating companies of the ESG+ Pledge