2021 Hong Kong Brands and Products Shopping Festival Starts Today
Plenty of Summer Offers to Boost Local Spending
The 2021 Hong Kong Brands and Products Shopping Festival (Festival), organised by the Chinese Manufacturers' Association of Hong Kong (CMA), opened today at AsiaWorld-Expo (AWE). The three-day expo features more than 250 booths presenting a wide spectrum of quality products at great prices, and offers splendid shopping and entertainment experiences for locals during the pandemic.
The opening ceremony was held this morning, marking the beginning of the Festival. The officiating guests included Secretary for Commerce and Economic Development Mr Edward Yau, Director-General of Trade and Industry Mr Brian Lo, Director of Food and Environmental Hygiene Ms Irene Young, President of CMA Dr Allen Shi, Vice President of CMA cum Chairman of CMA Exhibition Services Limited Mr Ivan Sze, and other office-bearers of the CMA.
In his welcoming remarks, CMA President Dr Allen Shi described the association has made a bold decision to hold the Festival, which can be seen as the "sister expo" of the traditional Hong Kong Brands and Products Expo (HKBPE), at AWE. "Lantau has an unparalleled strategic position in the long-term development of Hong Kong, and is conveniently connected with nearly every corner of the city. Since the commissioning of Tuen Mun-Chek Lap Kok Link Northern Connection last year, millions of residents in the Northwest New Territories can reach AWE from Tuen Mun in just 20 minutes. Citizens who live on Hong Kong Island and in Kowloon can also get to AWE in some 20 minutes by riding Airport Express with the HK$40 Same Day Return Ticket offered by the MTR Corporation." President Shi is confident that the Festival can help local companies to get new customers and drive more sales during the peak shopping season.
The Festival features five thematic zones, namely Leisure Food Zone, Health Preserving Food Zone, Living & Household Products Zone, Fashion & Beauty Products Zone, and Pets Healthcare Zone. From food and beverages to grocery items, from home appliances to kitchenware, from hygiene and cleaning products to pet products, there must be something new for visitors to discover. That's not all. Visitors can expect hundreds of amazing offers and irresistible super sales of up to 90% off from a wide variety of products.
To grasp the business opportunities brought by the Government's consumption voucher scheme, most of the exhibitors have installed electronic payment devices. In addition to discounts and promotions, CMA is also offering up to HK$1 million worth of prizes through lucky draws and a series of fun-filled activities during the Festival, including family-friendly workshops, booth games, Chinese Opera, and singing performance.
The health and safety of exhibitors and visitors is always the top priority of CMA. The organiser will implement a series of anti-pandemic measures during the Festival, including that all staff, exhibitors and contractors have been fully vaccinated or have tested negative for COVID-19. According to the government's latest social distancing measures, the number of visitors at any one time must not exceed 50% of the venue capacity. Visitors can check the latest queuing status on HKBPE website www.hkbpe.com.hk and official Facebook page.
Other CMA office-bearers attending today's opening ceremony included Permanent Honorary Presidents Mr Paul Yin, Mr Irons Sze, Legislative Council Representative Mr Ng Wing Ka, Executive Vice President Dr Lo Kam Wing, Vice President cum HKBDC Chairman Dr Edward Chan Kwok Man, Vice Presidents Mr Simon Wong Ka Wo, Mr Dennis Ng Kwok On, Dr Ma Kai Yum, Mr Jackson Leung Siu Yin, Calvin Chan, Mr Robert Lok Pak Keung, and CMA Honorary Presidents.
Expo details
Date
6 - 8 August 2021
Venue
Opening hours
6 and 7 August: 10:30am - 7:30pm/ 8 August: 10:30am - 6:30pm
Schedule of live streaming videos
6 and 7 August: 6:00pm

Admission ticket fare
HK$10. Visitors can buy e-tickets on Klook or make payment at venue entrance by Octopus.
(Note: Free admission for children under 1m in height, senior citizens aged 65 or above, and people who have received at least one dose of COVID- 19 vaccines)
Special transport arrangement
Airport Express
In partnership with MTR Corporation, the Airport Express has enhanced its service to every 15 minutes from 8:00am to 10:00pm daily during the event, and has offered a HK$40 Same Day Return Ticket between Hong Kong/Kowloon/Tsing Yi Stations and AsiaWorld-Expo Station

Free shuttle services
Seven free shuttle bus routes running between Tung Chung, Tuen Mun, Yuen Long, Tin Shui Wai and AWE are available every 30 minutes

Point-to-point bus service
A special route X1 running between Tung Chung bus terminus and AWE

Long Win Bus
Departures of certain Long Win Bus routes (between the New Territories to Airport) are diverted via AWE during the expo period
More details
Visit www.hkbpe.com.hk or official page on Facebook
Encls.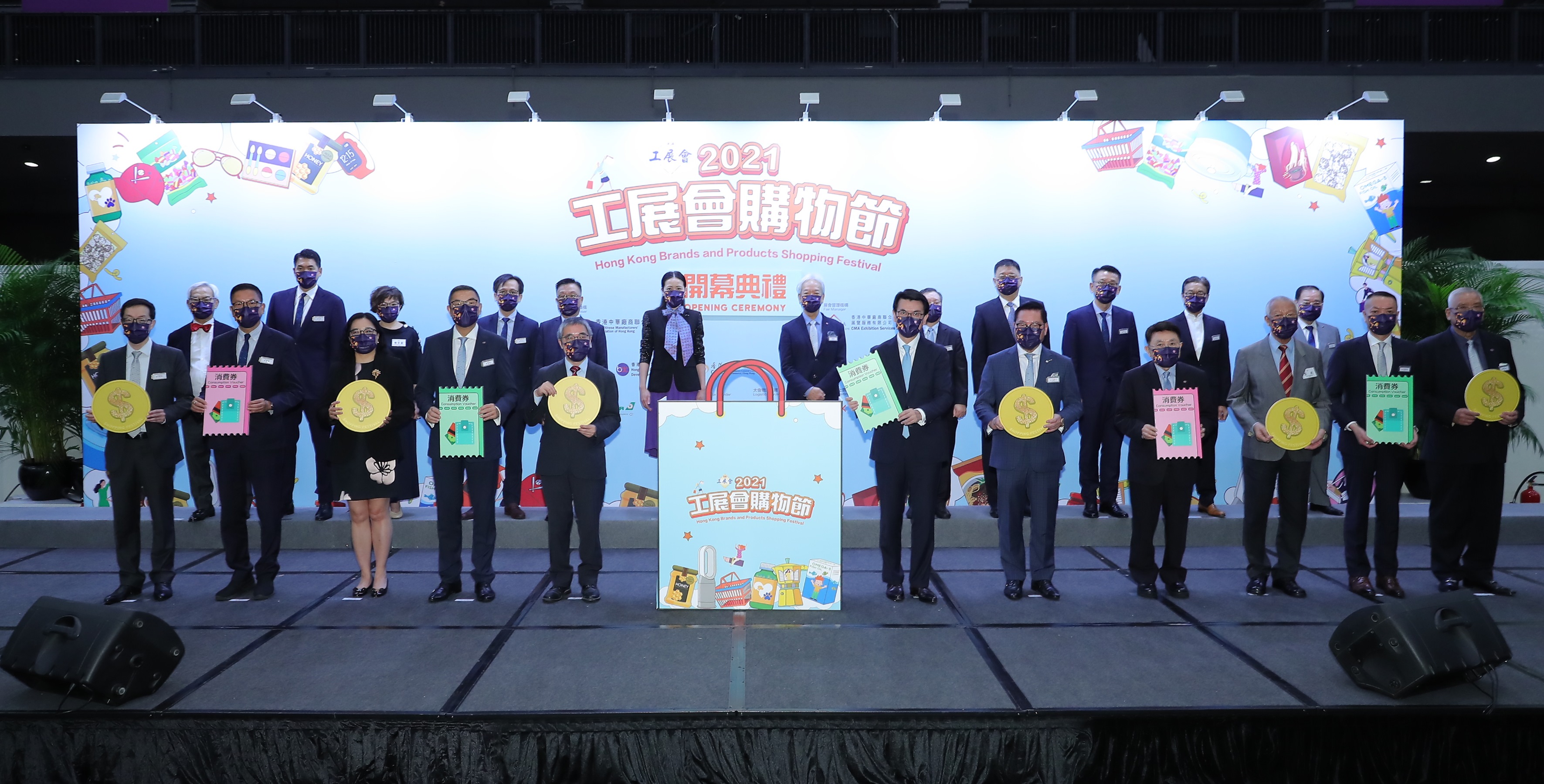 Secretary for Commerce and Economic Development Mr Edward Yau, (front row, 6th from the right) Director-General of Trade and Industry Mr Brian Lo (front row, 5th from the left), Director of Food and Environmental Hygiene Ms Irene Young (front row, 3rd from the left ), President of CMA Dr Allen Shi (front row, 5th from the right), Vice President of CMA cum Chairman of CMA Exhibition Services Limited Mr Ivan Sze (front row, 4th from the left), and other office-bearers of the CMA officiated at the opening ceremony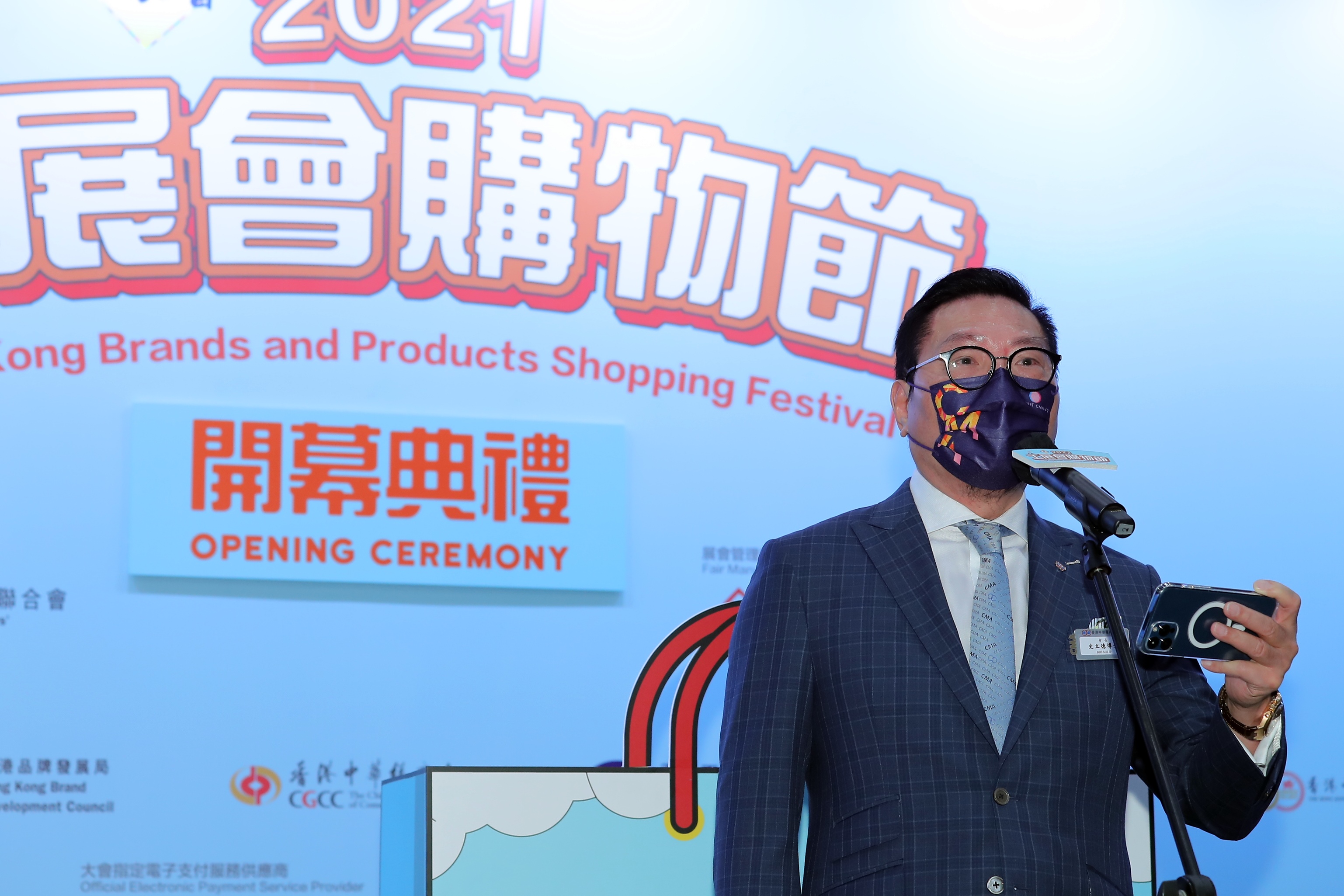 CMA President Dr Allen Shi is confident that the Festival can help local companies to drive more sales during the peak shopping season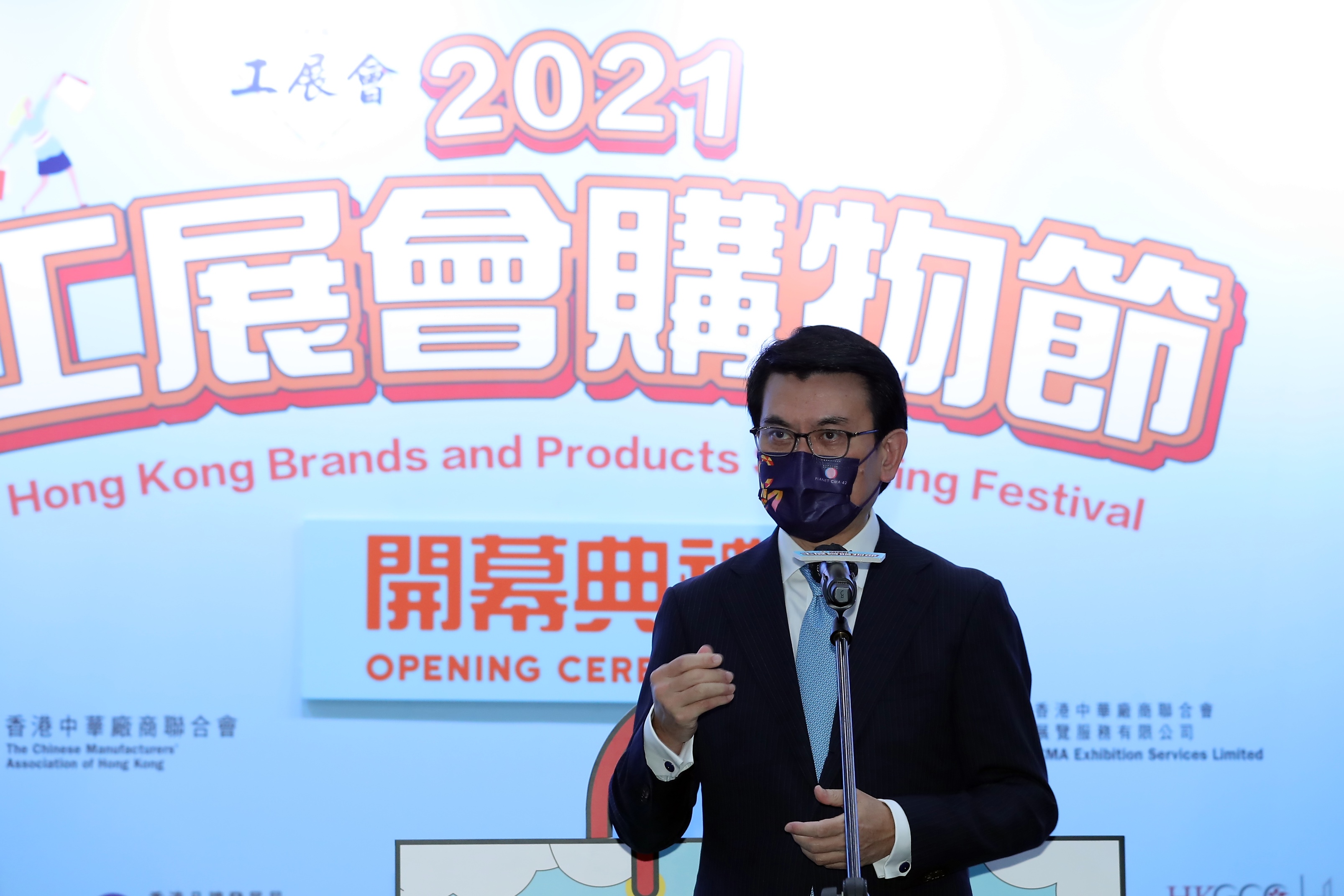 Secretary for Commerce and Economic Development Mr Edward Yau delivered a speech at the opening ceremony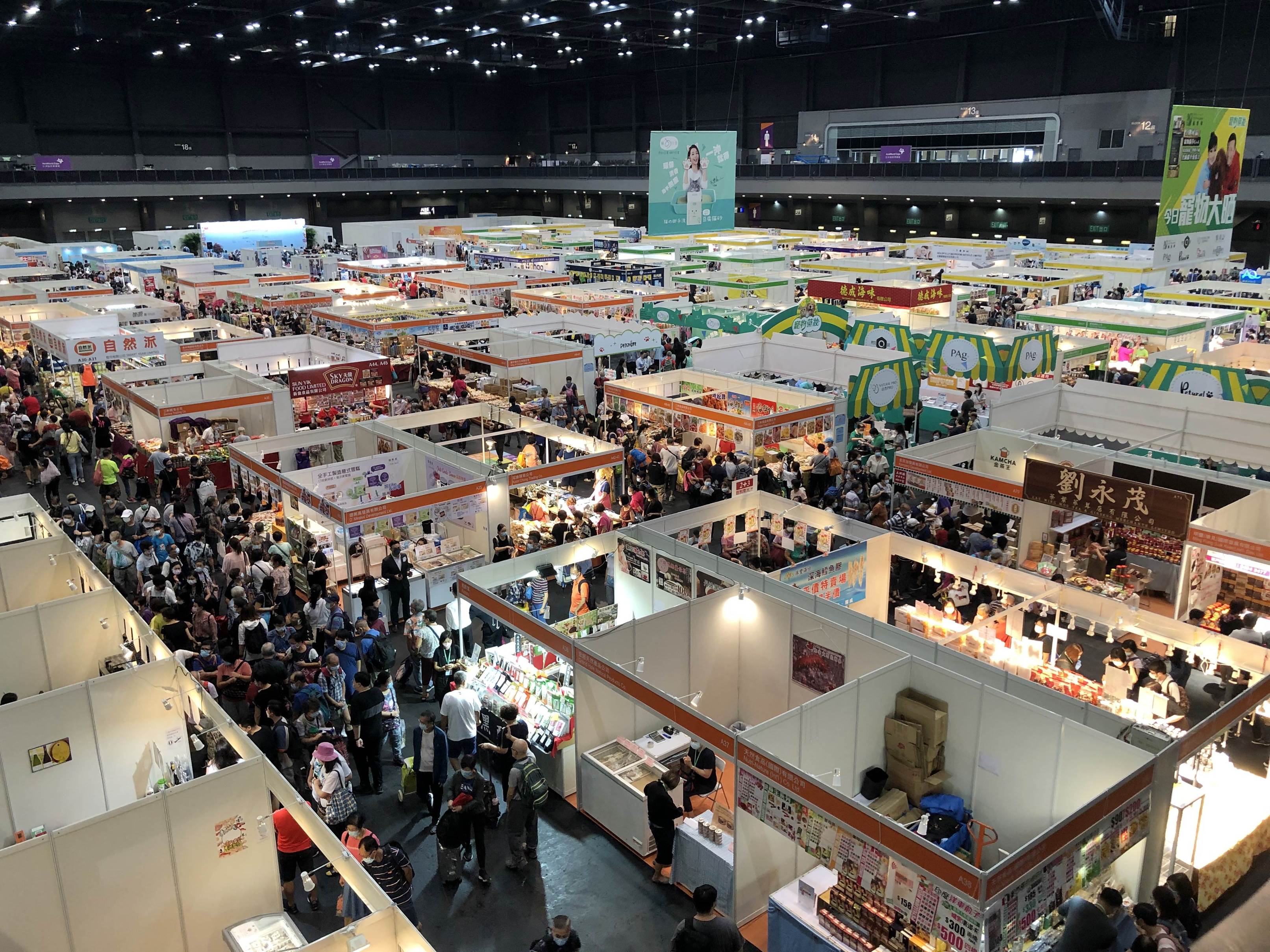 The 2021 Hong Kong Brands and Products Shopping Festival opened today at AsiaWorld-Expo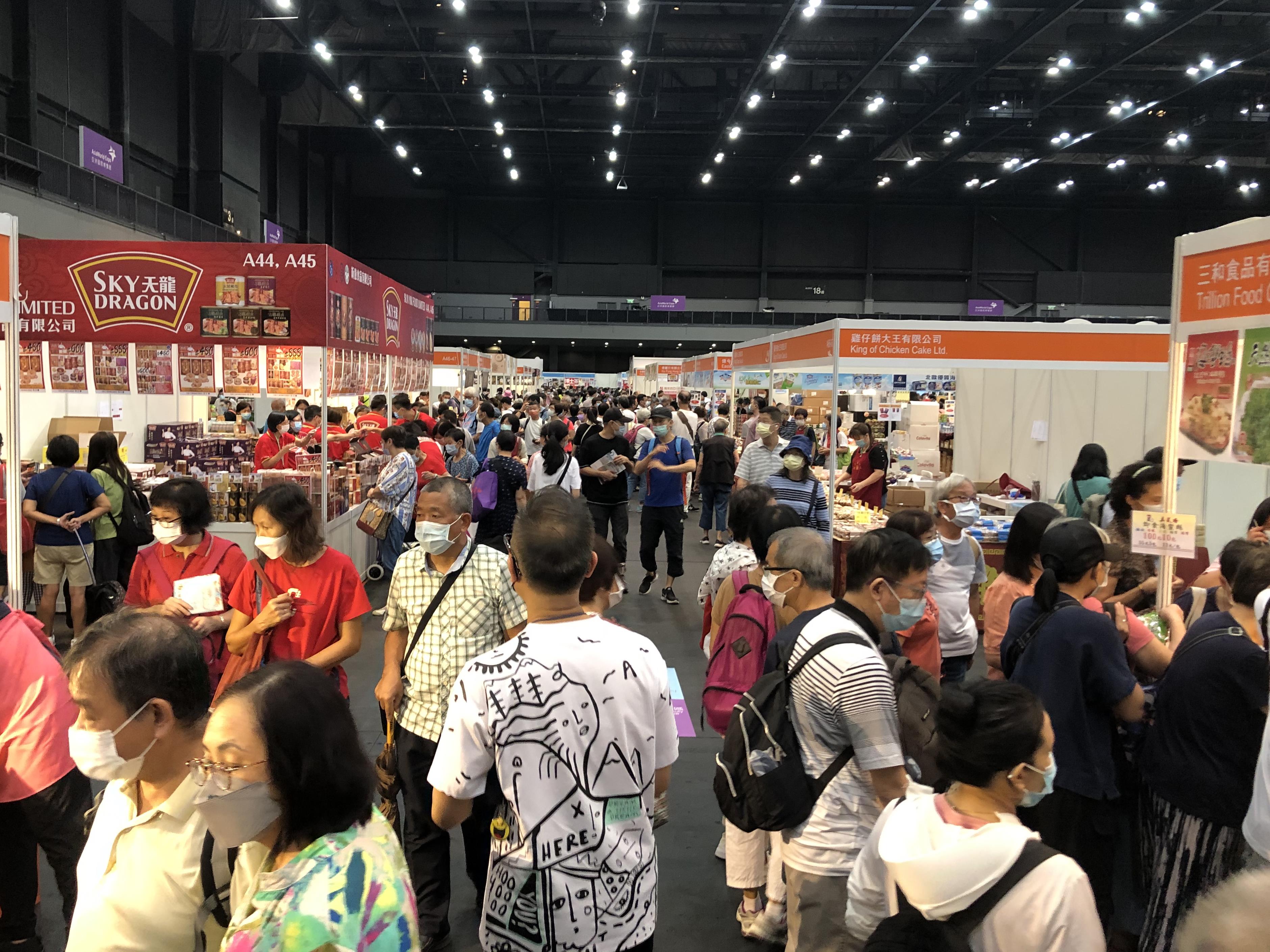 Most of the exhibitors have installed electronic payment devices