The 8th Hong Kong Food Carnival Opens at Kwai Chung Sports Ground
Starting today (30 October) until 7 November 2021, the Chinese Manufacturers' Association of Hong Kong (CMA) hosts the 8th edition of Hong Kong Food Carnival (the Carnival) at Kwai Chung Sports Ground, dishing out an exciting line-up of products, gifts, entertainment options and festivities.
Officiating at the opening ceremony were guests-of-honour Under Secretary for Commerce and Economic Development Dr Bernard Chan; CMA President Dr Allen Shi; Director of Agriculture, Fisheries and Conservation Dr Leung Siu Fai, Assistant District Officer (Kwai Tsing) Tang Huggin, Promotion Ambassador for the Carnival Gigi Wong, as well as CMA office-bearers and guests from supporting organisations.
CMA President Dr Shi said, "It has been a difficult period for everyone since the emergence of the pandemic, so I'm delighted that the Carnival can bring some fun and happiness back to Hong Kong as it always has in the past. Whilst we will ensure social distancing and safety measures are maintained, we promise families and friends a joyous experience."
Almost 270 booths have been set up in 4 product zones, namely the "Health Preserving Zone", "Leisure Food Zone", "Catering Equipment Zone" and a new addition "HK Homegrown Market", selling a massive selection of products at highly discounted prices. From healthy yet tasty food, international flavours, fresh fruit, local agricultural and fisheries products, groceries, cooking ingredients to appliances and helpful gadgets, there must be something for everyone's snack cabinet and kitchen. Most of the merchants accept electronic payments and the government's Electronic Consumption Vouchers.
The 9-day carnival is delivering a full schedule of fun and learning-filled programmes including talks, live music, Chinese opera and dance. Visitors can also learn to make Korean pickles, mosquito repellent cream or top-dyed fabric bag via joining various craft workshops. Looking to brush up on your cooking skills? Our roster of culinary masters and celebrities, including the promotion ambassador Gigi Wong and AsiaWorld-Expo's Chinese Executive Sous Chef Alan Chan will demonstrate their signature recipes live on stage. That's not all! "Tomorrow (31 October) is Halloween. We will organise a themed party with activities including a parade, games, a workshop and performances to keep the day rolling with lots of laughter and spooky surprises," said President Dr Shi.
The Carnival is giving away prizes and gifts with a total value of more than HK$1 million. To win them, visitors can challenge the game booths or test their luck on our lucky draws. The first 5,000 visitors every day can also obtain a cutlery set.
The CMA has obtained a venue rental concession, which is part of the government's relief efforts. The CMA has decided to pay back to the community by offering a booth rental discount of 25% to all exhibitors and reducing the admission ticket price to HK$4. Senior citizens aged 65 or above, children under 1 metre in height and people with disabilities can enjoy free admission. Citizens who have received at least one dose of the COVID-19 vaccines can also enter the venue for free after 4:30pm every day. Visitors are required to pay for admission by Octopus at the entrance. E-tickets are also available on Cityline.
Other opening ceremony officiating guests included the Hong Kong Federation of Restaurants & Related Trades President Simon Wong; the Hong Kong Food Council Chairman Thomas Ng; Nam Pak Hong Association Chairman Kenlay Wong; CMA Executive Vice President Dr Wingco Lo; CMA Vice Presidents Dr Edward Chan, Dennis Ng Kwok On, Dr Ma Kai Yum, Calvin Chan and Robert Lok, and CMA Honorary President Lui Chun Fan.
Details of the 8th Hong Kong Food Carnival
| | |
| --- | --- |
| Date | 30 October – 7 November 2021 |
| Venue | Kwai Chung Sports Ground (MTR Kwai Fong Station Exit D) |
| Opening hours | 10:30am - 7:30pm (no entry 30 minutes before closing time everyday and at 6:30pm on the last day) |
| Admission ticket price | HK$4 (Free admission for children under 1 metre in height, senior citizens aged 65 or above, and persons with disabilities. People who have received at least one dose of COVID-19 vaccines can enter the venue for free after 4:30pm) |
| Website | www.foodhk.com.hk |
Encls.
-
Guest List
-
Fair Facts
-
Lucky Draws (Chinese only)
-
Major Discounts and Promotions (Chinese only)
-
Stage Programmes and Highlights (Chinese only)
-
Floor Plan of the 8th Hong Kong Food Carnival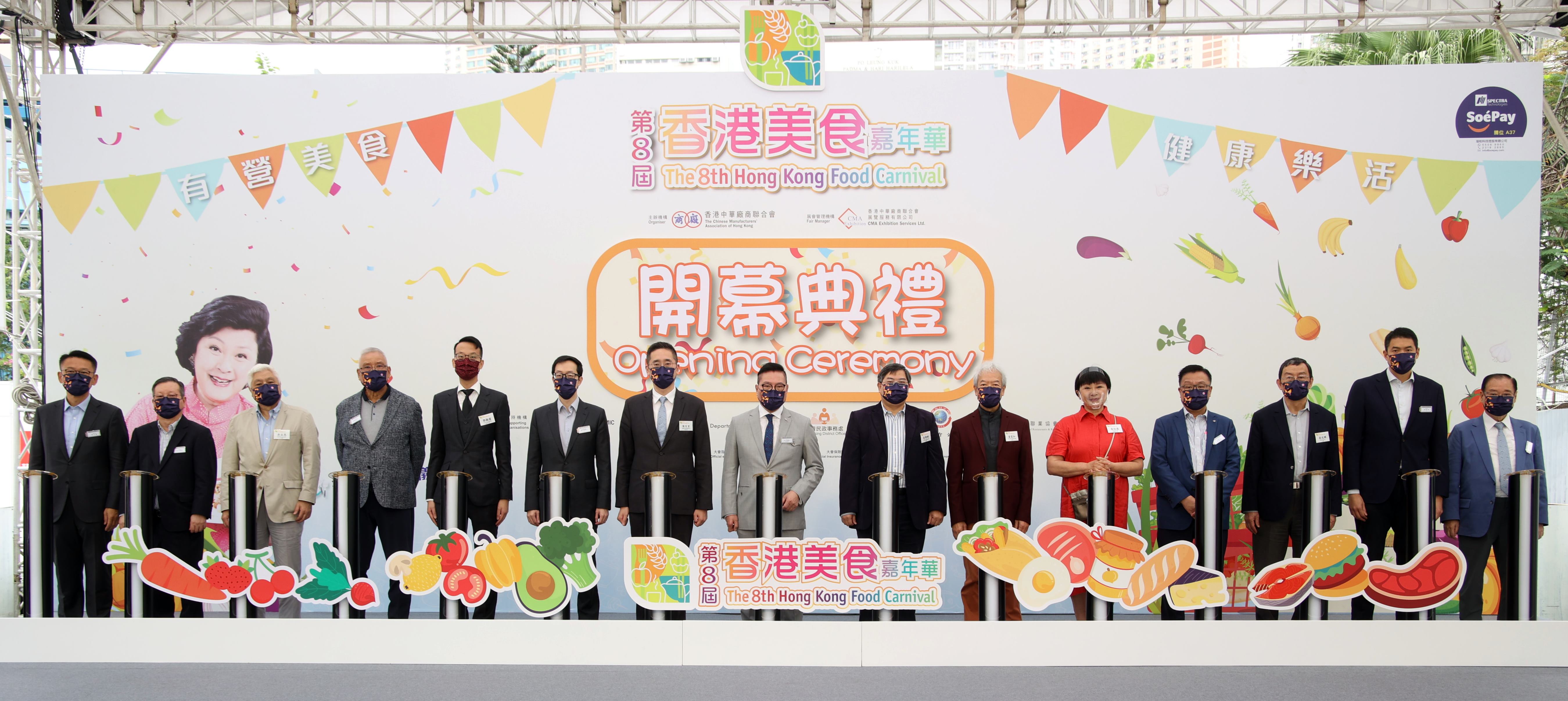 Under Secretary for Commerce and Economic Development Dr Bernard Chan Pak Li (7th from the left), Director of Agriculture, Fisheries and Conservation Dr Leung Siu Fai (7th from the right), Assistant District Officer (Kwai Tsing) Tang Huggin (5th from the left), CMA President Dr Allen Shi (middle), CMA Executive Vice President Dr Wingco Lo (6th from the left), and the Promotion Ambassador Gigi Wong (5th from the right) officiated at the opening ceremony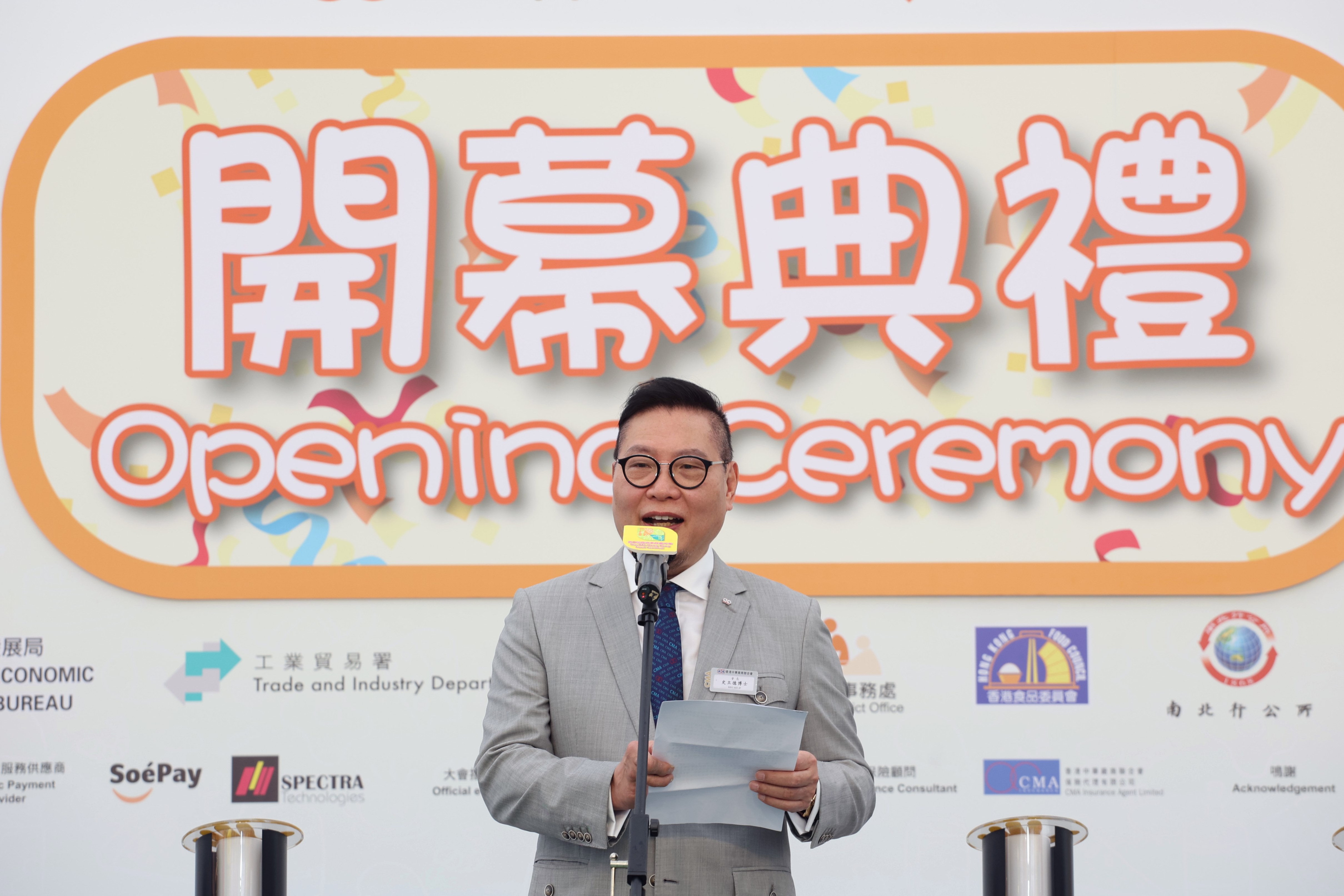 CMA President Dr Allen Shi hopes that the Carnival can bring some fun and happiness back to Hong Kong amid COVID-19 pandemic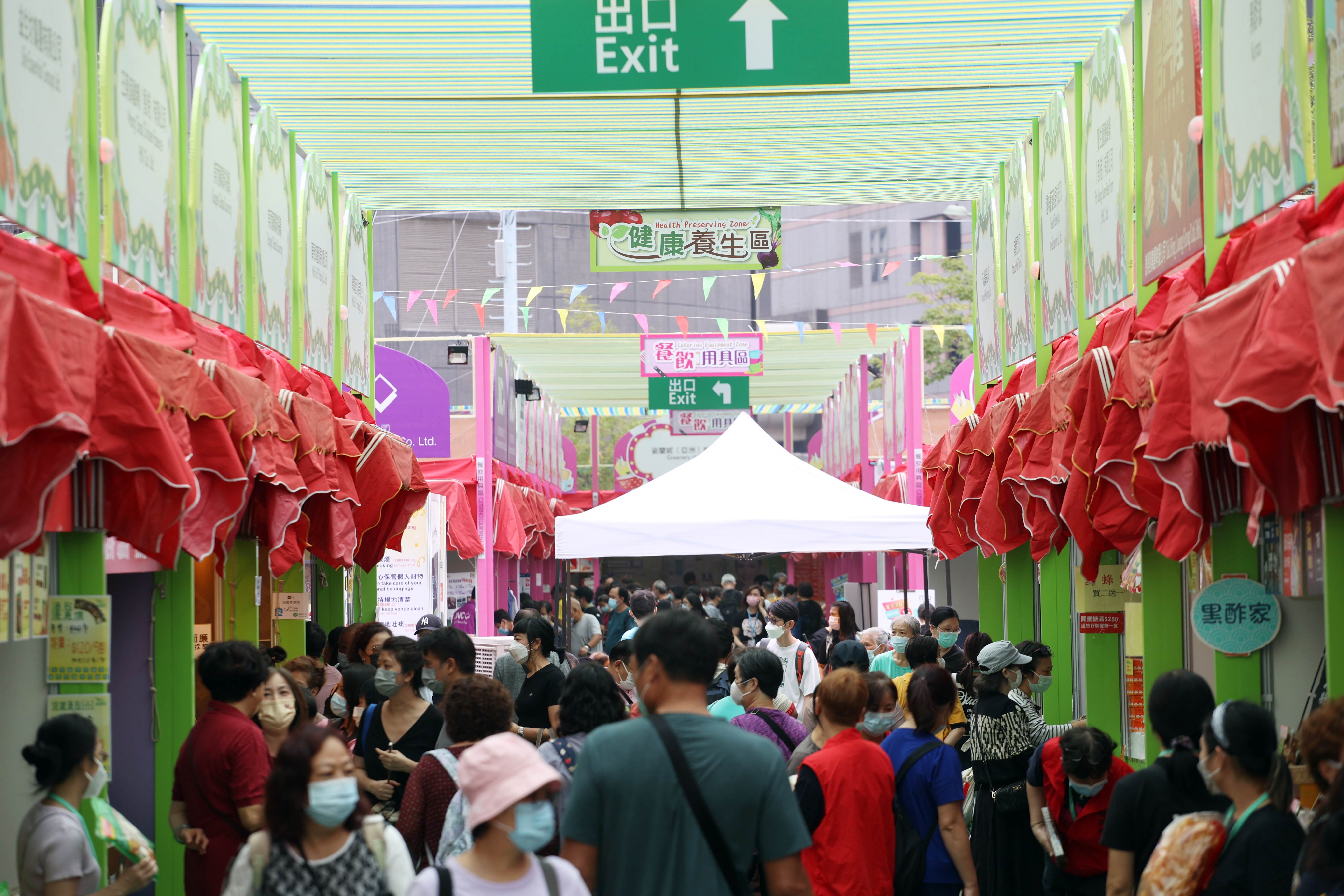 After two years away, the 8th Hong Kong Food Carnival begins today at Kwai Chung Sports Ground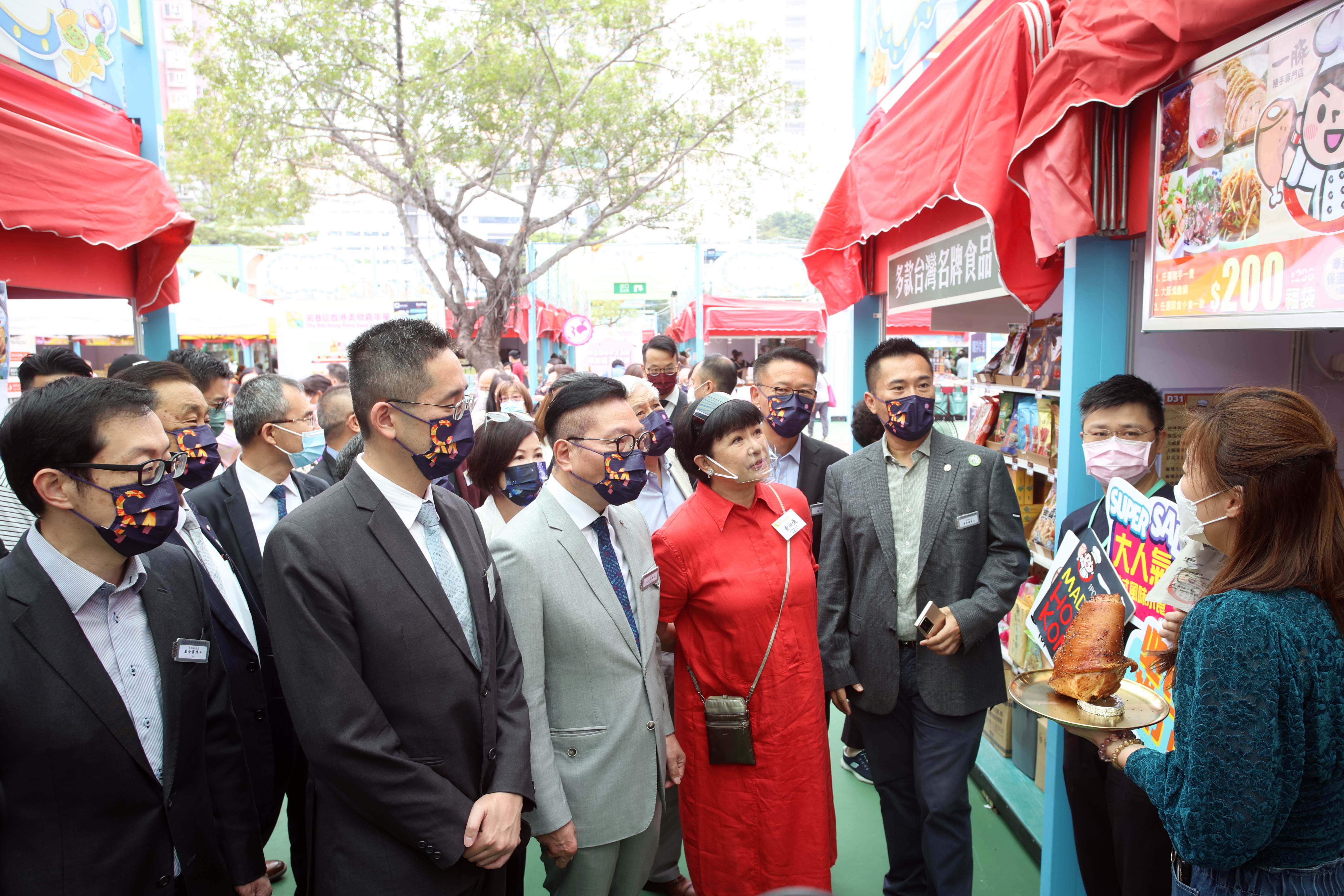 The officiating guests joined the guided tour of the booths after the opening ceremony